Pre-Draft Look at the New England Patriots' 2012 Roster: Part 3, DLs and LBs
April 4, 2012

Elsa/Getty Images
While Bill Belichick is known for being one of the first coaches to bring the 3-4 defense back into vogue, the Patriots actually switched to a 4-3 front to start the 2011 season because of the strike-shortened offseason.
Late in the season, as Grantland.com's Chris Brown noted, the Patriots were using both concepts liberally. In fact, they were mixing them on the same play.
While it seems likely the Patriots will shift back to a 3-4 defense, that's not a given. Moreover, even when they do run a 3-4 or 4-3 defense, the Patriots are often in nickel or dime formations.
And on top of all of that, the Patriots frequently keep at least one or two linebackers whose primary role is not linebacking but special teams (see: Izzo, Larry; White, Tracy).
Looking at the roster, though, we can get an idea of which players are likely to make the cut. The numbers listed in parentheses after each player are the approximate percentage of snaps that player played for the Patriots in 2011, according to Mike Reiss. A dash means the player was not a Patriot last year; IR means the player ended the season on the Patriots' IR.
Defensive Linemen/Big Bodies (7)
Players in this category weigh at least 275 pounds.
Ron Brace (5, IR), Brandon Deaderick (28), Jonathan Fanene (—), Marcus Harrison (—), Kyle Love (50), Myron Pryor (3, IR), Vince Wilfork (87)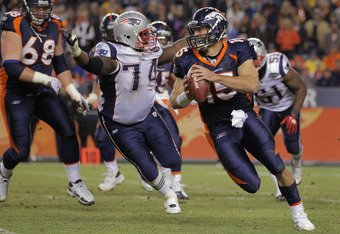 Doug Pensinger/Getty Images
The Patriots' biggest asset on the defensive line is obviously All-Pro nose tackle, Vince Wilfork. As long as he's healthy, he'll be holding down the middle of the defense, attacking the center of the offense. The Patriots hope that Myron Pryor will recover from the injuries that have derailed his last two seasons, as he's the fastest big body currently on the roster. (Former Patriot DL Mike Wright was even faster, but his career looks to be over following major concussion problems.) If he's healthy, Pryor gives them speed up the middle they lack and is currently a roster lock.
Kyle Love, a 2010 undrafted free agent, surprised many Patriots fans with his solid play in 2011; he clearly earned the trust of the Patriots' coaches, as he had about 10 times as many snaps as Ron Brace. Brace, a second-round draft pick in 2009, has been largely a disappointment and a lightning rod of anger for many Patriots fans (although that is better saved for another article). This preseason is likely Brace's last chance to impress the coaching staff; at this point he's definitely on the bubble, since even Brandon Deaderick, a 2010 seventh-round pick, had more than five times as many snaps.
The Patriots took a flyer on Marcus Harrison; they did not take a flyer on former Bengal Jonathan Fanene, signing him to a three-year, $12 million deal, which qualifies as starter money in New England.
Right now, it seems likely the Patriots will carry six of these seven, and the last spot comes down to Ron Brace versus Marcus Harrison. I'll take Brace for the moment—but I expect that the Patriots will take someone in the draft to knock him off the roster.
Projection (6): Brace, Deaderick, Fanene, Love, Pryor, Wilfork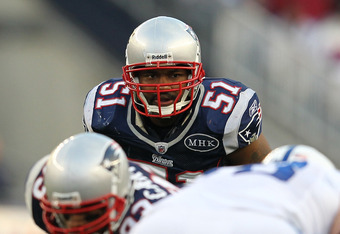 Jim Rogash/Getty Images
Linebackers/Small Bodies (13)
Players in this category weigh less than 275 pounds.
Markell Carter (0), Jermaine Cunningham (4, IR), Dane Fletcher (22), Niko Koutouvides (3), Aaron Lavarias (0), Jerod Mayo (83), Rob Ninkovich (82), Mike Rivera (0), Trevor Scott (—), Alex Silvestro (1), Brandon Spikes (40), Jeff Tarpinian (2), Tracy White (18)
Unfortunately, the Patriots' two best pass rushers in 2011 are not on the roster: Mark Anderson parlayed his late-season success into a four-year, $27 million deal with the Bills, while Andre Carter suffered a knee injury in the Patriots' regular season win over the Denver Broncos. Carter might return, but he's not under contract at the moment.
The Patriots need at least three inside linebackers. Jerod Mayo, known as Jerod Belichick to teammates, will have one of those spots, as will Brandon Spikes, who, if he can stay healthy, is primed for a breakout season in 2012. So is Dane Fletcher, who brings the speed that Spikes lacks, which makes him effective on third downs. With the departure of Gary Guyton, who is still a free agent, the No. 4 spot at ILB will probably go to Tracy White, who is also a major contributor on special teams.
At outside linebacker, the pickings seem rather slim. Rob Ninkovich, who played more snaps at OLB than anyone else in 2011, seems like a lock to start at OLB this year. Beyond that, though, the cupboard seems rather bare. Jermaine Cunningham regressed badly from 2010, and the Patriots finally put him on injured reserve in December. Patriots fans can only hope that he improves in 2012.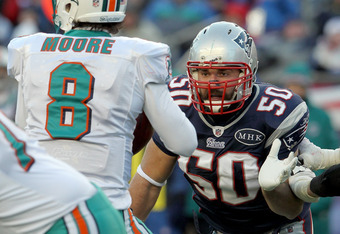 Jim Rogash/Getty Images
A dark horse at OLB is 2011 sixth-round draft pick Markell Carter, who didn't make the roster, but was signed to the practice squad and won the Patriots' practice player of the week award seven times in 2011. The coaches clearly like him, as they more than tripled his salary late in the season (in part to keep him from signing with another team), and he will have every chance to win playing time this season. 
Beyond those three, though, the OLB crew is a veritable "who's that?" Since the Patriots are paying Trevor Scott over $1 million this year, I'd give him a high likelihood of earning a spot on the 53 for now. The last spot will likely come down to special teams ability; on those grounds, I'll give the last spot to undrafted free agent Jeff Tarpinian.
Projection (9): Carter, Cunningham, Fletcher, Mayo, Ninkovich, Scott, Spikes, Tarpinian, White
Summary
Projected Offensive Skill Positions Total: 16 (see Part 1 of this series)
Projected Offensive Linemen: 9 (see Part 2 of this series)
DL (6): Brace, Deaderick, Fanene, Love, Pryor, Wilfork

LB (9): Carter, Cunningham, Fletcher, Mayo, Ninkovich, Scott, Spikes, Tarpinian, White
Total DL/LB: 15
Projected Secondary: 10
Specialists: 3
Total: 53