Pre-Draft Look at the New England Patriots' 2012 Roster: Part 2, Offensive Line
April 3, 2012

Jim Rogash/Getty Images
Tom Brady recognizes the value of a good offensive line—he agreed to do commercials for Visa only if they featured the offensive linemen who protected him—as of April 1.
The Patriots have a total of 13 offensive linemen on the roster, many of whom have question marks:
| | | | | |
| --- | --- | --- | --- | --- |
| Player | Height/Weight | Center | Guard | Tackle |
| Marcus Cannon | 6'5", 358 |   | X | X |
| Dan Connolly | 6'4", 313 | X | X |   |
| Robert Gallery | 6'7", 325 |   | X | X |
| Kyle Hix | 6'7", 325 |   | | X |
| Matt Kopa | 6'6", 303 |   |   | X |
| Matt Light | 6'4", 305 |   |   | X |
| Logan Mankins | 6'4", 310 |   | X | X |
| Nick McDonald | 6'4", 305 | X | X |   |
| Nate Solder | 6'8", 319 |   |   | X |
| Donald Thomas | 6'4", 310 |   | X |   |
| Sebastian Vollmer | 6'8", 315 |   |   | X |
| Brian Waters | 6'3", 320 |   | X |   |
| Ryan Wendell | 6'2", 290 | X | X |   |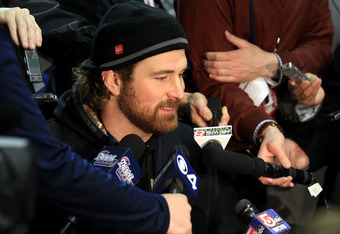 Scott Halleran/Getty Images
I've included their heights and weights because size is a factor in choosing offensive linemen in a way that hasn't mattered as much for the Patriots in terms of, say, wide receivers.
Starting Center
For most of Tom Brady's time in Foxboro, his center was Dan Koppen. The Dan Koppen era appears to have ended in Foxboro. However, the Patriots gave Dan Connolly a three-year deal worth nearly $10 million—clear evidence that they view him as a starter going forward.
Projection (1): Connolly
Starting Guards
Logan Mankins has been a mainstay on the Patriots' offensive line at left guard since the day he was drafted. He was good enough to be voted to the Pro Bowl in 2010 even after holding out for about half the season.
Brian Waters was a classic Belichick reclamation project in the mold of Junior Seau. After the Chiefs waived him last year, the Patriots signed him to a two-year deal. Waters became popular in the locker room and was voted a starter for the 2012 Pro Bowl.
Neither position is etched in stone at the moment—Logan Mankins needed knee surgery after Super Bowl XLVI, while Brian Waters has hinted that he might retire. That said, the left guard job is Mankins' if he's healthy, and Waters has the right guard position if he decides to give it another go.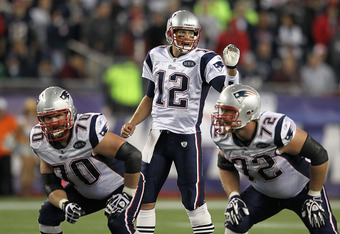 Jim Rogash/Getty Images
Projection (2): Logan Mankins (left), Brian Waters (right)
Starting Tackles
The Patriots drafted Matt Light in 2001, and for as long as he's been healthy, he's been the Patriots' left tackle. That may change this offseason as Patriots owner Robert Kraft has expressed his belief that Light may retire, even though he signed a two-year, $12 million deal last offseason (his 2012 salary is $3.4 million).
Fortunately for the Patriots, they appear to have Light's replacement already on the roster in Nate Solder—their first-round draft pick in 2011. Despite being 6'8", 319 pounds, he ran a 4.9 40 at his pro day. So he's got the speed and athleticism to keep up with speed rushers. Given the number of statements regarding Light, I currently expect Solder to be the starter.
At the other end of the offensive line, the Pats have another man-mountain in 6'8" Sebastian Vollmer, a 2010 All-Pro. Vollmer struggled with injuries, which pushed Solder into a starting role as a right tackle, even though the Patriots projected Solder to be a left tackle. In any case, if Vollmer is healthy, the right tackle job is currently his.
Projection (2): Solder (left), Vollmer (right); Light retires
Backups
Here's where things get interesting.
The Patriots will likely keep four backup players for the OL. Among those four, they'll need at least one player who can play each position. Of course, Patriots offensive line coach Dante Scarnecchia loves having versatile backups, especially those with good size.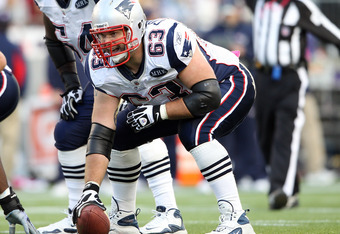 Elsa/Getty Images
One backup who seems almost certain to make the roster is 2011 fifth-round pick Marcus Cannon, a feel-good story from Texas Christian University who made a comeback from non-Hodgkin lymphoma. Cannon, who played left tackle at TCU, comes in a little short at 6'5" compared to Mounts Solder and Vollmer, but at around 350 pounds, he has the "sand in his pants" to avoid being moved.
It's not clear whether the Pats see Cannon's future at right guard as a future replacement for Waters or possibly as a future right tackle replacing Vollmer (whose contract expires after this year), but it's clear they see him as a major steal.
Another player likely to make the roster is Nick McDonald, who joined the Patriots' practice squad after he was waived by the Green Bay Packers.
McDonald was the fourth-string center for the Patriots but was forced to play after injuries to Koppen, Connolly and Ryan Wendell. McDonald acquitted himself well and seems likely to win a backup slot at center and has played guard as well.
Speaking of Wendell, he is also likely to make the roster. A 2008 undrafted free agent, the Patriots kept him on the practice squad for two years and even paid him as if he were on the active roster to keep him.
Combine that with his on-field experience in 2010 and 2011 at guard and center, and Wendell seems a near-lock for one of the other backup spots.
That leaves one spot for four remaining players—Gallery, Hix, Kopa and Thomas. Hix and Kopa have never been on the Patriots' active roster and seem unlikely to make it this year either.
So that leaves Donald Thomas, who played in 10 games in 2011 and Robert Gallery. Belichick has said that he would have drafted Gallery if he could. A 6'7" behemoth, Gallery struggled at left tackle for the Raiders but had success at left guard. Given the uncertainty here, the Patriots will give Gallery every chance to earn a spot on the roster, even if it's a one-year deal.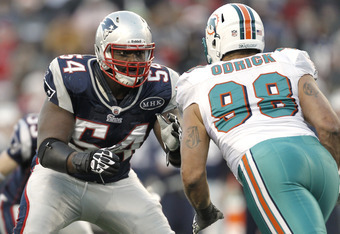 Winslow Townson/Getty Images
My gut tells me that if Belichick had to pick one, he'd take Gallery. If Mankins is too hurt or Waters retires, though, then Thomas would be the next in line to take a spot.
Projection (4): Cannon, Gallery, McDonald, Wendell
Summary
Projected Offensive Skill Positions Total: 16 (see Part 1 of this series)
OL (9): Cannon, Connolly, Gallery, Mankins, McDonald, Solder, Vollmer, Waters, Wendell
[Most likely replacement for PUP/retired players: Thomas; most likely to be displaced if Matt Light returns: Gallery]
Projected Defense: 25
Specialists: 3
Total: 53