A Pre-Draft Look at the Patriots' 2012 Roster: Part 1, Offensive Skill Positions
April 2, 2012
Rich Schultz/Getty Images
Recently, Aaron Dodge posted a preview of possible Week 1 starters for the New England Patriots. 
Of course, a team is more than its starter, so I decided to look at the entire 53-man roster.
This first article will look at the offensive skill positions: quarterback, running back/full back, tight end, and wide receiver.
Part 2 will deal with offensive linemen; one or more future articles will deal with the defense and special teams.
Quarterbacks (4)
Tom Brady, Mike Hartline, Brian Hoyer, Ryan Mallett
If you think Brady won't make the team, I have a stadium in Foxboro you might want to buy. . . .
The only real question is whether some team will decide to trade for Hoyer or Mallett before the season begins. The Patriots have invested a lot of effort in both young QBs, and a day three pick won't cut it (especially for Mallett).
Hartline is a camp arm only.
Projection (3): Brady, Hoyer, Mallett
J. Meric/Getty Images
Running Backs (3)
Stevan Ridley, Shane Vereen, Danny Woodhead
Vereen, the first of the Patriots' two RB draftees in 2011 was injured for much of the season; the other, Ridley actually saw his number called a lot before developing a late-season case of fumblitis. Woodhead had a rather disappointing 2011 compared to his breakout season of 2010, but still averaged over 5 yards per carry.
Seeing as all three cost less than the new contract BenJarvus Green-Ellis signed with the Bengals, all three should be back. The only real question is if the Pats bring a veteran RB to compete with them.
Projection (3): Ridley, Vereen, Woodhead
Fullbacks (3)
Tony Fiammetta, Eric Kettani, Spencer Larsen
The Patriots seem determined to at least explore the idea of having a fullback in the offense, which seems a bit strange for a team that has largely functioned without one for years (the last true fullback they've had was Heath Evans); that said, they've already released the fullback they signed late last season, Lousaka Polite.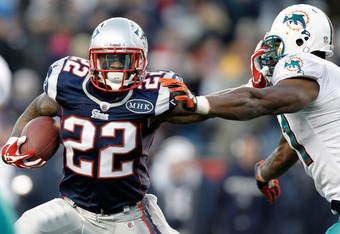 Winslow Townson/Getty Images
Fiammetta is a low-risk option, recovering from an illness that hampered his work with the Cowboys; Kettani is a former Navy fullback whose position with the team remains unclear because of his military obligations. Spencer Larsen, formerly of the Broncos, is an interesting pick: he's a true two-way player, in the mold of Mike Vrabel, whose versatility might well appeal to Belichick. For now, that versatility—and the fact that Larsen was signed to a two-year deal—earns Larsen the nod.
Projection (1): Larsen.
Tight Ends (3)
Daniel Fells, Rob Gronkowski, Aaron Hernandez
Much has been written about the tandem of Gronkowski and Hernandez. All I need to say here is that they're both locks to make the roster this year. Fells, a former Bronco (get used to that phrase) got a three-year, $5 million+ contract with the Patriots, so it seems unlikely he'll be cut this year unless he massively disappoints in training camp.
Projection (3): Fells, Gronkowski, Hernandez
Wide Receivers (10)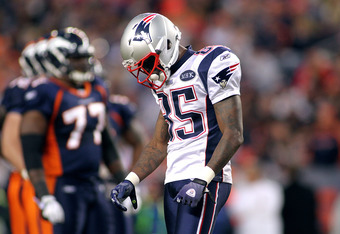 Marc Piscotty/Getty Images
Deion Branch, Britt Davis, Julian Edelman, Anthony Gonzalez, Brandon Lloyd, Chad Ochocinco, Matthew Slater, Donté Stallworth, Tiquan Underwood, Wes Welker (franchised)
Let's start with the givens: Brandon Lloyd is being paid too much to not make the roster, and Wes Welker will be a Patriot in 2012 unless some team loses its mind and coughs up an insane trade (e.g., a top-16 pick plus a second-rounder).
Similarly, Matthew Slater and Julian Edelman will probably make the team, although more for their versatility and contributions on special teams than their abilities at wide receiver: Slater just received a new three-year deal, while Edelman is arguably the best punt returner in Patriots history. That said, they are listed as wide receivers on the Patriots' roster, so that's where I'll count them. (They wouldn't be the first in Belichick's tenure: even in 2007, the Patriots had WR Kelley Washington basically playing only on special teams, even though they initially brought him in as a receiver.)
On the other hand, Davis and Underwood are camp fodder who are unlikely to make the team. (It's actually surprising that the Patriots were able to resign Underwood, as they had cut him on the eve of the Super Bowl; they needed to make room for an extra player on ST as a result of Gronkowski's ankle injury.)
The Pats have normally kept six roster spots for WR, so that leaves two for Branch, Gonzalez, Ochocinco, and Stallworth. Of those four, only Gonzalez has never played with Tom Brady (Stallworth was with the Patriots in 2007); moreover, he's coming off injuries that have derailed his career (just five catches in three seasons). It seems unlikely he will make the roster this year, although there's at least a chance.
So it really comes down to who proves the most out of Branch, Ochocinco, and Stallworth. My gut tells me it'll be Branch and Stallworth, especially if Stallworth still has the yards-after-catch ability he demonstrated in his first stint in New England.
Projection (6): Branch, Edelman*, Lloyd, Slater*, Stallworth, Welker (*special teams contributor)
Summary:
The Patriots have generally used a 25-25-3 split on offense, defense, and special teams, though sometimes they've split it 24-26-3. Looking at the current roster, the former seems more likely.
QB (3): Brady, Hoyer, Mallett
RB (3): Ridley, Vereen, Woodhead
FB (1): Larsen
TE (3): Fells, Gronkowski, Hernandez
WR (6): Branch, Edelman, Lloyd, Slater, Stallworth, Welker
Projected Offensive Skill Positions Total: 16
Projected Offensive Linemen: 9
Projected Defense: 25
Specialists: 3
Total: 53