Wisconsin Football: 10 Reasons Badgers Fans Are the Worst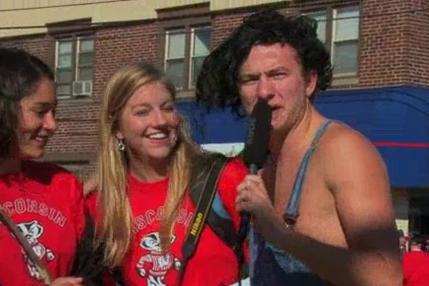 The state of Wisconsin is host to all sorts of riveting tidbits of information regarding its rich historical prominence among its brethren states in the great Midwest.
Actually, I don't know if riveting and Wisconsin are really words to be used in the same sentence. What I do know is that they are rabid fans of their Wisconsin Badgers football team.
The zealous nature of Badger fans makes sense; Wisconsin provides limited reasons for excitement.
The only associations I can make about the state are informed by pop culture—it was the home to such serial killer notables as Ed Gein and Jefferey Dahmer, the birthplace of Chris Farley, and it is home to the eternally non-No. 1 selling domestic beer, Miller.
And I suppose from an agricultural standpoint, they are making the most out of an abundance of cows.
In light of such redeeming associations, Badger football fans are able to sustain and enhance the reputation of both the school and the state with their unique brand of football fanaticism.
Here are several reasons Wisconsin Badger football fans are among the most notorious.
Begin Slideshow

»
You, the proud and utterly pioneering fan of Badgers football, manage to take one of the most ridiculously meaningless and entirely exhausting fan participatory sequences in all of sports, "the wave," and enhance its level of senselessness beyond the beyonds.
Your non-traditional version creatively epitomizes your superiority to all other fanbases.
The student section begins the wave, sending it around the stadium once counterclockwise, once in slow motion, then once at double the original speed, then reversed (clockwise) and, finally, splitting it into two counter-rotational waves.
No words can describe the breakthrough in artistic approach to fan participation that this collaborative effort has brought to the fore.
It will certainly take years, and most likely endless cases of beer, before any fanbase can come close to duplicating such innovation.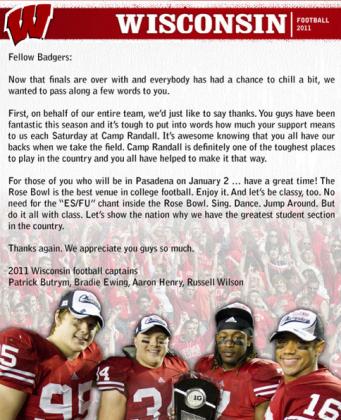 Badger fans, in addition to being innovative, are both articulate and classy. After all, they created the "ES-FU" chant.
Let's follow the bouncing ball on this profound lyrical gem; the call and response goes a little something like this, "Eat Sh**…F*** You!" with some other bits, which fail to match the profundity of the main lyric, thrown in as well.
This little ditty fulfills the dual attributes of being easy to remember for the obnoxiously inebriated Badger fan, as well as being representative of the superior level of articulation possessed by the prototypical Badger fan walking through the turnstiles at Camp Randall Stadium.
The level of embarrassment from the school's administration reached its peak when they attempted to bribe the student population into discontinuing this collegial call and response.
This past season, before a game against Indiana, in an e-mail to students, they offered to randomly select two season ticket holders and pay for their trip and tickets to the team's upcoming bowl game, as long as the chant was not heard at any point during the game or after.
A standing offer that extended throughout the duration of the season.
Once again, Badger fans prove their rightful ownership to the label of standard-bearers of originality and intelligence, on a national level no less.
There is nothing like taking a song that was horrendous from the moment it entered the collective minds of the group House of Pain and using it as the basis for another incredibly uninspired interactive experience at Camp Randall Stadium.
This one, luckily, requires no ability by the fan to follow a repetitive and complex verbal chant, rather, they must simply have the ability to perform that childlike function of jumping up and down, not even necessarily in unison.
Although this tradition seems to be more of a means to distribute large amounts of alcohol through the bloodlines of fans, it is astonishing that this game day tradition has not resulted in a seismic reverberation to cause a collapse of Camp Randall stadium.
However, there is always room for improvement based on an upgraded commitment to meaningful goals!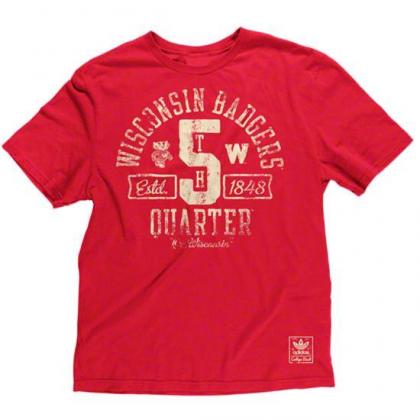 You, the Badger fan, have decided that win or lose, four quarters of the aforementioned in-game banter is simply not enough and thus extended the experience into the poignantly named fifth quarter.
Being that tumbleweed chasing and cow tipping are the most extravagant forms of Saturday night enjoyment otherwise, it makes sense that those attending Badger games during the day would revel in the opportunity to extend game day. Well done.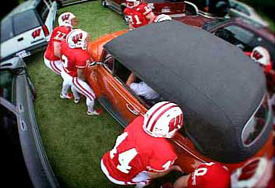 A campaign which was initially launched in 2004, the renewal, is seen as a way "to deal with fan behavior issues on a number of levels that involve the university, the community and Badger fans at large."
The rekindling of this initiative is not only a Badge-r of honor for the true Wisconsin football fan but also a reminder that they must renew their efforts to an even higher degree in order to justify even more disciplinary actions and restrictions.
C'mon, U of W fans, are you really going to let this Red Carpet BS impede your prowess as perfunctory purveyors of in-game moronic behavior?
Your becoming a redundant caricature of your former fandom's collective self! It's time to lay down an upgraded gauntlet!
The only thing more revolting than the mascot itself, is the level of affinity from Wisconsin fans towards this steroidal badger garbed up in a candy cane.
While there are worse representations of college sports teams moronically attempting to manipulate and inspire fans, including the 10 in this list, that in no way excuses this monstrous caricature's perpetration of a fraud on a member of mother nature's weasel family.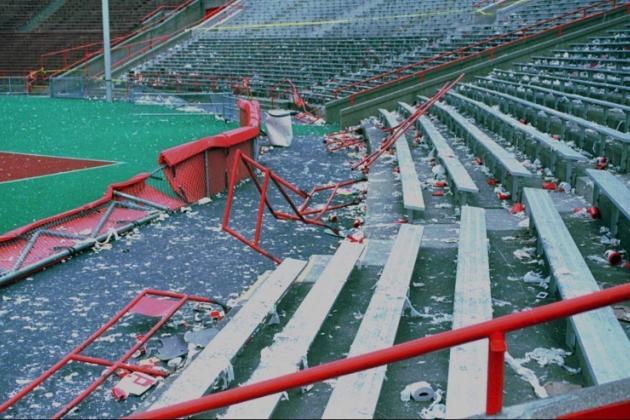 Not only are Badger fans well practiced in present traditions which are shambolic, but they also carry on their shoulders the weight of a rich history of injuring and nearly inciting fatalities onto their own.
No fans are able to contradict the old sports adage of, "acting like you've been there," on a massive scale quite like Badger football fans, especially after a 13-10 victory over Michigan on October 30, 1993.
In what has appropriately come to be referred to as the "Camp Randall Crush," perhaps inspired by intoxication, merely a non-witness assumption, fans collectively bum-rushed the field, only to be inhibited by guardrails, you know, the apparatus meant to prevent fans from charging the field.
However, with new intent to teach that hindrance of a guardrail a lesson, fans in the back of the throng worked as a unified force, pushing those in the front directly into that stubborn guardrail, causing many to be crushed and trampled in the process.
In summation, only 73 people were injured, six of them critically so, but considering that at the time it was the first victory over Michigan in 12 years and put the team in a position to go to the Rose Bowl for the first time in 31 years, the amount of those injured seemed a pittance to pay in the spirit of collaborative celebration.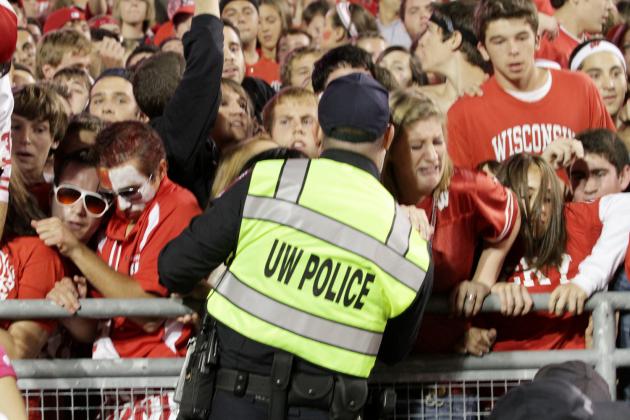 In perhaps a nod to the historical over-zealousness of their forbearing fans or just another attempt to recycle unfortunate traditions, Badger fans nearly duplicated the scene from 1993, in a 31-18 victory over then top-ranked Ohio State on October 16, 2010.
Although, ultimately the bar was set too high in 1993, as this most recent attempt by Badger fans at nostalgia fell short of matching it's predecessor in pure chaos and destruction.
The end result only produced a handful of injuries and one damaged ESPN camera. Again, seems it is time for a re-commitment to fan-centric goals.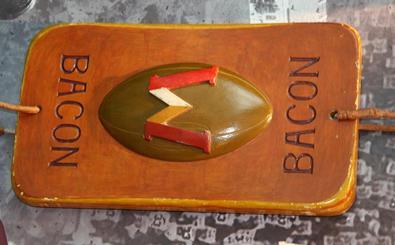 Some schools play for prestige, pride and glory, still others play for all the marbles or actual trophies. Wisconsin played the University of Minnesota for that coveted and most caloric and greasy of prizes, a slab of bacon.
Yes, the precursor to the current prize for the winner of the game between the Badgers and the Gophers, which is Paul Bunyan's Axe, was meant to represent that food which almost eclipses beer in its level of significance to Badger fans, bacon.
One can only search the imagination for the next possible "trophy," for the winner of this game. Perhaps it will be a bib, resulting in the perfect amalgamation of axe, bib and bacon. Every Badger fans requisite pre and postgame meal.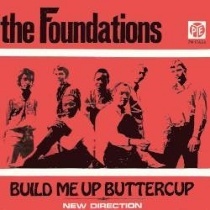 Fortunately for Badger fans they are not in the minority of those fanbases who choose to employ this sappy showtunesque song during the course of an athletic event, MLB's Anaheim Angels and their college football colleagues, Boston College, also have chosen to incite a massive karaoke rendition of this forgettable tune during their games.
This tradition provides even further validation for ESPN to mute not only the student section but Camp Randall at large during telecasts.