MLB 2012 Predictions: National League East Seized by Philadelphia Phillies
March 29, 2012

Jed Jacobsohn/Getty Images
The NL East will be the division to watch in 2012. With four teams that could contend for a division title or Wild Card, this will be the most competitive race in baseball.
The Phillies might not be ready to get knocked off quite yet, but the Marlins and Nationals are closing the gap quickly. And don't forget about the Braves, who had the wild-card spot up until the very end of the season. Of course, they lost it in an epic collapse.
But that was last season. What's going to happen this year?
1. Philadelphia Phillies
"Shaken, but not stirred" could be the slogan for the 2012 Phillies. It's not that anyone on the team is a James Bond nut or a fan of the martini. The defending NL East champs have been shaken up by injuries. But the Fightins won't be stirred from their place atop the division, which they've won for five consecutive years.

Philadelphia likely won't win the division by 13 games, as they did last year. But it's not like this team hasn't had to fight to the end for first place during its five-year reign.
The difference this time around is that two division rivals appear to be on the rise, while the Phillies face a rapidly closing window of opportunity.
That window will stay open this year, though injuries to Chase Utley and Ryan Howard have decimated the Philadelphia infield. Rookie Freddy Galvis at second base and Ty Wigginton at first cannot be what the Phillies and their fans had envisioned for another championship run.
Rumors have persisted throughout spring training that general manager Ruben Amaro is looking for a starting-caliber infielder but might have to wait until midseason for help to become available.
Yet the Phillies still have fantastic pitching, and that will carry them to a sixth straight division title. No team has a better top three in its starting rotation than Roy Halladay, Cliff Lee and Cole Hamels. And Vance Worley would be higher in the rotation on virtually any other pitching staff.
The bullpen is strong as well, with no obvious weak spots (we'll quickly find out if Chad Qualls' 3.51 ERA last season was a product of Petco Park).
Many winced when Amaro signed Jonathan Papelbon to a four-year, $50 million contract, but he is going to be an outstanding closer in the National League.
2. Washington Nationals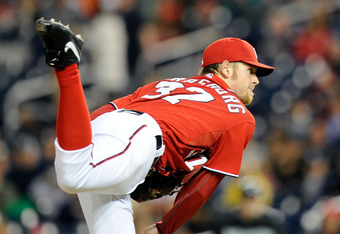 Greg Fiume/Getty Images
Picking the Nats for second place and a wild-card playoff spot might be a bit too ambitious. The Nationals could still be one year away from playoff contention, when they'll likely add phenom Bryce Harper to their lineup and perhaps bring in the slugging first baseman general manager Mike Rizzo couldn't get this past winter.
But with Davey Johnson taking over in the dugout as manager, the Nats made a huge jump, improving from 69 wins to 80 and a third-place finish in the division. Virtually the entire everyday lineup that was responsible for that improvement returns for 2012.
Jayson Werth has to improve over a disappointing debut season. Adam LaRoche isn't who Nats fans ideally wanted to see at first base, but when healthy, he's capable of providing at least 20 homers and 80 RBI.
The question is whether Michael Morse can repeat his breakout 2011 season. Is he good for another 31 homers and 95 RBI? The early chances don't look good, as he'll begin the season on the disabled list with a strained lat muscle.
The pitching staff will be even better. The Nats won't be putting the likes of Jason Marquis and Livan Hernandez on the mound anymore.
Stephen Strasburg is ready to take his place among the elite pitchers in baseball. Gio Gonzalez is an excellent No. 2 starter, and Jordan Zimmerman isn't far behind him as the No. 3 man.
Edwin Jackson will also provide depth the rotation hasn't had before (unless he's traded this season, because he always is).
Drew Storen will miss the beginning of the season with an elbow inflammation. But even without him, the Nats might have the best bullpen in the division.
Tyler Clippard was a lights-out setup man, one of the best in the league. Johnson will also have plenty of options to pick from in later innings with Brad Lidge and Henry Rodriguez.
3. Miami Marlins
No other team in the National League improved itself more than the Marlins during the offseason.
Jose Reyes gives the lineup a jolt as a leadoff hitter with great speed, and he'll improve the infield defense significantly.
There will be plenty of hitters to drive him in, with Hanley Ramirez, Giancarlo Stanton, Logan Morrison and Gaby Sanchez making a strong middle of the order. Stanton is ready to break out as an MVP candidate.
Mark Buehrle is an excellent No. 2 starter who could be a proxy No. 1, if Josh Johnson can't stay healthy. If Johnson does, however, he'll contend for the Cy Young Award.
But there's a reason the Marlins were hoping to bring in yet another starting pitcher, such as C.J. Wilson. The rotation has some question marks after those top two starters. Ricky Nolasco took a big step back last year, and Anibal Sanchez still hasn't lived up to his talent.
And then we have Carlos Zambrano. Either Ozzie Guillen and pitching coach Randy St. Claire will figure how to get the best out of him, or it could become an explosive situation that makes the Marlins Park home run feature look sedated.
4. Atlanta Braves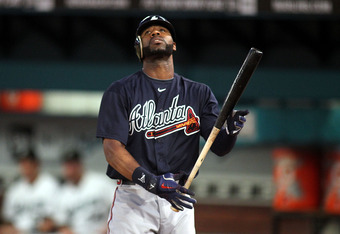 Marc Serota/Getty Images
If there was another team more grateful for the Boston Red Sox's fried chicken and beer-fueled collapse than the Tampa Bay Rays last season, it was probably the Braves.
Atlanta squandered what looked like a certain postseason spot by blowing a nine-and-a-half-game wild-card lead to the St. Louis Cardinals with a 9-18 record in September. Yet that epic stumble was lost underneath the Red Sox's scandal and the Cards going on to win the World Series.
Still, the players who endured that collapse still have to live with what happened. That's quite a psychological burden for a team to handle—one that's buried other such teams in the past.
The Braves weren't helped by an offseason during which they made no improvements. General manager Frank Wren listened to offers for Martin Prado and Jair Jurrjens, yet never went through with a deal. As it turns out, with injuries to Tim Hudson and Chipper Jones, Wren may have been smart to hold onto those two players.
There are just too many questions about this team going into the season to be confident in their chances.
Has Jason Heyward fixed the swing that's hitting ground balls instead of fly balls? Can the Braves get away with Eric Hinske and Matt Diaz in left field? Will Craig Kimbrel, Jonny Venters and Eric O'Flaherty regress after being used so heavily last season? And who is going to be the starting shortstop?
5. New York Mets
Can we just say, "Next, please"?
This is not going to be a pretty season for the Mets. But you already know that.
The highlight of the season may have already taken place, with ownership reaching a settlement with the trustees for victims of Bernie Madoff's Ponzi scheme. Though the team may no longer have that cloud over it and has avoided bankruptcy, a significantly reduced payroll and general manager Sandy Alderson's intention to streamline the entire organization means this team isn't going to be competitive for a while.
That's not to say there aren't some storylines worth following.
How will the moved-in fences and shorter walls benefit hitters such as David Wright and Jason Bay? Even if Wright's numbers improve, what happens to him with Alderson saying the Mets won't add payroll? Will that just make Wright a more attractive trade chip? What are the chances he's in another uniform by August?
Johan Santana might be the best reason to watch to Mets this season. He's pitched well this spring and looks to be fully recovered from the shoulder surgery that cost him all of last season.
Santana was a joy to watch when he was perhaps the best pitcher in baseball from 2004 to 2007. If he can come anywhere close to that level of performance, the Mets will be worth watching once every five days.
Otherwise, the only race the Mets will be in is with the Houston Astros for the No. 1 overall pick in the June amateur draft.