New York Mets Owners Reach $162 Million Settlement in Madoff Lawsuit
March 19, 2012

Marc Serota/Getty Images
If you've ever wondered if it was possible for someone to be relieved about having to pay out $162 million, you might want to check in on New York Mets owners Fred Wilpon and Saul Katz today. 
As reported by the New York Times, the Mets owners reached a settlement with the trustee for victims of Bernie Madoff's Ponzi scheme on Monday, in a rather surprising development. Irving H. Picard initially sought $1 billion for the trustees, but the judge presiding over the case reduced that demand to $386 million. Judge Jed S. Rakoff ruled that Picard could only seek profits from the two years before Madoff's arrest, instead of the six years' worth of profits originally targeted.
How do you spell "relief"? How about having to pay $224 million less, along with avoiding the "negative energy" of a lengthy, ugly trial? Not even Mariano Rivera can provide relief like that. 
If it wasn't already apparent, I'm not a lawyer. Nor am I any kind of legal expert, though I often enjoy portraying one over adult beverages with friends. But those with actual knowledge of such matters say—with much surprise— that Wilpon and Katz got off easy here.
"The terms seem too good to be true for Wilpon and Katz," said Bradley D. Simon, a former federal prosecutor who now focuses on white-collar civil litigation for Simon & Partners. "I certainly consider this a capitulation by the trustee. It seems quite one-sided."
Simon went on to speculate that Picard might have caved in because the judge was dubious of his ability to prove that the Mets owners knew what Madoff was up to and thus could have done something about it.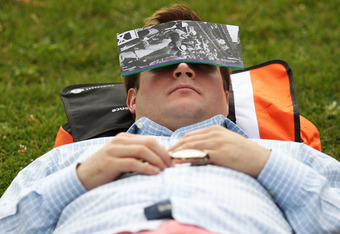 Oli Scarff/Getty Images
If you still haven't had your Monday afternoon nap, the actual settlement agreement is available online to read. I fell asleep midway through the first paragraph, so if you get further, I tip my cap to you. OK, that's not entirely true, I got all the way up to the part about "Mutual Releases," which explained the— zzzzzzz.
But let's get out of the courtroom. What does this mean for the Mets from a baseball standpoint? Glad you asked (seriously).
Does this mean that the Mets once again have the ability to offer $36 million contracts to the likes of Oliver Perez? Well, probably not. Ownership avoided the back-breaking, bankrupting total of $386 million, but Wilpon and Katz still have to pay out $162 million (though it could end up being less than that, as ESPN New York's Adam Rubin explains).
In addition, the Mets also have to pay back a $40 million loan to Bank of America and $25 million back to MLB for an emergency loan issued to pay the team's bills. 
OK, those aren't really baseball matters. Sorry about that. But it's either this or talking about Mike Pelfrey giving up eight runs in 2 2/3 innings on Sunday.