Peyton Manning: Why the Broncos Won't Sign the QB, Plus Projected QB Depth Chart
March 17, 2012

Andy Lyons/Getty Images
As the Denver Broncos appeared to be front-runners to sign free-agent quarterback and future Hall of Famer Peyton Manning just a short while ago, they are losing ground to two other teams.
They began to slide in the "Peyton Power Rankings" to the Tennessee Titans when Titans owner Bud Adams said this to the Tennessean:
He is the man I want. Period. And the people that work for me understand that. They know who I want. I want Mr. Manning with the Titans and I will be disappointed if it doesn't happen.
The Titans have convincing reasons for Manning to sign with that team.
He was a college legend in Tennessee, as he was an All-American for the Volunteers. Like the Broncos, Tennessee would love to have No. 18 commanding their offense and dominating the league.
Additionally, the Titans would play Manning's old team, the Colts, twice every year because they are division foes. Manning worked out for the Titans today. 
The San Francisco 49ers jumped in the bandwagon yesterday as reports were saying that Manning worked out for the Red and Gold earlier last week.
The 49ers have their own persuasive reasons for the quarterback to sign in San Fran, also. 
Manning would lead an already Super Bowl contender team. With Manning, the 49ers would be unstoppable in the NFC.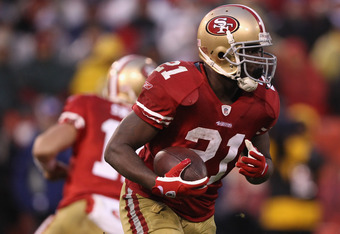 Ezra Shaw/Getty Images
The Niners have a phenomenal defense and a developed offense featuring running back Frank Gore and recently-signed wide receiver Randy Moss. 
The Broncos are going to have a tough time to convince Manning to sign with Denver. They have a great defense that is improving rapidly, but a new defensive coordinator, Jack Del Rio, is now in charge. The Broncos have struggled with DC changes, with the exception of Mike Nolan (currently the DC of Atlanta) and Dennis Allen (currently the head coach of the Oakland Raiders).
The Broncos also have an inexperienced, undeveloped offense that might appear unattractive to Manning. Denver, however, can look elsewhere to improve their quarterback core.
The Broncos have extensively scouted Brandon Weeden—a 28-year-old quarterback prospect who played for the Oklahoma State Cowboys while he has in college. 
Weeden, despite being 28, is a fantastic second or third-round option for the Broncos this draft. Another early-round quarterback prospect who the Broncos should look into is Michigan State's Kirk Cousins.
Denver also has to evaluate its current quarterback situation.
Tim Tebow struggled toward the end of the season last year, and second-stringer Brady Quinn signed with the Kansas City Chiefs. 2011 practice squad addition Adam Weber was promoted to the active roster, but will likely be a third-stringer. The Broncos should bring in another quarterback.
My prediction is that Denver will trade their 2012 second-round pick and 2013 third-round pick to jump up and snatch a high second-rounder. Using that selection, they will draft Weeden.
I also think the Broncos will get rid of Tebow this offseason. They can easily squeak a third-round pick out of the team they deal the celebrity to.
If the Broncos ditch Tebow, they will need another quarterback to push their rookie. They can sign a starter-worthy quarterback, or a QB who is near that status.
Denver should look to sign Vince Young. VY backed up Michael Vick last year, and would be a very reliable backup. He started multiple games last season, and if something goes wrong with the starter VY would fill in.
Here is my projected Broncos' 2012 quarterback depth chart:
Brandon Weeden: Projected 2012 second-round draft pick (selection via trade)
Vince Young: Projected 2012 free-agent acquisition
Adam Weber: 2011 undrafted free-agent acquisition
The Broncos would have a great group of quarterbacks and would immediately have a much better offense than they did in 2011. They likely won't acquire Peyton Manning, but they still can upgrade the position immensely.