Colts Release Peyton Manning, Close to Letting Bad History Repeat Itself
March 8, 2012

Joey Foley/Getty Images
Peyton Manning has been released, and now the Colts will be putting their future in the hands of an unproven rookie instead of the man that led them to eight division titles, a Super Bowl victory and a brand new stadium.
Peyton defined Indianapolis football for 14 years, turning a Colts team from laughing stock to perennial contender—all with a team that would most likely go 2-14 without him—as evidenced by last season's collapse without him.
To put it lightly, Peyton Manning equals 10 wins at the minimum. That Colts team was largely unchanged from the season before, when they won the AFC South with a 10-6 record, following up a 14-2 season and a league MVP year.
He was my early season MVP candidate this season as soon as I learned that he wouldn't be playing to nurse his neck injury. Now, after the season is over, you would be hard pressed to find another person who would disagree with giving the award to someone for proving their worth by not suiting up.
During his tenure, Manning was responsible for 63 games with over 3,00 yards passing. He broke all of Johnny Unitas' passing records for the Colts. He earned four NFL MVP awards and trails only Dan Marino and Brett Favre in yardage racked up.
Since 2002, the Colts have made the playoffs every year and compiled a 99-29 record, winning five straight AFC South titles from 2003-07, and had seven consecutive seasons of 12 or more victories from 2003-09, the first time that has been accomplished in the history of the NFL.
At the press conference when his release was announced, he thanked the city, fans and team for their support and reiterated how much they meant to him, choking back tears. Yet, through that all, Colts GM Jim Irsay could come up with no way to keep the most cerebrally gifted quarterback to ever touch a football.
Manning and Andrew Luck (assuming he is the first pick), would have been Batman and Robin, with Manning teaching Luck how to run the offense from which Manning cut his teeth. Luck worked with Manning previously, and the Colts could have had the best college QB recruit in the past decade learning from the best QB in the past decade.
But they couldn't get it done. The Colts wanted to keep him, Manning wanted to stay and a deal didn't get done.
It's a hard pill to swallow for Colts fans, seeing the only reason they were relevant in football at all walking away.
When Manning was drafted out of the University of Tennessee, the Colts had a choice to make then as well: Manning or highly-touted cannon-armed Ryan Leaf, who many speculated would grab the first choice from Indy. If anyone needs a refresher on how Leaf's career turned out, just watch footage of a demolition derby and you've pretty much summed it all up.
Manning, however, went on to become the deadliest offensive weapon possibly in NFL history—a player that calls the plays after he has seen the defense? It's like playing 'Madden' on the Xbox and cheating every play, watching to see what your opponent is choosing and then deciding what to run. Not fair.
Now, unless you have a player named Brady or Rodgers taking the snaps on your team, you have to at least inquire as to whether the greatest free agent ever has any interest in joining your team. Where should Manning go? There are a bunch of locations that would suit him.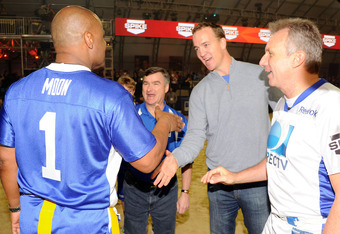 Andrew H. Walker/Getty Images
Miami has a promising young team with a glaring need at quarterback. They have the money to sign Manning, so that isn't an issue. And already, free agent Reggie Wayne has spoken in public about a  possible Manning/Wayne/Brandon Marshall combination that would probably make the Dolphins instant favorites in a tough AFC East, competing against the Patriots.
Although the doctors have cleared Manning to play, in Miami he would have no security blanket backup QB, and a so-so offensive line protecting him that would need to be bolstered in nearly each position to keep Manning upright and reduce hits that could aggravate his neck.
Dan Snyder and the Washington Redskins will likely also make a play, but no one really wants to play there. The only thing they want is some of Snyder's money, and Manning has plenty of cheddar already.
Many have speculated the Jets as being active players in the Manning sweeps, but I also doubt Manning will want to be in the same city, and the same stadium, competing for the same division as his brother, Eli. Jets are out.
The Seahawks and Cardinals have both already reached out to Manning. The Seahawks have a lot of money to spend, and are suspected to be a heavy candidate to land top defensive free agent Mario Williams, and could also afford Manning on top of that. Seattle plays in a weak division, and the inclusion of those players would make them immediate contenders, but the Seahawks have many holes that would need to be filled. Peyton has a better chance elsewhere, where the team is a little more established.
The Cardinals offer that situation, and star wide receiver Larry Fitzgerald has already been lobbying for Manning in Arizona. Remember how good the Cards were with veteran winner Kurt Warner? Expect them to return to that form if they were to land Manning. The Cardinals have a strong defense, (something Manning never had in Indy), and a good supporting cast. Playing in Arizona doesn't seem like too much of a long shot.
But where is the dark-horse candidate? Where is the team that swoops in and steals him at the last minute? Who is the wild card?
The Tennessee Titans.
Manning is embraced in Tennessee nearly as much as he is in Indiana. At UT, Manning was just shy of godliness to the state. You would be hard pressed to find a Titans fan that didn't have a Manning jersey in their closet—and the two teams are division rivals. I bet if you visit Pittsburgh, you won't find any Ravens jerseys hanging in their closets.
In Tennessee, Manning would be returning to a state that embraced his entire career. He would be going to a team that is well under the salary cap, has a decent, young defense, one of the league's best offensive lines and plenty of offensive weapons in Chris Johnson, Kenny Britt and blooming TE Jared Cook.
The Titans could afford him. They could own that division with him. The fans want him. Remember when the Jaguars passed on drafting Tim Tebow? The merchandise sales alone would have been worth the draft pick to keep him in Florida. How many Titans Manning jerseys do you think would be sold? The prodigal son returns home to lead their team, where he belongs, back home.
www.comehomepeyton.com is already up and gathering steam, placing ads on billboards in Tennessee, Indianapolis and Houston, where team owner Bud Adams lives.
Though the Titanss seem to like the situation they're in at QB, with veteran Matt Hasselbeck and young gunslinger Jake Locker getting ready to compete for the starting role in the offseason this year—but you can't pass up the chance to bring Manning back to Tennessee. Manning could be the tutor he would have been to Luck (but to Locker), who draws comparisons to Joe Montana and looked stellar in the short stints he played in last season.
Manning to the Titans also brings about some interesting storylines, aside from him playing against the Colts twice a year on the other side of the field. A Colts jinx? It could happen.
In 1920, Babe Ruth was sold to the Yankees by the Boston Red Sox, and the Curse of the Bambino was born. This move has many similarities to that one.
The Red Sox, like the Colts, were highly successful leading up to the sale. One of the best teams in baseball, they won the first World Series, and followed it with five more. After that, it would be 86 years until the Sox won another championship, while the Yankees went on to be one of the most successful MLB franchises ever.
The fans didn't want to see Ruth go then, just like Manning now. And, Ruth was dealt to a rival—the same result if Manning goes to the Titans. In the Ruth deal, the basis of the sale was so Sox owner Harry Frazee could finance a Broadway musical. He didn't need to part with Ruth, but chose to for his own reasons, not thinking about Boston or its fans.
Irsay and Manning both wanted him to stay a Colt, money was never an issue, and a contract could have been worked out for a player who wanted to stay so badly. In the end, Irsay kicked Manning to the curb. Just as Ruth is considered one of the best to ever play baseball, Manning is considered one of the best to play football.
The Colts had a tough decision to make 14 years ago, choosing Manning over Leaf, and it was the right call. Manning met with Polian and then-coach Jim Mora before that draft, and let them know he would like to play in Indy if they would have him, but if they chose someone else, he promised them he would, "come back and kick their asses for the next 15 years."
What better way to make good on your promise then to go to the Titans and dominate the Colts for the next few seasons, leaving behind a trained Jake Locker to carry it on after you're gone?
For the Colts, Manning was a name they grew to love that meant faith and success for a failing franchise, but can just as easily become a name that makes them cringe and shudder for what happened when he left. Just like the Bambino.