Kansas City Chiefs and 5 2012 Free Agency Predictions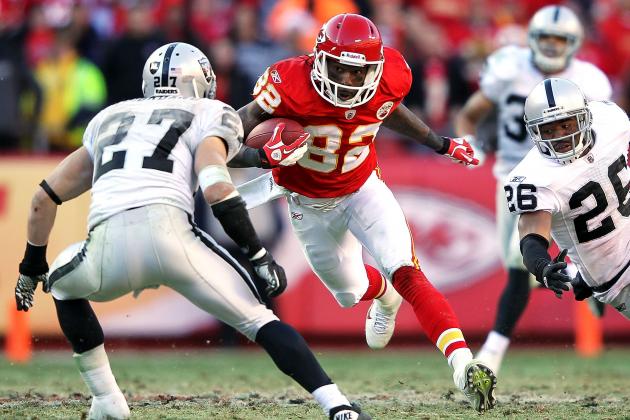 Jamie Squire/Getty Images

For 2012, the Kansas City Chiefs front office should be the focus of a reality show.
Okay, maybe that's a bit excessive (or not—even Joan Rivers has her own 'reality' show, now), but the Chiefs certainly provide one of the most colorful offseason storylines this year.
Romeo Crennel sheds the interim portion of his title, taking over for jettisoned head coach Todd Haley. Brandon Carr and Dwayne Bowe both sit on the edge of hitting unrestricted free agency. Kansas City made the first big splash of the year by signing Stanford Routt, then turned around to say they want to keep Carr as well.
And that's just scratching the surface.
Make no mistake: The Chiefs will continue to make waves in free agency, and here are five predictions of what's to come for Kansas City as Crennel prepares his new team for their first full season with him at the helm.
Begin Slideshow

»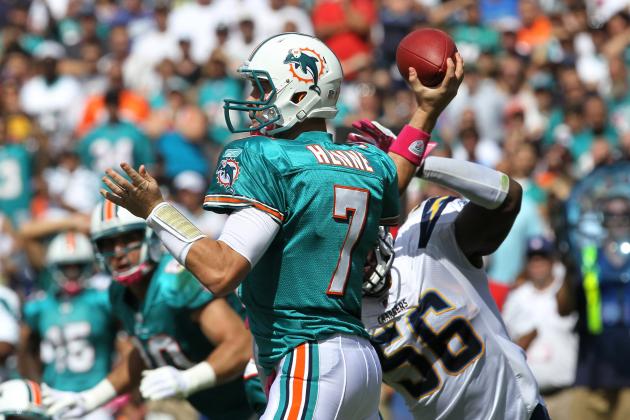 Stephen Dunn/Getty Images

This free agent signing just makes too much sense not to happen.
After last year's Tyler Palko debacle and Matt Cassel's regression, Scott Pioli came out talking about creating competition across the board, "including the quarterback position".
While Chiefs fans would likely prefer a Peyton Manning or Robert Griffin III, Chad Henne fits that requirement perfectly.
Four years after drafting Henne in the second round, the Miami Dolphins decided to go another direction and not re-sign Henne as a free agent. Few can blame the Dolphins, as Henne posted fairly unimpressive numbers during his years on the team, including a 31-37 touchdown-to-interception ratio.
Henne showed signs of improvement at the start of 2011; he surpassed a 90 passer rating in two of his first four games, including a 416-yard Week 1 performance against New England. That's despite spending a good portion of game time on his back; the Dolphins allowed Henne to be sacked 11 times in three games.
With Brian Daboll taking over as offensive coordinator, bringing in a quarterback who already knows the system helps with the transition—even if it's just a naming convention change.
And since Henne turns 27 this year, he's a younger veteran option likely interested in a second chance to succeed in the NFL. He should challenge Cassel at every opportunity and force him to elevate his game.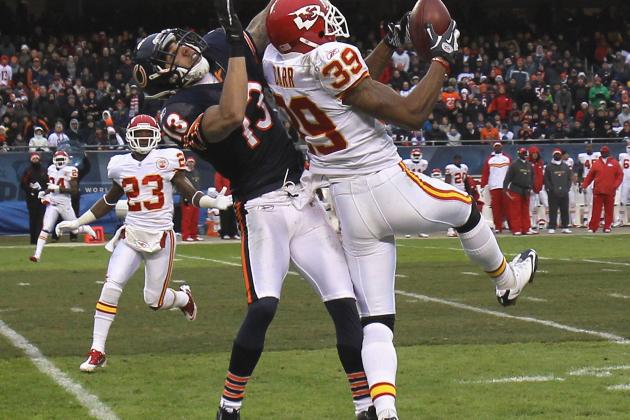 Jonathan Daniel/Getty Images

I mentioned this in my recent article following Stanford Routt's signing, but it bears repeating.
While Scott Pioli came out saying the Chiefs would like to bring back both Brandon Carr and Dwayne Bowe, the truth of the matter is that Kansas City's secondary would be very crowded.
Keeping Carr would edge Javier Arenas to the fourth cornerback position and severely limit his playing time. Plus, even with their reported $37 million in cap room prior to signing Routt, the Chiefs can't afford to invest that heavily in their secondary long-term. Carr will command at least $7 million per year on his new contract, and likely much more.
Meanwhile, Bowe is the top unrestricted free agent option at wide receiver; Pioli's efforts to upgrade the wideout position last year with Jonathan Baldwin and Steve Breaston would take a major step back were Bowe and Kansas City to part ways.
The solution starts out simply enough: franchise Bowe and Carr gets a large contract with a new team.
But what if the Chiefs can hammer out a contract with Bowe before the franchise tag deadline? Kansas City can then franchise Carr and trade him to a team hungry for a serious upgrade to their secondary.
The best situation here would be to trade Carr for one of New England's late first-round picks, though Dallas could be another interested party with at least the mid-second-round pick.
If Kansas City could land the Patriots' first-rounder, they could jump into the game of trading down each year. A team like the Redskins or Dolphins could be interested in trading back into the first round for a quarterback and be willing to trade off their second-round pick this year and a first next year to make it happen.
Banking picks like this is a key reason New England stayed competitive for so long; it's one part of the Patriots model the Chiefs have yet to adopt but very much need to.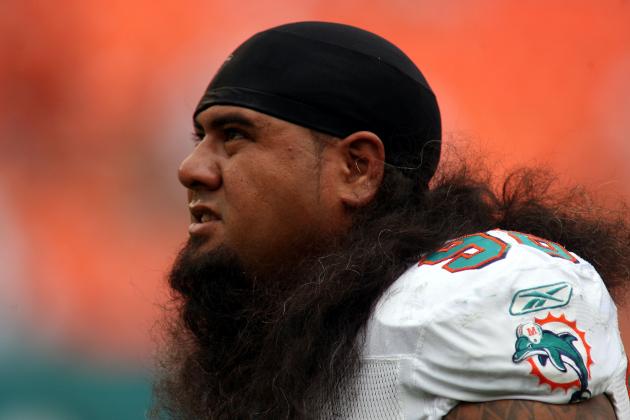 Marc Serota/Getty Images

The Miami Dolphins currently share a lot in common with the Kansas City Chiefs.
Not only are they in the middle of a head coaching change, but they also face two key players heading to free agency. Unfortunately for Miami, both of them are on their defensive line.
Paul Soliai and Kendall Langford are both looking for long-term contracts, both are dominant defenders with experience in the 3-4 defense and both are younger (27 and 26, respectively) players with years to play before their game starts to drop off.
Miami won't be able to keep both, and the Chiefs should flex some of that cap room to lock one of them into a long-term contract.
Soliai would be the best option for Kansas City. A true space-eating nose tackle at 355 pounds, Soliai could anchor the center of the Chiefs' line for the next five years.
If the Dolphins lock up Soliai, Langford could come into Kansas City and immediately challenge Tyson Jackson for the starting role.
However, if the Chiefs sign Langford to a long-term contract, it will almost certainly spell the end of Jackson's time in Kansas City with three defensive ends on the books for large contracts.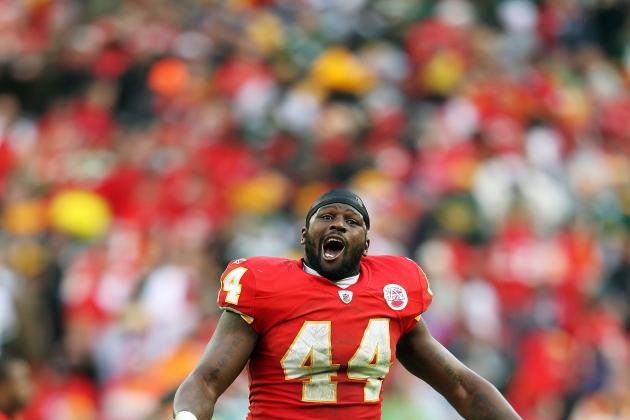 Jamie Squire/Getty Images

Despite the talk about Kansas City being the new "Patriots West," Clark Hunt repeatedly spoke about using the Pittsburgh Steelers as the model for how the Chiefs will build their franchise now.
In short, that means building through the draft and re-signing your own players who develop within your own system.
Granted, it also means not changing head coaches every three years, but where Todd Haley's concerned, we can make an exception.
They won't need one for this year's free agency, though. The Chiefs already made a major move against that plan with Stanford Routt, but a number of other players will likely wear Chiefs red and gold next year.
Jovan Belcher should be one of the first re-signings of this year. The former undrafted rookie from Maine struggled earlier in the season after a very promising preseason, but came on in the latter half of the year to put together a solid performance.
With Justin Houston emerging as the mirror pass-rusher to Tamba Hali and Derrick Johnson's dominance, Belcher is the "weak link" in Kansas City's linebacker corps. But considering Belcher should re-sign at a relative bargain, the Chiefs can have some continuity on their defense and focus the bulk of their cap room on other players.
Another player predicted to stay is Le'Ron McClain. The former Baltimore All-Pro fullback didn't have many opportunities to pave the way for big runs, but with Jamaal Charles returning from his torn ACL, that should change.
McClain came out as one of Romeo Crennel's biggest supporters for the head coach position and should be looking to stay in Kansas City for the foreseeable future.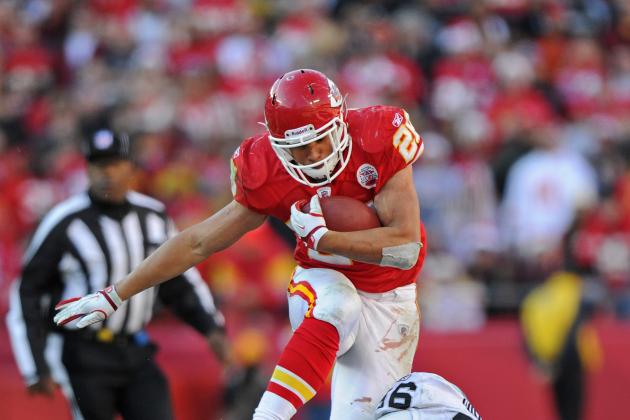 Peter Aiken/Getty Images

Last year, Kansas City faced the unfortunate truth that Thomas Jones' skills are in full decline. He lacked the explosiveness and ground-shaking impact that he used to power through defensive lines with for most of his career.
Couple that with Jamaal Charles' injury and you have the answer to why Kansas City, in one year, went from first to 15th in rushing.
Charles will return to the lineup this year, but Jones will likely lose another step to age. And Jackie Battle looks to see what free agency might hold for him before coming back to Kansas City.
Battle wants more rushing opportunities; with Charles and Dexter McCluster already on board, those options seem slim for Battle.
With the other options in free agency, Kansas City can likely replace Jones with a solid signing and find a another development player in this year's draft to take Battle's place.
Oakland's Michael Bush should tempt the Chiefs for the same reason Stanford Routt did; not only do you get a solid player, but you take away a weapon from a division rival. Bush is a solid north-south runner, though at 28, he could start wearing down sooner than Kansas City would like.
Peyton Hillis would be the flashy choice; last year's Madden cover star faced a multitude of injuries and illness, giving more legend to the Madden Curse. Hillis should be available at a discount due to last year's struggles.
The best option would be San Diego's Mike Tolbert. With the Chargers unlikely to pay out franchise tag money, Tolbert should be bulldozing defenders for another team in 2012. The Chiefs need just that type of player for their run offense, and signing Tolbert would likewise take away another key weapon from an AFC West rival.