Peyton Manning Must Listen to Ron Jaworski on New York Jets Advice
February 21, 2012

Andy Lyons/Getty Images
When you're one of the best football players of a generation, everybody is a critic, and everybody has advice to give.
As the March 8 deadline to receive his $28 million bonus from the Indianapolis Colts inches closer, it's become painfully obvious Peyton Manning is going to be searching for a new home. ESPN analyst and former "Monday Night Football" host Ron Jaworski believes that search should end with the New York Jets (via the Indianapolis Star):
I love (Jets QB) Mark Sanchez, and there are 25 other quarterbacks in this league that I would take Peyton Manning over. (But) there's a turf war in New York. The Giants just won the Super Bowl. The Jets are fighting for every inch of space they can get in the newspaper. How do you get that inch? How do you get the headlines? You sign Peyton Manning.
From the Jets' perspective, it's a no-brainer. While Sanchez has gotten nothing but support from his coaches publicly, all they have to do is look at the stat sheet (3,474 yards, 26 TDs and 18 INTs in 2011) and realize he may not be the guy after all. His inconsistencies seemed to increase in 2011. He came up small in all of the Jets' biggest games.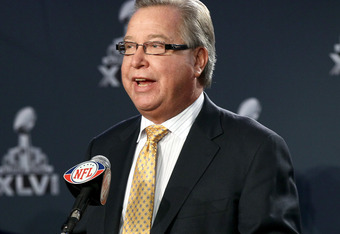 Win McNamee/Getty Images
It's hard to stomach regression in year three, and as the window of opportunity on an aging defense begins to close, time is of the essence. They need to win now.
Plus, Santonio Holmes doesn't hate Manning.
As a free agent, Manning would have the opportunity to sign with any team of his choice. Obviously he has Super Bowl aspirations, but there are young teams on the brink of a breakthrough that are potentially just a QB away from entering the next level.
While no teams can officially talk about their feelings toward Manning due to league rules, the Miami Dolphins, Washington Redskins and Arizona Cardinals have all been suggested as potential landing spots. But all of those teams have major holes that Manning can't fill. Manning would make all of them playoff contenders, but nothing more.
The Jets are a different story. They have a ferocious defense that is well coached, and they constantly play with a chip on their shoulder.
Head coach Rex Ryan and Manning would bump heads on more than one occasion, I think it's a non-issue. Manning is the ultimate pro and is one of the few that can convince Ryan to do it his way. They can agree to disagree. Besides, Ryan has little say in offensive matters anyway. Remember how he didn't even know why Holmes wasn't on the field for the make-or-break possession of the year?
With Holmes and Plaxico Burress, a young running back in Shonn Greene and a stud tight end in Dustin Keller, there are certainly going to be weapons at Manning's disposal—much better than what the Redskins or Dolphins can offer him.
Manning's neck is a huge question mark, and nobody is quite sure if another blow in the region will end his career. Time is ticking, and Manning needs to be in a situation where he can win now. He can't afford to sit around and wait for a rebuilding project.
Besides, the last time Manning's Colts played the Jets, it was New York that advanced. That also happens to be the last time No. 18 suited up for action.
Like the old saying goes, if you can't beat 'em, join 'em.