FC Barcelona 5, Valencia 1. Where Has This Barça Been? Messi on Fire!
February 20, 2012

Where has this FC Barcelona team been? It feels like I haven't seen them since the FIFA Club World Cup.
Sunday was a very good day if you're a Culé as Barcelona regained some of their old form and defeated Valencia 5 – 1. The team got off to a terrible start as Pablo Piatti scored to make it 1 – 0 for Los Che. The Barcelona defense – subject of much criticism – once again did not mark correctly and allowed Piatti to receive the cross and put it past Victor Valdes.
It felt like another "Here we go again" moment.
But after that goal, Barcelona finally woke up from their inconsistent football play and played with the ball control and swagger that we're used to seeing.
It seems like it always starts and ends with Lionel Messi. The best player on Earth scored the equalizer in the 21st minute as a Pedro cross landed at Messi's feet and Messi was able to get it passed Diego Alves. Messi added his second goal just five minutes later as once again the Argentine won the battle against Alves. Messi added his third in the 75th minute and finally added the fourth in the 84th minute after a great pass by Sergio Busquets to Leo who chipped it over Alves. Messi has now had two great games in a row (Valencia and Bayer) and is only one away from Cristiano Ronaldo (28) for the Pichichi Award.
What a way to celebrate your 200th game with FC Barcelona!
Messi has had an amazing week. Barcelona hope he's only heating up.
The passing was almost back to the team's old form. Andres Iniesta had a great game. With Xavi on the bench – nursing a foot injury, Iniesta had no problem being the midfielding general. He set up the attack and was passing by Valencia defenders. In order for Barça to move deep in the Champions League, Iniesta is going to need more games like this.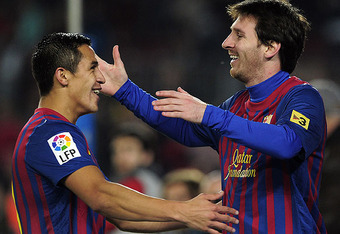 Alexis Sánchez continues to shine. He was deserved of a goal but was unable to find the back of the net. It will not show up on the stat line, but Sánchez had a grand game and he has been worth every cent Barcelona paid for him.
One thing that I think Pep Guardiola should consider for some Liga games is moving Alexis to the 9 spot and moving Messi to his old position at RW. Sánchez played the striker roll from much of last week's UEFA Champions League match versus Bayer Leverkusen and played great – scoring two goals. Messi also had a great game in Germany as he set up Sánchez's goals and scored a goal himself.
Having Messi and Alexis switch roles will help free up Messi as he would not be as crowded as he is as a CF, thus being able to create more plays. Alexis has shown that he can play both roles. It's clear that Sánchez and Leo are right not playing tremendous football and their on-the-pitch chemistry is at an all-season high. It may not work, but giving it a shot in Liga matches may open up Barça's play.
Two players that played well but are still not at their full potential are Cesc Fàbregas and Pedro Rodriguez. Cesc almost had a golazo when Iniesta found him onside and Fàbregas' chilena hit the crossbar. Cesc missed a shot horrifically in the second half as well but his passes where back to form. All he needs is to regain his chemistry with Messi and Cesc will be back to the same form he was at the beginning of the season.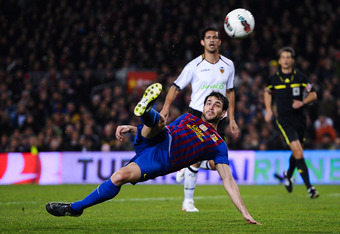 David Ramos/Getty Images
Pedro is still cold as he tries to find his goal-scoring form of old. The speed is there but he is struggling getting good shots off. Personally, I think Pedro will bounce back but it will take him a while to get his form back as playing time has become limited with the rise of Isaac Cuenca and Cristian Tello.
Tello's wide-open missed shot toward the end of the game and his hilarious Ronaldo-like scissor dribble fail in the 77th minute showed us he still has quite a bit of growing pains to go through.
Somebody should have told Tello he is "Cristian" not "Cristiano".
But to me, the most important thing that I saw in the game was Martin Montoya playing a full 90 minutes with the first team. As I've mentioned in my recent articles criticizing the team's play, this Barcelona defense has been at times slow and unwatchable and it was great to see youth come in to the back line. Montoya did make the mistake on not marking Piatti to allow the first goal; but overall Martin had a good game. In a post match interview for BarçaTV, Martin said he was surprised to get the start as he thought Adriano would start. To his delight, he got the call as Adriano was unable to go following his injury midweek versus Bayer. Montoya said he has a bit nervous at first but then was able to settle down. He said he hopes to get more playing time in La Liga.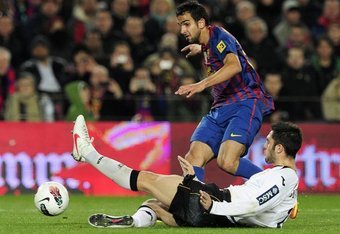 I hope so as well. The team needs young, fast defenders to keep up with the speedy forwards in La Liga and in Champions League play.
With Barcelona's financial issues, buying defensive reinforcement may not be an option. Giving Montoya playing time for the rest of La Liga will vastly help his growth as a player and will help him be better prepared for his first full season with the first squad next season.
While it was a good game and it looks like Barça is back, let's not get too carried away. There's still a long way to go before this team is 100 percent back. Although Barcelona dominated the ball possession, this game was only one goal away from being tied for most of the game (2 – 1 for nearly 50 minutes). The team missed too many chances to put the game away. This inability to finish a team off has cost Barcelona points this Liga season and has been one of the reasons they have essentially lost La Liga. Messi finally put the game away but Leo's brilliance won't always be able to save the team – as we've seen this season.   
Barcelona obviously has the killer instinct; it's a matter of executing the finish swiftly.
They are almost there. Great win overall. Now let's continue with this momentum because it'll be needed this Spring!
PS: Sign the extension, Pep. Arsenal is not going to win you titles and Inter Milan is going to be selling players this summer. Do the right thing, Pep. Thanks.
Visca el Barça!
Thanks for reading. Follow me on Twitter: @XoelCardenas
Don't forget to check out my other columns:
FC Barcelona, Arsenal, and Man Utd: New Nike Kits for 2012-13

FC Barcelona: Cold Offense, Worse Defense, Inconsistent Team

Commentary: Barcelona Is Not Obsessed With Jose Mourinho; We Have Pep Guardiola
FC Barcelona: Barça Fans' Top 10 Chants at the Camp Nou
Liga Lost? 10 Questions Fans Need to Ask About Barcelona the Rest of the Season