New York Giants: The 10 Biggest Moments of the 2011 NFL Season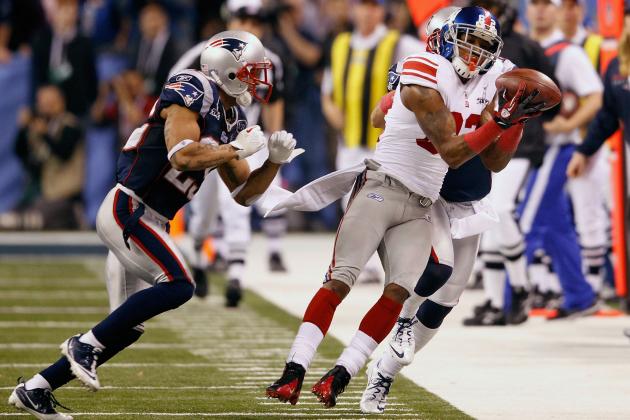 Rob Carr/Getty Images

Eli Manning has gone from the city's key scapegoat to earning the keys of the city.
The Giants pulled out all stops on Super Sunday, claiming their fourth ring in franchise history and asserting their dominance on the world's biggest stage for professional sports.
It was an inconceivable, serpentine road to the Lombardi Trophy in 2011. Big Blue began the season with a plethora of unproven starters and injured defensive stars. At one point, the team was a mere 7-7.
Yet Eli and company have always had a flair for dramatic and 2011 had New Yorkers perpetually shuddering, crossing fingers and jumping for joy.
From Jason Pierre-Paul's blocked field goal in Dallas, to Victor Cruz' 99-yard catch-and-run against the Jets to Mario Manningham's already-storied Super Bowl sideline grab, it was a remarkable year for the G-Men.
Let's take a look at the NFL champs' top plays of 2011.
Begin Slideshow

»
Fans and analysts alike didn't give the Giants much of a chance in the NFC East heading into this season.
True, this was partially due to New York's futility down the stretch in recent years and a couple of obvious holes in their roster, but ultimately, the Giants were expected to fall flat in the division because of the presence of the Philadelphia Eagles.
The self-proclaimed "dream team" of 2011, Philly had a 'blusterous offseason and entered the season with sky-high expectations.
Yet the G-Men marched into Lincoln Financial Field in week three and out-performed their bitter rivals in a dominating fashion. Losers of six previous head-to-head contests, the Giants tore through Philadelphia's star-studded secondary en route to a 29-16 victory.
In this season-defining play, a then-unknown Victor Cruz out-leaped two defenders to haul in a go-ahead touchdown. Eli Manning delivered a great touch pass and Cruz' sheer athleticism was on full display as the Giants took a fourth quarter lead and never looked back.
Beating the Eagles was their first step towards establishing league supremacy.
Yes, Big Blue would eventually lose to the Green Bay Packers in their December 4th showdown at MetLife Stadium.
But the team still emerged with a crucial moral victory.
Hakeem Nicks' game-tying touchdown grab sent a message to the rest of the NFL—the Giants, who at the time were marred in a painful four-game losing streak, were competitors once again.
New York gave Aaron Rodgers and the Pack a run for their money and established some much-needed momentum heading into a prime-time divisional matchup with the Cowboys the following week.
Though seemingly insignificant now, this play energized a fading Giants squad that appeared to be set for another signature second-half collapse.
Jason Pierre-Paul made his name known to football faithful around the nation with this clutch special teams play.
The Giants had just capped off a go-ahead 58-yard scoring drive in a must-win game in Dallas. Tony Romo answered back as he moved the Cowboys swiftly down the field with nearly perfect execution. In just 40 seconds, the Cowboys were in field goal range for kicker Dan Bailey.
Cowboys Stadium erupted when Bailey made the initial attempt. However, Tom Coughlin had subtly called a timeout prior to the snap, forcing a second try.
Pierre-Paul had already forced a fumble, generated a safety and tallied two sacks in this game. But the second-year pro's ability to get vertical and block a game-tying field goal is what mattered most.
Pierre-Paul's play clinched a Big Blue victory and the Giants now had secured sole control over their playoff destiny.
Eli and company had their backs against the wall on Christmas Eve, needing a win against their crosstown rivals, the New York Jets.
The Giants could not afford to fall back any further—literally the case on this third down play—as a loss would have all but killed a shot at a 2011 playoff birth.
Gang Green's formidable pass rush reached the backfield in a hurry, but Eli was able to step up and deliver a clutch pass to first-year sensation Victor Cruz on a ten-yard out-route.
Cruz then engraved his name in franchise and league history with a shaken tackle and a furious dash down the right sideline, hitting paydirt on a 99-yard catch-and-run.
Without this play, the Giants would likely have set up Mark Sanchez and the stagnant Jets offense with excellent field position and a legitimate chance to extend their lead. With this score, Cruz changed the face of the game, the season and the highly-publicized battle for New York.
The ubiquitous presence of Victor Cruz on this list highlights just how important he was to the Giants' Super Bowl season.
While Eli claimed the MVP hardware on Sunday, Cruz was arguably the team's most valuable asset in 2011.
In the Giants' and the Cowboys' infamous rivalry, few head-to-head matchups were as hyped as their Week 17 clash on Sunday Night Football.
The winner of the game won the NFC East, while the loser was eliminated from postseason contention, forced to wonder what went wrong.
Dallas' secondary had been susceptible to big plays through the air all year long. Victor Cruz decided to waste no time and immediately tested cornerback Terrence Newman, leading to this exhilarating 74-yard touchdown.
Déjá vu? Cruz repeated his catch-and-run from the week before, establishing an early tone for New York and bringing some salsa to the Giants' postseason party.
Without this play, the New Year's Day showdown at MetLife Stadium may have gone a completely different way. Perhaps the Cowboys would be the ones preparing a ticker-tape parade, a seriously scary thought for Big Blue's loyal fan-base.
The Green Bay Packers, led by NFL MVP Aaron Rodgers, rewrote the offensive record books in 2011 on their way to a 15-1 season and home-field advantage through the playoffs.
The Packers looked to kick off their Super Bowl run as nine-point favorites against the Giants.
Eli Manning and Hakeem Nicks clearly did not get the memo.
Already leading by a 13-10 margin, the Giants took an immense risk in throwing a pass to the end zone instead of attempting a shorter completion along the sideline in an effort to reach field goal range.
Their aggressive strategy paid off, as WR Hakeem Nicks came down with the Hail Mary bomb to take a 20-10 lead at halftime.
This score sent a message to the once-perfect Pack, affirming the Giants' legitimacy as a potent offensive threat. The Giants used this play to build momentum for the second half, en route to completing a huge playoff upset and continuing their march toward Super Bowl XLVI.
The San Francisco 49ers had a ticket to the Super Bowl firmly in their grasp. But much to the chagrin of the Bay area faithful, the pouring rain, the hands of an inexperienced Kyle Williams and a brilliant effort by Giants linebacker Jaquan Williams forced them to let it go.
San Francisco's Williams had already muffed a punt earlier in the game, but that mistake quickly faded from memory after this costly overtime turnover. Meanwhile, New York's Williams became an instant special teams hero, returning the ball to Eli and the G-Men to set up the game's winning field goal.
Had this play not occurred, the Niners may have driven the ball down the field—and driven New York out of the playoffs.
Eli Manning played mistake-free football and Big Blue's defense became impermeable at the perfect time. Yet it was a special teams moment that stole the night and propelled the Giants to Indianapolis.
Victor Cruz gave Giants fans one more chance to chant his last name in bellowing fashion.
"Cruuuz!" could be heard throughout Lucas Oil Stadium as Manning connected with the former undrafted free agent in the biggest game of his young career.
This play was tremendously important for a few obvious reasons. New York knew they had to establish a fast tempo to defeat the Patriots on Super Sunday, and getting off to a 9-0 lead inflicted immense pressure on Brady and the New England offense.
Moreover, this play helped open up the Giants' red-zone rushing attack, which would come up clutch later in the game.
Eli's bullet across the center of the field was nearly intercepted. Had the Pats' secondary come up with a goal-line turnover, the entire dynamic of Super Bowl XLVI sees an about-face and perhaps the Giants wind up on the losing end of the big game.
There are many plays that will eternally stand out in Giants Super Bowl history.
Scott Norwood's missed field goal in Super Bowl XXV and David Tyree's fabled helmet catch in 2008's title game still send chills down the spines of New Yorkers.
Add Mario Manningham's immaculate sideline grab to that list.
In a year where Victor Cruz and Hakeem Nicks were prolific at the wideout position, Manningham was surprisingly unproductive this year. Yet he delivered when it mattered most, hauling in a clutch fourth quarter reception that required the utmost concentration, agility and physicality.
Manningham's catch in double coverage was the highlight of a game-winning 88-yard drive. Had he not kept both feet in bounds, the Giants would have returned back to the 12 yard line, where their chances to engineer a comeback were dwindling.
As Al Michaels noted at the game's conclusion, "the New York Giants, given the last rites by many . . . are the Super Bowl champs."
It has a nice ring to it for the Empire State football fans, but Super Bowl XLVI's final play was too close for comfort for Big Blue's secondary.
Encompassed by a memorable, eventful fourth quarter, many forget that tight end Rob Gronkowski was just a few inches away from coming up with a stunning, game-winning Hail Mary reception.
Nevertheless, New York's defense prevailed and Tom Brady could not reciprocate Eli Manning's heroics. Thanks to this play, all the other plays on this list, and a myriad of unmentioned others, the Giants are NFL champions.
From a lackluster week one loss to the lowly Washington Redskins, all the way to Sunday's Super rematch, it's been a memorable and exhilarating journey for the New York Giants. Yet any single play in 2011 could have redirected the course of that journey, a tribute to the unpredictable, meticulous nature of professional football.