NFL MVP 2011 Results: Reaction, Analysis and Recap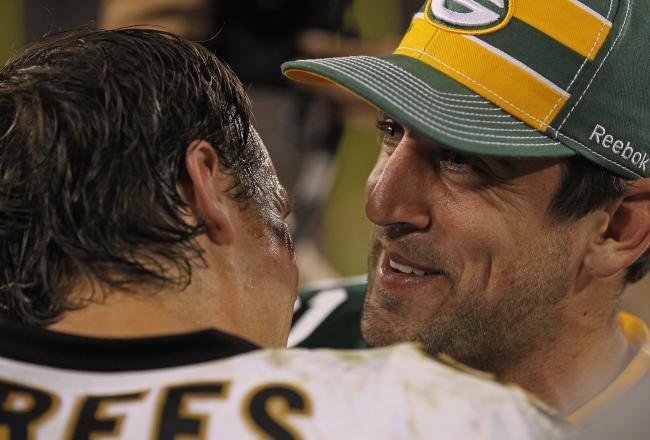 Jonathan Daniel/Getty Images
The NFL will hand out its yearly awards tonight in the league's first live awards show on the eve of the Super Bowl. It was truly a historical season in the league as passing was rampant, so there is no shortage of legitimate candidates.
Three quarterbacks eclipsed the 5,000-yard passing mark this season and many others were spectacular as well, so there is no question that a signal caller will take home the hardware. Green Bay Packers quarterback Aaron Rodgers enters as a slight favorite, but he is far from a lock.
Here are the main candidates for the NFL MVP award, as well as predictions and results regarding the voting.
Candidates:
Aaron Rodgers, QB, Green Bay Packers
Drew Brees, QB, New Orleans Saints
Tom Brady, QB, New England Patriots
Eli Manning, QB, New York Giants
Numbers:
Rodgers: 4,643 yds, 45 TDs, 6 INTs
Brees: 5,476 yds, 46 TDs, 14 INTs
Brady: 5,235 yds, 39 TDs, 12 INTs
Manning: 4,933 yds, 29 TDs, 16 INTs
Chiari's Pick: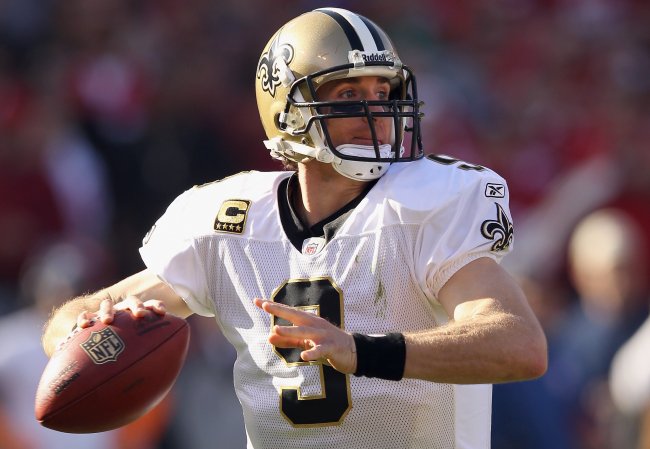 Ezra Shaw/Getty Images
When comparing Rodgers, Brees and Brady, in particular, you are truly splitting hairs in terms of who is most deserving of the award. All things being equal, though, Brees is the most deserving. I understand that Rodgers was absolutely spectacular and led his team to a 15-1 mark, but Brees had a record-breaking season.
Not only did Brees break Dan Marino's long-standing mark for passing yardage in a single season, but he also broke his own record by completing an incredible 71.2 percent of his passes. Brees led the league in passing yardage, touchdowns and completion percentage, so he really should be the frontrunner.
Who will win the 2011 NFL MVP Award?
Some of that has to do with the fact that Rodgers sat out the final game of the regular season, and often took his foot off the gas late in games with the Packers way ahead on the scoreboard, but you can't argue with the numbers.
Brees and the Saints went 13-3 during the season, so it isn't as if Rodgers' personal 14-1 record should trump that in any way. Rodgers was probably more efficient, as he accomplished what he did in about 150 attempts and averaged more yards per completion, but that just proved that the Saints leaned on Brees more heavily.
Giving Rodgers the award wouldn't be an injustice in the least, but Brees had a historically-great season that deserves to be recognized.
How Voters Will Screw It Up:
Jonathan Daniel/Getty Images
Because of the hype surrounding Rodgers entering the season, he was the odds-on favorite to win the MVP from day one. Obviously he didn't do anything negative to take himself out of the running, so many of the voters likely feel obligated to give Rodgers the MVP.
While it's tough to blame them, that bias may cloud their judgment in terms of determining who had a better season between Rodgers and Brees. Rodgers was obviously of great importance to the Packers and he operated with surgical precision, but Brees had an unprecedented season.
The point of the MVP award is to determine which player was most valuable to his team. It's almost impossible to say who was more valuable between Rodgers and Brees. When you consider the fact that the Saints threw the ball with much more regularity, though, it stands to reason that Brees was the more important player.
Rodgers entered the season with an advantage, so all signs point to him winning the award. It wouldn't necessarily be the wrong choice, but it wouldn't be the best one either.
Results:
Rodgers was named the NFL MVP, garnering 48 of the 50 votes. The other two votes went to Brees. It obviously isn't a surprise that Rodgers won the award since he was the decided favorite and had a fantastic season, but the manner in which he won was a bit of a shock.
It's tough to argue much with Rodgers as the winner, but there is no way that he was that much better than Brees. Not only did Brees set single-season marks in passing yardage and completion percentage, but he also had one more touchdown than Rodgers.
Rodgers entering the season as the favorite clearly came into play as all but two of the voters felt he did enough to remain the favorite throughout the season. Brees may not have won the MVP award, but he certainly had one of the greatest seasons in NFL history and should be recognized for that.
This article is
What is the duplicate article?
Why is this article offensive?
Where is this article plagiarized from?
Why is this article poorly edited?