Tom Brady: Why New England Patriots QB Is Still One of the Greatest
February 6, 2012

Jamie Squire/Getty Images
Tom Brady may have lost at the hands of Eli Manning's New York Giants in the Super Bowl for the second time in four years, but there is no denying his place among the greatest quarterbacks to ever play America's game.
It seems that gone are the days that Brady was beloved by nearly all fans outside of St. Louis and Oakland.
The former Michigan quarterback, who was once better known in many circles as Brian Griese's college back up than for his own exploits, was passed-on 198 times before being selected in the sixth-round of the 2000 NFL draft.
No one expected that same guy, who threw for all of a whopping six yards his rookie season, to be driving the New England Patriots down the field for a last gasp field goal to clinch the league title the very next season. When starter Drew Bledsoe went down to injury, in stepped in Brady. Who knew then that we'd be watching one of the greatest QBs ever to play the game?
It was not long after that victory—Brady was named MVP of Super Bowl XXXVI—that he would begin his ascension into NFL history and "greatest of all-time" debates, coinciding with his fall from grace in the eyes of many.
Even after earning three Super Bowl victories to his name in his first four seasons as a starter, many detractors still sought to devalue his achievements using their very own proverbial "ace up their sleeves", of sorts.
"Tom Brady is not an elite quarterback. He's a product of the system supported by an all-pro defense and genius head coach. Just look at his numbers."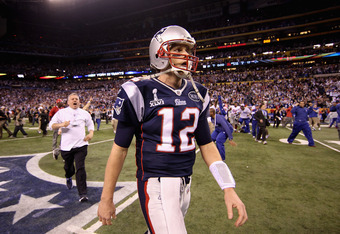 Ezra Shaw/Getty Images
There was some merit to that statement at the time. After all, Brady had never thrown for better than a 2:1 ratio of touchdown passes to interceptions or less than double-digit passes to the wrong team.
He did not exactly have any weapons either, but that is neither here nor there when you speak of how talented a quarterback is, right?
That was all valid right up until the 2007 season, when Brady and the entire Patriots team would embark on an astounding undefeated run (they made it to 18-0 heading into the Super Bowl) in which opposing sides were pounded into submission week after week.
Brady smashed the single season passing touchdown record previously held by Peyton Manning, and Dan Marino before him. In 2007, the New England quarterback threw 50 touchdowns to just eight interceptions, immediately solidifying his place among the best in history and earning him a lifetime's endearment to the fantasy footballing world.

Suddenly the weapons mattered. Suddenly the fact that playmaking wide receiver Randy Moss caught 23 touchdown passes running in straight lines had nothing to do with Brady throwing pinpoint darts beyond the grasp of helpless defenders.
But that was fair I guess. All Manning had was Reggie Wayne, Marvin Harrison, Brandon Stokley, Marcus Pollard, Dallas Clark, and Edgerrin James…
Who the heck are they!?
Rob Carr/Getty Images
Then after finally placing himself beyond all doubt, Brady suffered his first Super Bowl heartbreak at the hands of the Giants on an Eli Manning lob, a New York prayer, and the side of David Tyree's helmet.
The criticism was quick, sharp, hard, and rained in from all directions.
But three seasons later, including one he missed entirely due to injury, here Tom Brady and the Patriots were again at the summit of professional football once more.
Yeah, he lost, but last time I checked there are about 50 players on any given roster. Wasn't that the lesson we learned from Kyle Williams and Billy Cundiff a couple weekends ago?

Or so one would think, until this past Super Bowl where New England's defense looked about as effective as a brittle knee-high picket fence made of popsicle-sticks complete with a swinging door.
Some quarterbacks have been gifted a bust in Canton without even having sniffed a Super Bowl; much less won one so where is the argument?
Brady has won three of his five Super Bowl appearances, been voted both Super Bowl and NFL MVP twice each and currently holds the NFL's single season record for passing touchdowns. At one point in Sunday's Super Bowl, he had thrown 18 straight completions. What is there to criticize?
Is it the GQ spreads? Sounds like jealousy to me.
Is it his marriage to Gisele Bundchen? Damn him!
Or maybe his men's UGGs ad? Completely legitimate but unrelated.
After achieving all he has it is not surprising so many have forgotten how Brady got to this point.
As I said before, he was a sixth-round pick and only got his first start because Mo Lewis put Drew Bledsoe in the hospital.  
He was not a first-round pick who used his "daddy" to force a trade to another team on draft day, or get handed a starting job only to go 1-6.
It appears that the day the dynasty was born, the Cinderella story that came before it was completely forgotten.
Win or not, Tom Brady is still the best there is and when he is finally ready to hang it up, he may very well be the best there ever was too.