NBA Trade Speculation: 10 Deals That Need to Happen Now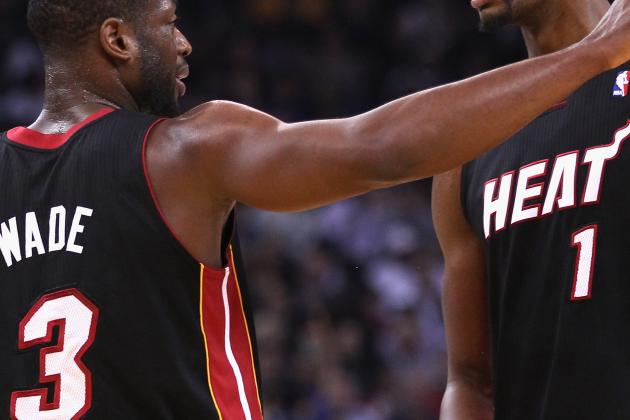 Ezra Shaw/Getty Images

By the time the NBA lockout finally came to an end, we started the season at a time when the trade rumors would have been usually heating up.
Predictably, the proposed deals mentioned in the abbreviated "training camps" have continued right on into the regular season. Here are 10 deals mutually beneficial to all parties involved and should happen now.
Begin Slideshow

»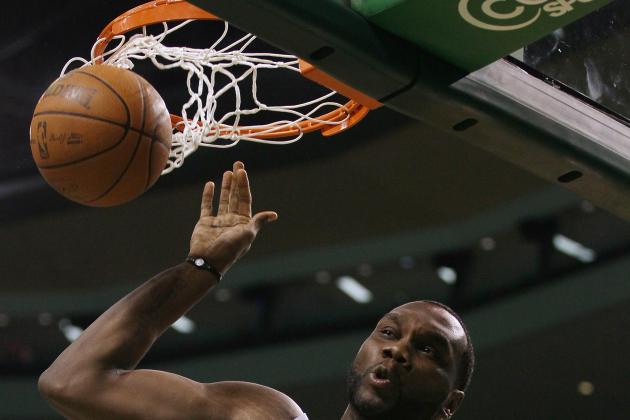 Elsa/Getty Images

Disclaimer: We have not heard word one of a trade involving the Big Three in Miami. However, if they do not win the title this season, one of them will go, and it will be Bosh. Consider this a "pre-rumor."

Why It Makes Sense:
Strictly from a basketball standpoint, this is a perfect trade. Chris Bosh is a horrible fit with the Miami Heat, and I have not seen any signs of his situation getting any better.
Bosh's best games with the Heat have come when LeBron James or Dwyane Wade—or both—are out with an injury. Take last week, for example:
In three games without James and/or Wade, Bosh averaged just under 24 points per game on 51 percent shooting. As soon as the "Big Three" are back on the court together, Bosh's scoring drops to 16 points while shooting 42 percent from the field. A small sample size, yes, but it is a trend I have noticed from Bosh in his short Heat career.
That is because Bosh is not a third scorer. He is a primary scorer on a bad-to-decent team, or a second scorer on a great team.
As a third scorer, he just looks lost.
He also will never provide the qualities his Heat team so desperately needs from their big man: toughness and rebounding. Wade and James take care of the scoring, so what this team needs is a power forward who can do the dirty work. Bosh has always been a finesse power forward, and is just not that guy.
Enter Jefferson.
Jefferson is a great rebounder and shot-blocker. He is not the lead scorer he has been forced to be while playing for bad teams his entire career. In Miami, Jefferson would grab 12 rebounds a game easily and would get his 15 points while swatting at least two shots per game.
Bosh would be the primary scorer the Jazz need, while the rest of their bigs (Derrick Favors and Enes Kanter) grab the boards and provide toughness. With Bosh's scoring and the rest of the team's young talent, the Jazz could compete for a playoff spot in the West.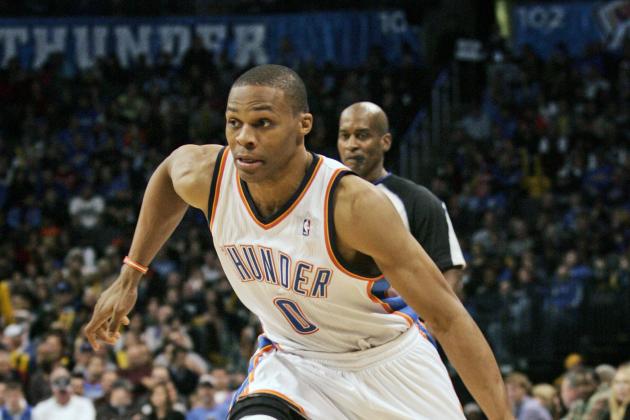 Brett Deering/Getty Images

Why It Makes Sense:
Russell Westbrook is intent on being a primary scorer, even though he has the two-time NBA scoring champion, Kevin Durant, playing with him. The two stars have had several verbal spats, which each has downplayed.
I do not doubt they really are great friends and teammates, but this fact remains: They do not complement each other well on the court. The Thunder need a pass-first point guard, and Rondo is as good as it gets in that department.
Not only would Rondo look to "The Durantula" first but James Harden's scoring would go up, as would Serge Ibaka's, who would be the recipient of countless lobs for crowd-pumping dunks. With Rondo and Kendrick Perkins, they would have the defensive anchors of a championship team.
The Celtics badly need more scoring since they rank 23rd in the NBA, and Rondo is badly miscast as the team's second-leading scorer at the moment. In front of him is the 36-year-old Ray Allen, and behind him is the rapidly-declining duo of Paul Pierce and Kevin Garnett.
The Celtics have more than enough veteran leadership to keep the volatile Westbrook in check, while his athleticism and scoring ability would be on display for a team that desperately needs both. Westbrook would pry that title window back open just a crack in Boston.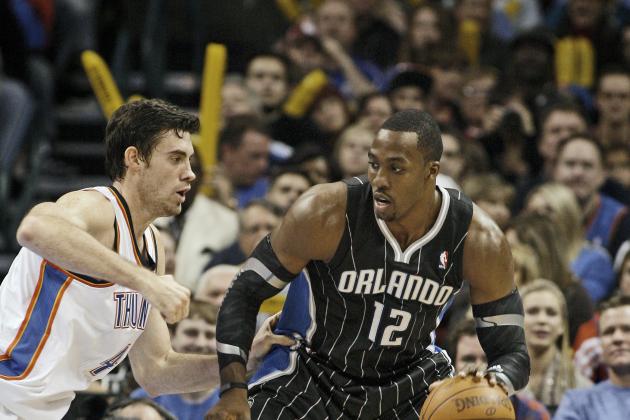 Brett Deering/Getty Images

Why It Makes Sense:
Let's just get it done already. I am tired of hearing all the Dwight Howard rumors, and every day the Orlando Magic hold on to their superstar they simply delay the inevitable.
If they keep Howard after this season, they will almost certainly lose him for nothing. Trading Howard to the Los Angeles Lakers for Andrew Bynum is their best option, and it is a natural fit for both teams.
The Lakers need a defensive stalwart, and there is no one better than the three-time Defensive Player of the Year. Howard is forced into an unnatural role as Orlando's go-to scorer. For all of his ability, he is not fluid on offense and never will be.
Bynum, on the other hand, is a smoother scorer, but he's less gifted on the defensive end. He is in the middle of a breakout season, averaging 16.5 points per game on 54 percent shooting. The Lakers' center wants to be an Alpha Dog, but will never be more than a third scorer on a team featuring Kobe Bryant and Pau Gasol.
Howard will gladly relinquish his offensive responsibility in L.A., and can focus even more of his energy and effort on defense and rebounding. Meanwhile, Bynum would be the go-to scorer Orlando needs and would easily average 20 points per game.
Of course, the question mark is Bynum's injury history. However, 60 games per season of him is better than zero games of Bynum or Howard.
Hannah Foslien/Getty Images

Why It Makes Sense:
The Los Angeles Lakers need a point guard, and the Minnesota Timberwolves have three who deserve starter's minutes. Minnesota does not have a true shooting guard, and the Lakers have plenty of depth at the shooting guard/small forward positions.
The Timberwolves have been playing Ridnour at the two, but Barnes' pension for defense and true shooting guard size would be a much better fit for a team in need of defense and veteran leadership. J.J. Barea could get the minutes he deserves as the primary backup to Ricky Rubio, plus spurts in the same backcourt with Rubio guarding the opposing shooting guard.
As sad is it is for Lakers fans to hear (but even they know it), Derek Fisher is no longer a starting point guard in the NBA. At 37 years old, he can no longer guard his own shadow and will get burned in the playoffs by the likes of Russell Westbrook and Chris Paul. If Metta World Peace's role as the leader of the second unit is a priority for coach Mike Brown (as opposed to sliding him into the starter's role), they could experiment with starting Devin Ebanks, Jason Kapono or Luke Walton.
Barnes' production (nine points, five rebounds and two assists in 24 minutes per game) matches Ridnour's (13, two and four in 31 minutes per game) well, so this should be a relatively easy straight-up trade.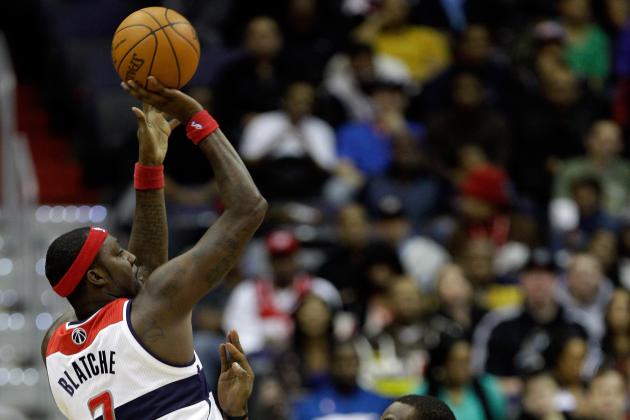 Rob Carr/Getty Images

Why It Makes Sense:
The Washington Wizards are the worst team in the NBA, and it is not due to a lack of talent.
It is because they feature three of the worst clubhouse cancers in the league: Andray Blatche, Nick Young and Rashard Lewis.
Their only chance of moving Lewis is to use the amnesty clause, and they just re-signed Young (who as a shooting guard averages fewer assists than a third of the league's starting centers) for reasons I do not understand. Blatche is a player they could get some value for. Maybe. Somewhere.
6'11" power forwards capable of putting up 15 points per game do not grow on trees. A team desperate for size or with an injury to their own big man (such as the Altanta Hawks, perhaps) might be willing to part with a productive veteran.
Blatche's size and ability should be attractive somewhere. For a Wizards team trying to build around a 21-year-old point guard, Blatche's poor work ethic and bad attitude have to go.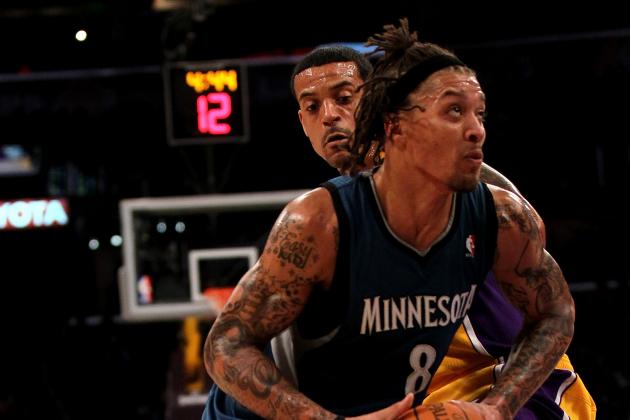 Stephen Dunn/Getty Images

Why It Makes Sense:
Again, the Minnesota Timberwolves have plenty of talent, but it is all loaded at the forward and point guard spots.
What they do not have is production at the shooting guard and center positions.
By trading Beasley, they could divvy up the small forward minutes to the young and talented duo of Derrick Williams and Anthony Randolph. Okafor would team with Kevin Love to give the team the best rebounding power forward-center combination in the league. For all of Love's considerable gifts, he is not a shot-blocker; Okafor has averaged nearly two blocks per game for his seven-year career.
The New Orleans Hornets need guys who can put the biscuit in the basket (they're 27th in the NBA in scoring), and Beasley can certainly do that. Beasley has been slumping a bit this season (and has played only seven games due to nagging injuries), but he averaged 19 points per game last season and has put up 16 per game for his career.
Beasley is also still only 23 years old, and he would team with Eric Gordon to give the Hornets two gifted scorers to rebuild around. The team could slide Carl Landry into the starting power forward slot and move Chris Kaman back over to his natural position of center.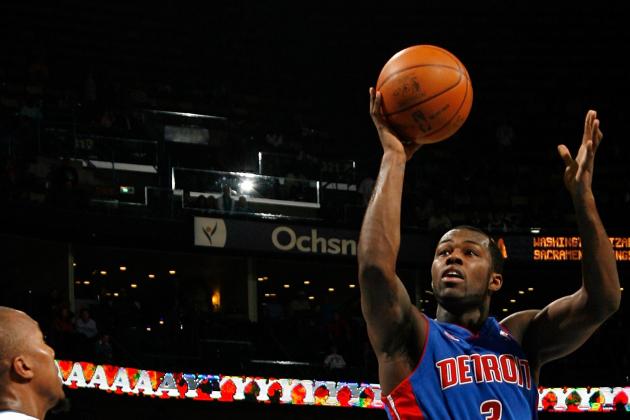 Chris Graythen/Getty Images

Why It Makes Sense:
Andre Miller wants to start, and at 35 years old, he is still playing at a level that shows he deserves it. He will not start for the Denver Nuggets, and the Detroit Pistons just have too many players with similar talents.
Neither Stuckey, Ben Gordon nor Brandon Knight are true point guards. Stuckey is clearly not the star this team thought they discovered in 2009-2010 when he averaged 16.6 points per game. By bringing in Miller, they would have a true point guard to anchor their team and feed Gordon, who has underperformed since signing with the Pistons.
Miller could also mentor Knight on the nuances of the position, and he is playing on a one-year contract. The team badly overspent on Gordon and Charlie Villanueva, and they could add a productive forward in the offseason by saying goodbye to Stuckey's contract.
Stuckey would be in a situation more suited to his talents as a scoring combo-guard off the bench, where he would also serve as Ty Lawson's primary backup. If and when the Nuggets get Wilson Chandler and J.R. Smith back from China, they could use their amnesty exception on Stuckey if he gets buried on the bench and is not earning the $25.5 millions due to him in the next three seasons.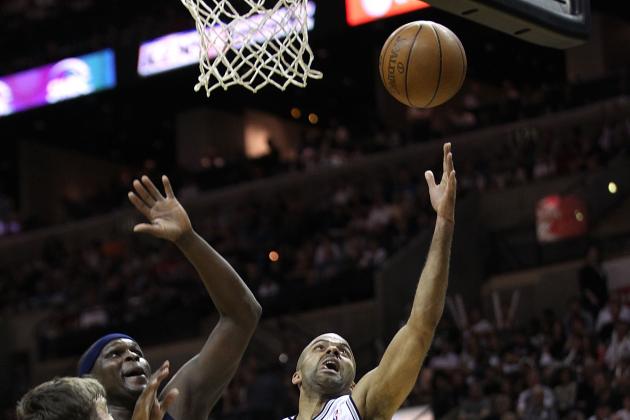 Jed Jacobsohn/Getty Images

Why It Makes Sense:
The San Antonio Spurs need more athleticism and individual scoring, especially come playoff time. Granger has averaged as much as 26 points per game, but is struggling to adapt to the new-look Indiana Pacers.
The trade would involve a lot of moving parts.
Indiana would have to include Darren Collison, as the Spurs do not want to be left with only an injury-prone T.J. Ford to man the position. A platoon of Collison and a healthy Ford would approach the production of Parker, and they would receive a true go-to guy in Granger. Granger's athleticism and length also make him an ideal matchup to put on scorers like Kobe Bryant and Kevin Durant.
The Pacers would get a clear upgrade at point guard in the battle-tested Tony Parker. They would move George Hill into the starting shooting guard spot. Rising star Paul George would take Granger's spot as the starting small forward, where he will be tested as a primary scorer.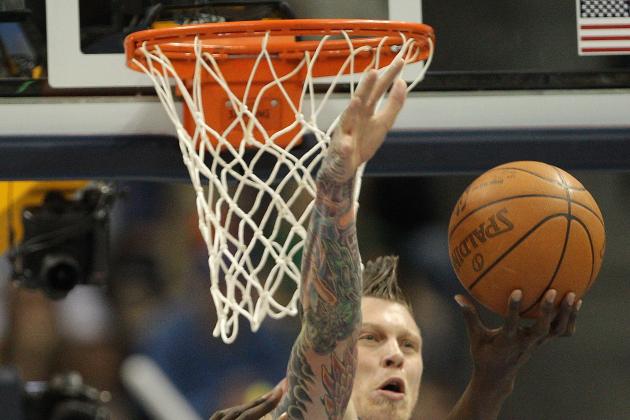 Justin Edmonds/Getty Images

Why It Makes Sense:
The Boston Celtics desperately need a tough, athletic big man. If they want someone who truly fits the bill, Andersen can likely be had at the cheapest price.
Andersen has averaged as many as 2.5 blocks per game, and he provides the assets most necessary of a Celtics center: defense and toughness.
Granted, the Celtics have little to work with as far as tradable assets. However, Andersen is often left as the third center in the rotation. In the past week, he played more than nine minutes just once.
Andersen can still play and produces when he is on the court. The Nuggets are at a point where they have 15 players who deserve to be regulars in the rotation, and "The Bird Man" can probably be had for future draft picks.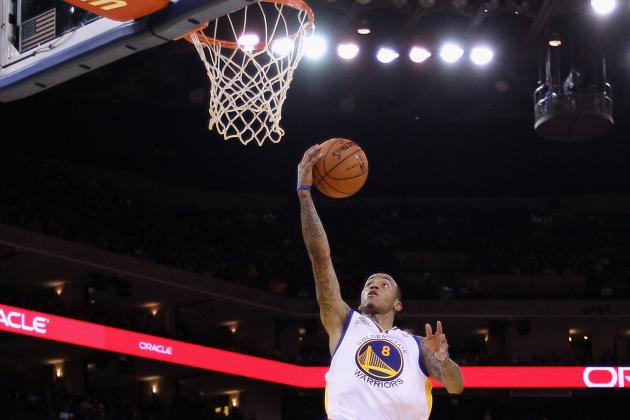 Ezra Shaw/Getty Images

Why It Makes Sense:
Simple logic: The Milwaukee Bucks can afford to sacrifice defense for offense, while the Golden State Warriors can lose some scoring to gain some much-needed defense.
When Mark Jackson was hired as the new Warriors coach, he preached that his team would play defense. He can talk about it all he wants, but that simply will not happen as along as his starting backcourt includes both Stephen Curry and Monta Ellis.
Predictably, the Warriors rank 27th in points allowed per game. With Stephen Jackson, the team would gain an athletic, defensive-minded player capable of taking on the opposition's best perimeter scoring.
Stephen is no slouch on offense, either.
The Milwaukee Bucks need scorers. Granted, they would face some of the same problems as Golden State with a starting backcourt of Ellis and Brandon Jennings, but their team defense is much more capable of overcoming these shortcomings than Golden State's.
Jennings is again leading the team in scoring as the Bucks' only player who can create his own shot. With the explosive Ellis demanding defensive attention, just watch as his scoring and efficiency from the floor skyrocket.
Alexander is a featured columnist for Bleacher Report. You can follow Alexander on Twitter Twitter or become a fan on his Bleacher Report profile.