Why a Switch to 3-4 Defense Would Be Great for the Minnesota Vikings
December 16, 2011
Hannah Foslien/Getty Images
The Vikings are bad in just about every sense imaginable this year. They don't have good wide receivers (outside of Harvin). Their offensive line is one of the worst in the league. Their secondary is absolutely the worst. Their linebackers have been underwhelming.
In total, this team has wildly underperformed and just been an all-around bad team. Injuries have been a minor factor, but most fans and those around the team knew this year would be a rebuilding year. Christian Ponder's selection in the draft was one of the most obvious signs.
When Leslie Frazier was officially handed the reigns of the team, he cleaned house of the Brad Childress-era except for one piece: Fred Pagac. Pagac was moved to defensive coordinator when Frazier was promoted to Head Coach and Frazier kept him through the offseason.
However, according to Tom Pelissero's article, Pagac lost control of his defense early on. Players stopped running the plays he called, and eventually, Leslie Frazier simply took control of the defensive play calling. It is assumed that Pagac won't be kept around this offseason.
In that same article, Pelissero suggests that some in the Vikings' organization think that a 3-4 defensive switch might be a big possibility for the team this offseason.
In my opinion, it would be a great move for the Vikings.
The Vikings have always been heavy toward Tampa 2 defenses. The defense is essentially a Cover 2 defense all the time and relied heavily on the Vikings defensive line creating havoc, forcing the QB to make a bad throw. There are gaps in the Tampa 2, and if you face a good QB and can't get pressure, you'll get picked apart.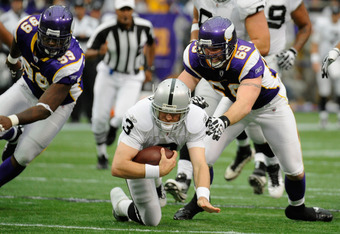 Hannah Foslien/Getty Images
This year, the Vikings, outside of Jared Allen, haven't gotten much pressure on the QB and the weak secondary has been destroyed.
A switch to a 3-4 defense wouldn't immediately fix the problems they have, but it would be a start. One of the few things the Vikings have a lot of talent with is the defensive line. Outside of Allen, there's Kevin Williams, Remi Ayodele, rookie Christian Ballard (who's started two games this season), Brian Robison and Everson Griffen. All of those players have made some sort of reasonable impact on the line this year, and you could, with Jared Allen, have five of those players on the field at the same time.
If I had to guess, with the current roster, a 3-4 lineup would feature Williams, Ayodele, and Ballard on the front and Allen, Chad Greenway, E.J. Henderson, and Everson Griffen. Of those seven, only E.J. Henderson is not under contract next year. It'll be interesting to see if he re-signs, but he's taken a serious step backwards this year with a lingering knee injury.
Outside of Henderson, the other six players are very capable players of playing in the 3-4. Jared Allen has played well in coverage in some formations this year, giving optimism for the 3-4 switch idea. Everson Griffen has practiced at OLB this year and has had lots of playing time there this year.
The whole premise makes sense to me. The defense is so bad that the Vikings need to do something drastic like this. It wouldn't help the secondary, but the draft can do that. What the 3-4 can do is give you more athletes on the field. Look at DeMarcus Ware, Clay Matthews, and Terrell Suggs. All three play in 3-4 defenses as OLB and are all very successful. Jared Allen would certainly add his name to that list.
In fact, if you look at some of the top defenses in the league, there are many 3-4 defenses. Of the top 10 total defenses, eight of them are predominantly 3-4 defenses (Houston, Pittsburgh, Baltimore, San Francisco, NY Jets, San Diego, Jacksonville, and Washington).
It wouldn't be a change that would bring instant success, but it's one the Vikings can make and draft accordingly this year. The 3-4 defense is slowly taking over the NFL and it's time that the Vikings adapt to the changing times. With great defensive minds like Mike Singletary and Frazier on the coaching staff, the team would be able to adapt to the new defense.
Frazier has made lots of good moves this year. Switching to a 3-4 defense would be another smart move for him.