San Francisco 49ers: 6 Reasons Why They Could Be One-and-Done in the Playoffs
Christian Petersen/Getty Images
49ers fans were riding high coming into the Thanksgiving night game against Baltimore. They were looking forward to a Green Bay-San Francisco NFC title game, and maybe a Super Bowl berth.
Then came the 16-6 drubbing in Harbowl I.
Memories of the horrible 2010 season returned. Maybe the Niners weren't the team we thought they were. They humbled the St. Louis Lambs in their next game, but got shocked by Arizona last Sunday.
Had the 49ers been a car, the "Service Engine Soon" light would have flickered on during that game.
Going down the stretch, the team seems to be leaking oil. They may be in for a surprising breakdown.
They own the tiebreak with New Orleans, but if they can't hold them off, they'll find themselves in Wild Card Weekend playing a team like Atlanta, or a revenge-minded Detroit.
Here are six reasons why the 49ers may be in big trouble.
Alex Smith Is Alex Smith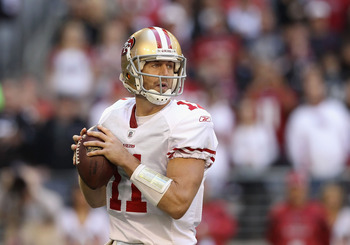 Christian Petersen/Getty Images
Don't get me wrong, Alex Smith is a much better quarterback than he was. He doesn't commit turnovers, cough up the ball when hit, or make those crazy passes any more.
Indeed, Smith has a top-10 quarterback rating and has thrown a league-low five interceptions (Tebow has two but didn't start until week seven).
The downside is he's still slow getting rid of the ball. Smith was sacked five times on Sunday against the Cards and nine times two weeks ago against the revved-up Ravens. Even the lowly Rams got him for three.
The 39 sacks against Smith are the most against any NFL quarterback this season.
True, Smith isn't making the big error, but he didn't make many big throws against Arizona and Baltimore, and when he did, his receivers got the dropsies.
Jim Harbaugh does not like to lose, but he looked like he'd smelled something awful after the Baltimore game.
Was it the odor of the realization that Smith isn't a playoff quarterback?
O-Line Worries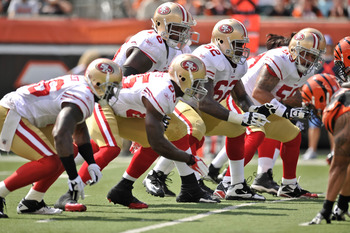 Jamie Sabau/Getty Images
But let's not fall into old habits and put the blame on Smith alone. Like most quarterbacks, he needs time to throw and the O-line hasn't been giving it to him.
During a conference call to Bay Area media on Tuesday, in preparation for Monday night's game against the Steelers, ESPN analyst Jon Gruden was critical of the 49ers' offensive line against Baltimore:
"There were physical breakdowns. Individuals got beat across the board. That's a red flag, and that has to be a huge concern.."
And you can expect Steelers defensive mastermind Dick Lebeau to dial up the same blitzes Monday night.
The 49ers beefed up the line by getting left guard Mike Iupati and right tackle Anthony Davis in a solid draft last year. Center Jonathan Goodwin was added from New Orleans this year.
The group was playing well until they unravelled against the Ravens. Injuries to left tackle Joe Staley and right guard Adam Snyder haven't helped.
If they can't give the deliberate Smith time to make his reads and deliver the ball, it will be tough for the team to advance.
No Playmakers
Christian Petersen/Getty Images
Other than the great Frank Gore, who just passed Joe Perry to become the Niners all-time ground gainer, the 49ers have few playmakers on offense.
Michael Crabtree has made great strides this year, but he's no home run threat.
Braylon Edwards, who came in as a free-agent savior, has been a no-show even when he's overcome injuries and played.
Vernon Davis is being kept in to block more often. His catches are down to 49 from a high of 78 in 2009.
Ted Ginn Jr. is a fine kick returner, but he drops passes.
Rookie Kyle Williams has shown flashes of promise, but he's not there yet.
If the Niners are going to make a move in the playoffs, they'll need someone to step up.
As good as the 49ers defense is, their offense will need to improve to keep pace with the likes of Drew Brees and Aaron Rodgers.
Red Zone Rejects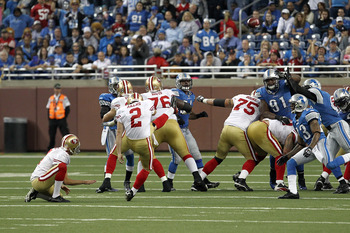 Dave Reginek/Getty Images
The 49ers' David Akers kicked four field goals last Sunday. If any of those had been touchdowns instead, the 49ers would have won the game.
While Akers is a superb kicker, the fact that he has a franchise record 36 field goals and is four away from Neil Rackers' NFL record, says something about the 49ers offense.
They can't seem to get the ball into the end zone.
They've scored just three touchdowns in their last 19 red zone possessions. Over the course of the season, they're 16 for 45—the lowest percentage in the NFL.
When the 49ers need drives at the end of a game, they're not getting them. They've scored seven fourth quarter points in their last four games, and none in the losses to the Ravens and Cards.
In those two losses, the offense never even got the ball past the 50-yard line in the fourth quarter, much less into the red zone.
Don't blame the defense. They'd given up just 13 points in the three games before the Arizona loss. They were due for a letdown. At least they weren't blown out.
It's the offense the 49ers are worried about.
Injuries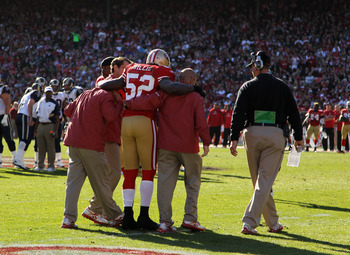 Ezra Shaw/Getty Images
The injury bug, which has plagued the 49ers in recent years, was largely absent during the first three months of the season.
But All-Pro linebacker Patrick Willis has missed most of the last two games with a hamstring sprain. Gore is hobbled again and carried the ball only 10 times last Sunday.
Linemen Adam Snyder and Joe Staley were key injuries in the losses to Arizona and Baltimore. As of Thursday, Staley had not been cleared for full practice. Willis also remains on the sideline.
I've always thought Vince Lombardi's "luck is the residue of design" mantra was ludicrous. You need luck, or at least to avoid bad luck, to go the distance.
Injuries are frequently the result of being at the wrong place at the wrong time. In other words, bad luck.
If the Niners' bad luck with injuries continues, they may be excused early in the playoffs.
Maybe We Don't Have It Better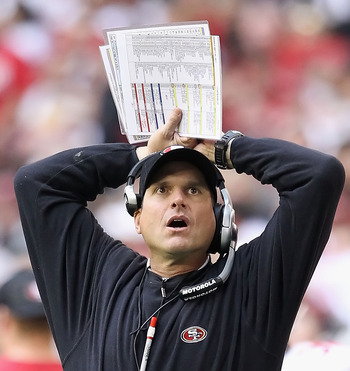 Christian Petersen/Getty Images
The Niners aren't good enough to win while phoning a game in. This is a team that needs to bring it every week, and until last week, they'd evaded lackluster efforts.
Maybe coach Jim Harbaugh's "Who's got it better than we do" shtick is wearing thin. Motivation and chemistry can take you a long way, but in the playoffs, talent must deliver.
Getting back on the right track against the Steelers—who may be without James Harrison and Big Ben—is all important.
If the Arizona loss proves the impetus for the 49ers regaining their focus and edge, and Harbaugh will use it that way, it may have been for the best.
Meanwhile, Harbaugh's "new wrinkle-a-week" offense seems to be missing lately. The air game remains especially conservative.
Could crafty Captain Comeback possibly be saving the good stuff to spring on unwitting playoff foes?
Don't be surprised if San Fran goes out early in the playoffs.
But don't be surprised if they make a run. After years of frustration, this team is still hungry; Harbaugh knows how to use that better than anyone.
Keep Reading

San Francisco 49ers: Like this team?