Giants vs. Cowboys: Does 'Icing' the Kicker Actually Work?
December 12, 2011
Tom Pennington/Getty Images
You can thank Dallas Cowboys kicker Dan Bailey for this article, and you can thank him twice.
For two straight weeks, Bailey has been "iced" out as he attempted to hit game-winning and game-tying field goals.
In Week 13, Dallas was tied at 13 with the Arizona Cardinals, and as Bailey moved in to hit the 49-yard field goal to win the game, a timeout was called. Funny thing was, Dallas head coach Jason Garrett called it, explaining later that he did it because his team didn't look ready.
Bailey made the field goal, but it was called back because of the time out. On his second go, he missed the game-winning field goal, and Arizona ended up winning the game in overtime.
Everybody blames the coach.
Enter Week 14 of the National Football League, where the New York Giants rally late behind the clutch play of Eli Manning to take a three-point lead going into the final seconds. Tony Romo moves the Cowboys into field-goal position, and Dan Bailey comes out to try and send the game into overtime.
Right before he kicks it—you guessed it—a timeout. This time by Giants coach Tom Coughlin. And wouldn't you know it, Bailey misses his second attempt, and the Giants escape with the win.
Ahhhh. Dan "Iceman" Bailey. It's got a nice ring to it.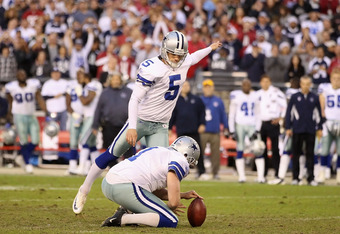 Christian Petersen/Getty Images
I know he's a rookie, but he should be used to icing the kicker. I mean, it's used nearly every time before a clutch field-goal attempt. When I say clutch, I mean in the final two minutes—when the game is on the line.
We're talking make-it or break-it stuff, so coaches "ice" the kicker.
Why? It's usually just job security.
If the kicker makes it, and they don't call the timeout, the first question they're going to be asked in the press conference is why they didn't ice the kicker. Add to that all the talk-back radio calls they're going to have to deal with.
If the kicker makes it, a timeout is called, and he makes it again, the coach hasn't lost anything. I mean, his team loses the game, but he covers himself.
And if the kicker makes it, the coach calls a timeout just beforehand, and the kicker misses the second attempt, well, the coach is made to look like a superhero.
But, is there really any merit to doing it, or is it simply just something that you do because well, that's what everyone else does?
In the 2007 season, Oakland was tied with Denver, and right before Oakland kicked the game-winning field goal, Denver called a timeout. Incredibly smart tactics, especially when Janikowski missed his second attempt, and Denver ended up winning in overtime.
The coach looked like a hero.
Oakland remembered the concept, and the very next week, they did the same thing to Cleveland; a week after they'd been iced out of a win, they had done the same to the Browns. Thus, the fad that was icing ensued.
But, why do it?
At the heart of icing the kicker is a Pavlovian reaction. Coaches want the opposing kicker to think. They don't want him to go two steps back and two steps left; they want him to have a minute to think about the situation, and think about what's riding on his kick.
This, at times, works, as Dan "Iceman" Bailey can attest to.
Yet, for many kickers, the concept of icing actually helps them. They can think about the wind and field conditions. They can kick their first kick down the middle and see what the ball did and what they need to rectify in order to make sure it goes through.
During the 2008 season, in a game between Dallas and Arizona ironically enough, Arizona coach Ken Whisenhunt called a timeout before Dallas attempted to kick the game-winning field goal.
They had, in fact, missed the kick, but the timeout was called beforehand. The second one went through, and the Dallas Cowboys celebrated the win.
Coach Whisenhunt would have felt a little bit dumb, though.
So, we know it sometimes works and sometimes doesn't work, but what about the numbers? What do they say about clutch field goals before and after the icing?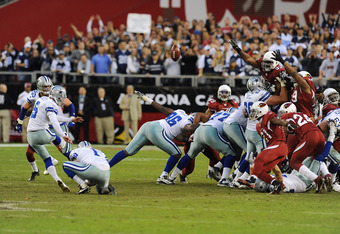 Norm Hall/Getty Images
Over the past nine years, Tobias Moskowitz found that when an opposing coach iced the kicker as he attempted a clutch field goal, those kickers actually became more accurate.
Time on the clock                    Iced               Not iced

1:59 to 1:01                               74.2%           77.6%
1:00 to 0:31                               74.3%           74.6%
0:31 to 0:16                               76.0%           76.9%
0:15 to 0:10                               77.5%           75.4%
(Statistics taken from Moskowitz, Scorecasting, 2011)
And when it came down to the distance to the field goal, statistics show that icing the kicker is an advantage to the kicker.
Distance (yards)                     Iced               Not iced
35 and under                           89.4%            93.2%
36-50                                       73.9%            75.5%
51 and longer                          42.6%            56%
(Statistics taken from the Wall Street Journal, 2010)
So, if the numerical evidence suggests that icing the kicker is detrimental to a team's chances of actually making him miss, then why do coaches continue to do it?
As I said before, a large part of it is covering their backs. Additionally, in a game-winning situation, coaches are going to do all they can to try and win the game.
That's why they invented trick plays, the Hail Mary and icing—all acts of desperation to try and walk away with a win.
And when you're down by three, or the game is tied with seconds to go, you've got nothing to lose, so they ice the kicker. Is it statistically advantageous? No. But, does it work sometimes? Yes, and that's why they'll continue to do it.
Tom Coughlin got away with one this weekend, and Jason Garrett didn't the week before. They'll both be in more icing situations throughout their respective careers, I'm sure. And I know Garrett will be on the winning side one day, and Coughlin won't get it right all the time.
However, when it works, it works, and if icing is what it takes to win a game of football, so be it.
Kickers need to be just as mentally strong (if not stronger) than any other player on the team and must continue to thrive in the clutch situations if they want to keep their jobs. That's the story for anybody wanting to succeed in the NFL. You've got to step up when the game's on the line and do it every week.
We'll see icing again this year, and it probably won't work. That's just the nature of icing. It's a call that has no real risk, but a potential really high gain. And when you look at it like that, icing is here to stay for the long haul.
And Dan Bailey? He's had it rough the past two weeks. If the Dallas Cowboys are to win close games this year and make it to the playoffs, they'll be needing him to overcome this psychological barrier in his mind and start making clutch field goals—with or without icing.
For in the NFL, it doesn't take long for something to stick.
Like being known as "Iceman."
Read more articles by Dan Talintyre here.

Follow on twitter by searching @dantalintyre