Eli Manning: Why He Is More Clutch Than Peyton Manning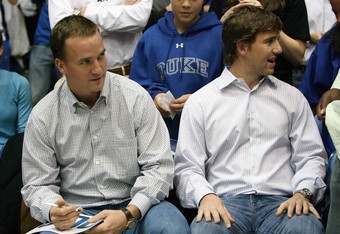 Kevin C. Cox/Getty Images
Eli Manning is one of the better quarterbacks in the league today. His performance last night proved it—it was something to write home about.
Against the Dallas Cowboys, Manning managed to put up 400 passing yards with two touchdowns and only one pick. He also lead his team down the field twice during the fourth quarter to erase a two possession deficit and give the New York Giants the lead.
Peyton Manning, on the other hand, has proven he is one of the best quarterbacks of all time. He could even be one of the three best quarterbacks to ever play the game. He has shown an unbelievable ability to pass the football, has broken numerous records and has received numerous accolades.
While I do think he is definitely a better quarterback than Eli, one thing remains clear: his little brother is more clutch than he is.
Eli has proven time and time again throughout his short career that he possesses what many call the "clutch" gene. He has shown us, from Sunday afternoon to Thursday nights, that he is capable of putting the team on his back and willing the New York Giants to victory.
Eli is not one of the greatest quarterbacks of all time statistically, or one of the best in the league right now. When it comes to winning in crunch time, though, Eli might just be one of the "clutchest" quarterbacks of all time.
To narrow it down, I've gathered both Eli's and Peyton's stats during the fourth quarter of the biggest game in the NFL—the Super Bowl. In Peyton's case, his stats are compiled from the two he has been in: the victory in Super Bowl XLI against Chicago and the loss in Super Bowl XLIV against New Orleans. In Eli's case, it's only from his one Super Bowl victory: Super Bowl XLII against the Patriots.
Chris McGrath/Getty Images
While this will not give a clear picture of their careers as a whole, it will give the best understanding of how Eli and Peyton preform in crunch time. The Super Bowl is the biggest stage in any football player's career, and there is massive pressure to win. The Super Bowl is the perfect game to look at when determining whether or not a quarterback is clutch.
Peyton Manning
Completions/Attempts: 14/23
Completion percentage: 60 percent
Passing yards: 160
Touchdowns: 0
Interceptions: 1
Eli Manning
Completions/Attempts: 9/14
Completion percentage: 65 percent
Passing yards: 152
Touchdowns: 2
Interceptions: 0
In the fourth quarter of Super Bowl XLII, Eli Manning had a 140 quarterback rating. Peyton Manning, during the fourth quarter of Super Bowl XLI and XLIV, had a combined 62 quarterback rating.
While the Super Bowl was one, or two days in either brother's career, the numbers speak for themselves. When the most important game of the year was on the line, both quarterbacks preformed differently.
Eli, facing an undefeated Patriots team, managed to remain calm and composed the entire fourth quarter and deliver one of the best fourth-quarter performances by a quarterback in Super Bowl history.
Peyton Manning, on the other hand, performed poorly in both of the Super Bowl fourth quarters he was in. Even during the fourth quarter, when Indianapolis was already beating Chicago, Peyton Manning was unable to seal the deal. The defense had to make a play in order for the Colts to win.
Based on these stats alone, Eli Manning has shown he is more capable in clutch time. He is out performed by his brother as a quarterback, but when it comes to being a clutch in the NFL, Eli Manning is obviously better.
(Special thanks to Prime Computing for helping me calculate quarterback percentage.)
This article is
What is the duplicate article?
Why is this article offensive?
Where is this article plagiarized from?
Why is this article poorly edited?

New York Giants: Like this team?