Oakland Raiders: Where Has Tight End Kevin Boss Been All Season?
December 9, 2011
Hannah Foslien/Getty Images
Like most teams in the NFL, the Oakland Raiders suffered a myriad of personnel transitions this past offseason. Players come and players go. That's the nature of football—or any sport, for that matter.
The Raiders' offseason was highlighted by the departure of All-Pro cornerback Nnamdi Asomugha, who eventually landed with the Philadelphia Eagles. However, several other important names that left Oakland included offensive lineman Robert Gallery, backup quarterback Bruce Gradkowski, outside linebacker Thomas Howard and tight end Zach Miller.
The loss of Miller was deemed by some to be considerably hurtful to the Raiders' offense. After all, Miller led the team in receptions in each of the past three seasons. That type of production is not often easy to replace. The 2010 Pro Bowler was 25 years old and entering the prime of his career. In addition, his adept blocking skills further strengthened Oakland's bread and butter—the running game. He ultimately signed with the Seattle Seahawks for five years, $34 million.
Fortunately, within days after Miller left, the Raiders were able to find a quality substitute on the free agent market. Oakland quietly signed tight end Kevin Boss, formerly of the New York Giants, for four years at $16 million. Like Miller, Boss was a member of the 2007 draft class, and he also was a Pro Bowler (2008 alternate) who led his team in touchdown receptions (six) last season.
In his three seasons as the Giants starting tight end, Boss averaged over 36 catches and a shade below 500 yards receiving per season. Additionally, having won a Super Bowl with the Giants (XLII), the Raiders hoped Boss' championship experience would rub off on an aspiring Oakland organization.
So far this season, however, Raiders fans have unfortunately been left asking, "Where's the Boss?"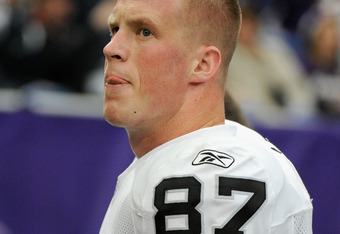 Hannah Foslien/Getty Images
The 27-year-old has played in 10 games this season, but he enters this weekend's contest against Green Bay with a paltry 17 receptions for 245 yards. And, sadly, his lone touchdown was the result of a trick-play field goal attempt. These stats are those of a lowly subordinate—not a Boss.
True, Boss has not exactly been 100 percent for the entire year, having missed the season's first two games after suffering a knee injury during preseason. He's also missed a couple of other starts along the way. However, even when in the lineup, his numbers are not piling up quickly or massively. Twice he has gone without catches, while on four occasions he has caught only a single pass—not the kind of production that was expected of him.
Obviously, some blame can be doled to his own boss, head coach Hue Jackson. As the architect of the Raiders' offense, Jackson is responsible for direction and selection of the plays. Thus, inevitably, he helps determine which receivers are targeted during each game. It's quite obvious that Boss has seen little spotlight in Jackson's play-calling so far this season.
What gives? Is Boss' health really that bad? Does he simply not fit into the offensive schemes? Maybe Boss just isn't good at following order?
One negative factor has indeed been the loss of Jason Campbell, the Raiders' Opening Day starting quarterback. Campbell is deemed more of a game manager, less known for threading needles in tight windows than he is for throwing shorter ball-control passes. Given his compressed learning of the Raiders' offense in his short year and a half with Oakland, Campbell has been apt to check down to receivers out of the backfield or tight ends across the middle. That has been Campbell's modus operandi throughout his entire career.
In his nearly three seasons as the starter for the Washington Redskins, Campbell's favorite targets have been his tight ends. In 2009, second-year tight end Fred Davis had 48 receptions, and his six touchdowns led the team. The other tight end, Chris Cooley, had been Campbell's go-to guy during the previous two seasons.
In '08, Cooley led the Redskins with 83 catches, gaining 849 yards. In '07, he was equally good, leading the team with 66 receptions and eight touchdowns. It wouldn't be a stretch to state that Campbell assisted in Cooley becoming a Pro Bowl representative in each of those two seasons.
This season, however, with Boss slow out of the gate and Campbell injured in Game 6, the numbers just aren't there for the Oakland's new tight end. And the acquisition of quarterback Carson Palmer has not exactly helped Boss's cause. Palmer is a gunslinger who prefers to drop dimes to his streaking wideouts. Unfortunately for Boss, Palmer's deep-ball ability and familiarity to Jackson's offensive schematics result in lots of plays that overlook Oakland's tight ends.
It's simply been an unfitting match for Boss so far. The signing of Boss was a knee-jerk reflex to losing Miller, not necessarily designed to upgrade or improve the offense. Instead, it was an acquisition for the sake of it.
If the Raiders are going to make a run at the AFC West crown, they'll need to compensate for the losses of most of their receiving corps. Jacoby Ford and Denarius Moore (not to mention pass-catching running back Darren McFadden) have been out for several weeks apiece nursing injuries. In addition, Darius Heyward-Bey and Louis Murphy have sat out games with ailments during the season as well. Thus, the Raiders will need more solid production from the tight end position to stretch out the passing game, as they attempt to execute a balanced offensive attack.
Boss's absence so far this season is disturbing. But hopefully the Raiders can get him on track, because they can't win the West without getting more production out of him. Surely, they need some glory days from the Boss.