NFL: Are Oakland Raiders Better with Michael Bush or Darren McFadden as Starter?
December 2, 2011
Jed Jacobsohn/Getty Images
As of Thursday afternoon, the Oakland Raiders have confirmed that Darren McFadden is still missing in action on the practice field, and thus will almost certainly be absent from Sunday's game against the Miami Dolphins. The fourth-year star running back will miss his fifth straight game, as he continues to recover from a right foot injury sustained in Week 7's contest against the Kansas City Chiefs.
Michael Bush will continue to start at running back in McFadden's stead.
There is no doubt that when healthy, McFadden is one of the elite running backs in the NFL. At the time of his injury, McFadden was leading the league in rushing yards, and had an impressive 5.4 yards-per-carry average. He was also the team's second-leading receiver with 19 catches out of the backfield. His combination of explosive speed and power and dynamic pass-catching ability have some considering him an AFC version of Adrian Peterson.
The problem is McFadden is not healthy very often, and his nonattendance does hinder the Oakland Raiders' offense. Or so one would assume.
Fortunately for the Raiders, the converse is true. Without McFadden in the lineup, Oakland has seemingly not missed a beat on offense, save for a scoreless showing against the Chiefs after his departure. In comes Bush, who has been beating around and down would-be tacklers. In his five games filling in for McFadden, Bush is averaging 106.0 rushing yards per game. He's also caught 13 passes for another 174 yards.
With a three-game win streak on hand, this poses the question of who is the better back for Oakland—Bush or McFadden?
In the six full games that McFadden played (he lasted just two series against Kansas City), the Raiders averaged 372.8 yards of total offense and 160.0 rushing yards per game. Moreover, they gained 20.3 first downs on average and, more importantly, scored 26.7 points per contest.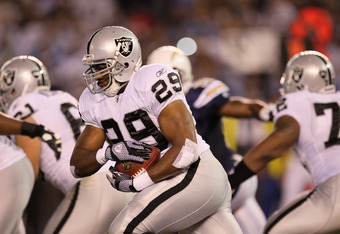 Stephen Dunn/Getty Images
However, with Bush as the starter for five games (including Week 7's early substitution), Oakland's numbers are quite similar: 373.8 total yards, 136.2 rushing yards and 21.8 first downs. The team's lower 20.0 points-per-game average with Bush as the primary back can woefully be attributed to the six-interception game against the Chiefs.
It's noted that in Oakland's first six games the rushing totals are spiked, due to the fortune of having both running backs available. Additionally, the more recent five-game stretch features the insertion of Carson Palmer as the starting quarterback, taking over for an injured Jason Campbell. Palmer's acclimation surely had something to do with the offense stalling a bit after McFadden's injury.
Obviously, the Raiders are better off having Bush and McFadden at their disposal, allowing each to spell the other when needed. Why couldn't they prefer to have both? With Bush as the primary back, the Raiders have rookie Taiwan Jones and 10-year veteran Rock Cartwright as backups. Each has seen minimal playing time in the offense.
But with McFadden evidently unlikely to return in the foreseeable future (that he has yet to officially step on the practice field is concerning), the Raiders should transition their attention to having Bush as their main running back heading into their playoff push. Maybe this is the time when Oakland can segue into the Michael Bush era, as he steadily and handily carries the Raiders to an AFC West title.
McFadden, no doubt, is a great running back, when he's not on the mend. Unfortunately, he never is. He has missed 14 games in his four seasons and has never participated in a full 16-game schedule since he entered the league.
As he heals, one will wonder if he will return by the end of the season. Until he does, during the most crucial portion of the team's year, fans will wonder: Are the Raiders better off without him?