Knicks Rumors: Why They Should Wait to Pursue Chris Paul Until He's a Free Agent
December 6, 2011
The hot stove has always been synonymous with Major League Baseball's offseason rumor-mill. However, considering the regular season opening tip-off has been pushed back to Christmas Day, the NBA might as well adopt the term this year as trade talk and gossip surrounding free-agent signings heats up into the first winter month.
Fans who are still coming to the realization that there will, in fact, be a 2011-12 season—albeit slightly truncated—have already been met with a barrage of speculative bullets from their favorite NBA media outlet.
Between Chris Paul's agent informing the New Orleans Hornets of his client's interest in the Knicks to the Los Angeles Lakers' willingness to gut the entire roster—save for Kobe Bryant—to make room for Paul and Dwight Howard, ESPN correspondent Chris Broussard's head must be about to explode.
It's an encouraging sign that New York is apparently the frontrunner to land arguably the most coveted player heading into free agency since LeBron James, but a lot can change between now and when Paul makes a decision.
With Paul buddying up to Carmelo Anthony for international promotional tours and numerous charitable causes over the past few months, there's no denying Paul picked Anthony's brain about what it was like going through the exact same journey the star point guard is about to embark upon.
Likewise, you can be certain Anthony seized the opportunity to drill home his desire for Paul to make good on his dream team proposition at Anthony's wedding that has practically achieved folklore status.
Knowing James Dolan, the Knicks' trigger-happy owner has undoubtedly been in contact with his preferred consultant, Isiah Thomas, regarding what can be done to land Paul, with whom Thomas has close ties.
Knicks fans remember last February all too well when Dolan hijacked former team president Donnie Walsh's master plan and forced a midseason trade with the Denver Nuggets for Anthony.
Prior to that, Anthony had been vocal about his wishes to play in the Big Apple. Whether or not he finished the season in a Denver uniform was a moot point; Anthony would eventually find his way to Manhattan.
Walsh knew this, and rather than dismantle a team with its first winning record that late in the season in years, he believed he could wait it out and sign Anthony during the summer.
Fearing a major box office draw might slip through the cracks, Dolan overruled Walsh and negotiated with Nuggets owner Stan Kroenke himself until a deal was brokered before the deadline.
Had Knicks management gambled and stalled until the offseason, there's an excellent chance Anthony would've still been available. Doing it Dolan's way ensured the acquisition of Anthony, but at a such a high cost that it forced many to question whether it was really worth it.
Looking back on it, it was quite cockamamie when you take into account that New York's promising young squad would've remained intact. It was a team complete with role players—the kind that are vital to winning a championship.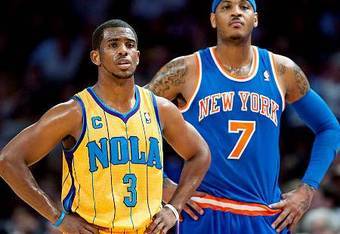 Instead, the Knicks gave up Raymond Felton, a borderline All-Star point guard in the midst of a breakout season, in exchange for an aging, injury-prone Chauncey Billups.
They lost former lottery pick and three-point specialist Danilo Gallinari, who is still just 23 years old.
Wilson Chandler, another first-round pick who was steadily improving and quietly one of the most consistent all-around players in the league, was also dealt.
Additionally, New York threw in big man Timofey Mozgov, who is a project but would've helped fill the current void at center, along with Anthony Randolph (another former lottery pick), a washed-up Eddy Curry, a future first-round draft pick, a couple second-rounders and $6 million cash for good measure.
While most of the Knicks faithful will admit this trade had to be made, it seems like a heck of a lot for just one man in return—no matter how great of a ball player.
Bringing Anthony into the fold should make the Knicks better in the long run, but the jury is still out on his immediate impact. Would New York have fared better without him and Billups against the Boston Celtics, avoiding a sweep and possibly even advancing beyond the first round of the playoffs?
One thing is for certain: A wrecking ball destroyed the solid foundation that Walsh had erected from the ground up. And instead of Anthony serving as the potential final piece of that puzzle, the trade meant taking a step backwards in the rebuilding process.
It is for this reason that pursuing Chris Paul at this juncture in hopes of executing a trade is a bad idea.
New York clearly does not possess the enticing assets that they once did. Nevertheless, any remaining quality players would become expendable in the event a transaction of this caliber comes to fruition.
That means Chauncey Billups, Toney Douglas and Iman Shumpert—at the very least—would be history. The Knicks would get their prize in Paul, but it would essentially be a case of the Miami Heat all over again—three superstars without much of a supporting cast trying to do it all on their own.
The Heat may have figured things out and reached the NBA Finals, but they also have two legitimate top five players in LeBron James and Dwyane Wade. Even if Paul was in the mix, you can't say the same about the Knicks with Anthony and Amar'e Stoudemire.
Anthony's existing contract is only binding through the 2013-14 campaign. As it stands, he and Stoudemire have just three more guaranteed seasons together.
The window for the Knicks to bring home a title is already closing. Obtaining Paul via midseason trade would undoubtedly place an even heavier burden on the shoulders of the "big three."
There is no time to fool around and decimate the roster again. It's now or never for New York, and everyone from ownership right on down should have faith that Walsh's original vision for signing Anthony will also work with Paul.
Ultimately, Dolan is going to do what Dolan wants to do, but if he'd stop and think before he acts for once, he might just recognize that patience is a virtue.