NBA Trade Rumors: Chris Paul and Dwight Howard Would Make Lakers Title Favorites
December 6, 2011
It looks like the Lakers will have to notify the city of Los Angeles that they'll be closing down Figueroa Street for a summertime celebration.
According to ESPN NBA insider Chris Broussard, the Lakers are looking to acquire Dwight Howard and Chris Paul to form a championship trio of their own, along with franchise superstar Kobe Bryant.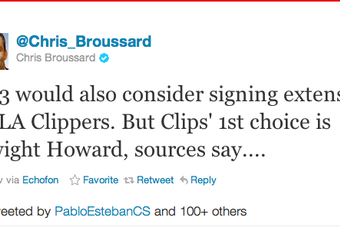 How exactly that all gets done remains to be seen, though if GM Mitch Kupchak could steal Pau Gasol from the Memphis Grizzlies for a bag of peanuts...and Kwame Brown, surely he's capable of pulling off the biggest personnel coup the league has seen since, well, last summer, when Pat Riley convinced LeBron James, Chris Bosh and Dwyane Wade to join forces with the Miami Heat.
And at a discount, no less.
Cobbling together the assets to acquire CP3 and Superman will be no easy task, though. Kupchak will likely have to give up Andrew Bynum, Pau Gasol and Lamar Odom, in some permutation or another, along with a draft pick or two. The team could also include Shannon Brown as a sign-and-trade option
Interestingly enough, the biggest obstacle between the Lakers and these two stars might just be across the hall at the Staples Center. The Clippers have an abundance of tradable assets—including DeAndre Jordan, Al-Faroug Aminu, Eric Bledsoe and Minnesota's unprotected first-rounder in the 2012 NBA Draft—to satisfy Dell Demps in New Orleans and/or Otis Smith in Orlando.
Not to mention a dynamic duo, in Blake Griffin and Eric Bledsoe, that's good enough to entice either one, or both, to sign a long-term extension.
What's more, the Clippers might not even need two trades to get those two together under the same roof. They could potentially trade for one now and wait to sign the other as a max-contract free agent in the summer.
That being said, CP3 and Howard would make the Lakers instant favorites to not only win the Western Conference—ahead of the Dallas Mavericks and the Oklahoma City Thunder—but also the Larry O'Brien Trophy—be it through the Miami Heat, the Boston Celtics, the Chicago Bulls or the New York Knicks.
Paul and Howard previously won hardware together with Kobe at the 2008 Beijing Olympics and would complement the Black Mamba quite well in the City of Angels.
Bryant's body can no longer withstand the punishment of carrying a team like it used to, and with CP3 around to handle the ball up top, it wouldn't have to. Howard's presence as a shot-blocker would allow Kobe to gamble a bit more on the perimeter, without having to worry about the consequences of getting beat off the dribble.
Most importantly, the presence of Paul and Howard would open up more scoring opportunities for Kobe, who's become accustomed over the years to handling double- and triple-teams and still possesses the skill and creativity to do some special things on the hardwood.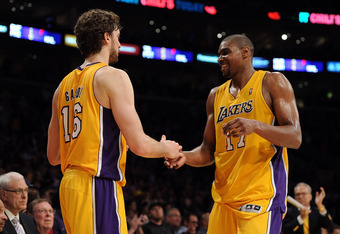 Harry How/Getty Images
Of course, LA could just as well win a title with its current roster. Thanks to an early playoff exit and a prolonged lockout, the nucleus of Kobe, Pau, Lamar and Bynum got some much-needed rest after reaching the NBA Finals three years in a row.
More specifically, Kobe's achy knees should be in much better shape after undergoing a cutting-edge rehab procedure in Germany, while Bynum, for the first time since 2007, will have had a full offseason to work on his game rather than recover from some sort of surgery.
Then again, a superstar trio of Bryant, Howard and Paul would be nearly unstoppable while giving the Lakers two more young stars to build around for the future.
Certainly, first-year head coach Mike Brown wouldn't mind, nor would anyone else in LaLa Land who bleeds Purple and Gold.