New York Jets: Why They Need to Sign Donovan McNabb
December 4, 2011
Hannah Foslien/Getty Images
When the New York Jets traded up to get Mark Sanchez in the 2009 NFL Draft, they expected to get a franchise quarterback who would lead their team for the next 10-plus seasons.
Fast forward three years, and many Jets fans are questioning whether the team should head in a different direction.
Sanchez has been anything but consistent in 2011. This season, Sanchez is 30th (out of 35 total quarterbacks) in Total QBR.
According to ESPN, Total QBR is a quarterback rating that takes into account all of a quarterback's contributions (passing, rushing, sacks, fumbles, penalties) to his team's scoring and winning. His rating of 38.6 is worse than middling quarterbacks Colt McCoy (44.4), Tarvaris Jackson (39), Andy Dalton (47), Christian Ponder (47.2), Cam Newton (54.5) and Matt Moore (58.3).
The Jets have to be disappointed with Sanchez's progress thus far. If you look around the league, there are a handful of young quarterbacks who have outperformed him (see list above).
The Jets coaching staff rarely opens the playbook for Sanchez, and can you blame them? He has struggled to master a limited set of plays after three years as an NFL starter. 
Sanchez's performance thus far has to be disconcerting for Jets fans. He has gotten the Jets to two AFC Championship games, but it can be argued that their success was due to a stingy defense rather than Sanchez's leadership.
The Jets have done a good job surrounding Sanchez with solid pieces. Santonio Holmes is an explosive playmaker, Plaxico Burress is a matchup nightmare in the red zone and Dustin Keller is a solid young tight end. Nick Mangold could be the best center in all of football.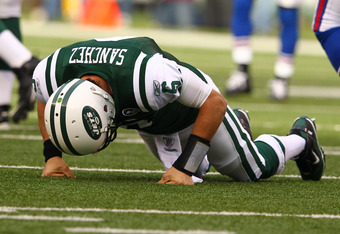 Al Bello/Getty Images
But Sanchez has yet to find his groove.
He continues to be a game manager rather than a game changer. In his third year in the NFL, expectations are set higher, and he has simply not performed the way he should. Consequently, the New York Jets sit with a decent 7-5 record after Week 13 after barely beating the Bills and the Redskins.
If the Jets want to make a serious run at the 2012 playoffs, they need to sign veteran QB Donovan McNabb. He is a smart QB who knows how to win football games.
He still has plenty of gas left in the tank, and he is itching to prove his critics wrong. McNabb has been through it all and has the ability to take the Jets to the next level.
A telling stat of how poorly Sanchez has been playing is that even though McNabb only started six games for the Vikings this year before being benched for Christian Ponder, he still has a higher Total QBR than Sanchez does.
The Jets can sign McNabb for cheap. If Rex Ryan really wants to put some pressure on Sanchez, sign McNabb and give him some snaps with the first team. 
If Sanchez continues to disappoint, McNabb wouldn't be a bad option. It would be a low-risk, high-reward move.
And a smart one.