NBA Free Agents 2011: Predicting Where the Top 10 Free Agents Will Go
December 2, 2011
Dilip Vishwanat/Getty Images
The NBA season is rapidly approaching as the union and the owners sit down to finish the labor agreement that would start the season on Christmas Day. That leaves less than a month (Dec 9th-25th) for free agents to talk to teams and sign up for their new homes. Here are where we believe these top tier free agents should go, and where they will ultimately land up.
Nene
Should: Clippers
The Clippers have the nucleus of a promising team (headlined of course by the explosive Blake Griffin) that has the potential to lead LA to success; or, at the very least, a playoff berth. The one thing that could take the Clippers from also-rans to a serious contender for postseason action is an elite center, but Donald Sterling's infamous aversion to spending money will stop him from offering Nene the max (or close to max) contract the Brazilian is looking for.
Will: Nets
While New Jersey do have the decent Brook Lopez at center, Nene is certainly a class above, and the pursuit of such a high profile free agent is the sort of thing the Nets need to do as they aim to keep Deron Williams and generate excitement for a move to Brooklyn ahead of next season. Landing Nene may also serve to turn Lopez into tempting trade bait that could aid Mikhail Prokhorov in luring even more stars to his team.
Should: Dallas
Repeating as champions might be a stretch for the Mavericks, but they can certainly contend in the Western Conference again as long as they keep Chandler, who proved an effective foil for Nowitzki last season. Certainly, most of the teams trying to grab Chandler in the free market are nowhere near in as complete a shape as Dallas, and if winning championships is his major aim, the center would be best served staying put.
Will: Nets
A back up option if New Jersey can't get Nene. Certainly the Nets have the necessary deep pockets to lure Chandler, who's looking for a big pay day.
Marc Gasol
Should: Grizzlies
The Grizzlies showed glimpses of a bright future in last spring's playoff run, toppling the Spurs and giving the Thunder a hard fought series. Similarly to the Clippers, Memphis has a strong, talented young core, who, if they have a chance to keep developing together in seasons to come, could mature into legitimate contenders. If Gasol sticks around, he has the potential to be a part of a rebirth in Memphis.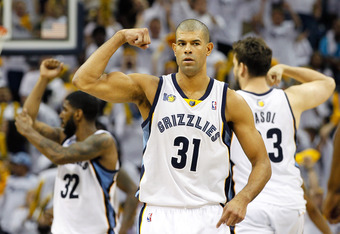 Kevin C. Cox/Getty Images
Will: Grizzlies
Re-signing Gasol is the Grizzlies' absolute number one priority; the Spaniard is the cornerstone of their team, and letting him go would be a massive step backwards for the Memphis organization. With few pressing needs in the free agent market, expect the Grizzlies ownership to do everything in their financial power to keep their star center. 
Shane Battier
Should: Heat
Battier is that rare breed of free agent; one for whom money comes second in consideration to winning. After a long, respected career in the league, the only thing the veteran has left to do is bring home a championship ring.
Will: Heat
The Heat need a tenacious defender capable of clocking 20-25 minutes a game and neutralizing the opposition's main threat, which is what Battier has done his entire career. With Miami favorites to win the NBA championship, look for the former Rocket and Grizzly to take a modest pay cut to increase his chances of going out a winner.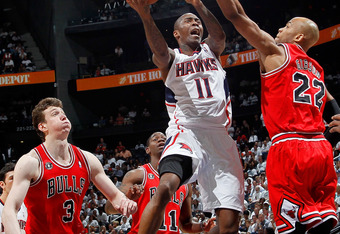 Kevin C. Cox/Getty Images
David West
 
Should: Pacers
The Pacers had a decently average 2010/11, sneaking into the playoffs and giving the Bulls a brief scare, but there is no denying that they need an explosive talent to give them some shot of progressing. David West may be approaching the end of his career at 31, but, provided he stays injury free, he should be a solid player in the next few seasons.
Will: Hornets
Just like the Grizzlies with Marc Gasol, the Hornets will do everything in their power to keep West. Almost as important as his on-court contributions is the overall image; keep West, and New Orleans might succeed in convincing Chris Paul that they are serious about winning, perhaps convincing the point guard to stay for at least one more full season.
Jason Richardson
Should: Magic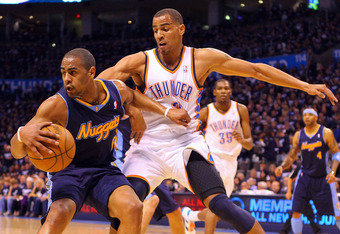 Dilip Vishwanat/Getty Images
Although a decent enough player for Orlando last season, Richardson wasn't exactly spectacular; certainly not good enough to suggest that teams are going to offer him very sizable contracts. Provided Dwight Howard sticks around until the end of the season, the Magic have a shot at being Eastern Conference contenders. If Richardson is interested in winning, there are few better options than Orlando.
Will: Magic
Keeping Richardson will be the ultimate offseason priority for the Magic, who have precious little depth and almost no chance of grabbing an upgrade in free agency. Orlando should have enough left in the cap space to entice Richardson to stick around.
Nick Young
Should: Bulls
The Bulls are in dire need of a productive shooting guard as the final piece of a talented nucleus.  With Derrick Rose at the point and Carlos Boozer down low, the Bulls simply need a scorer to keep going while Rose sits down on the bench. Nick Young would bring this scoring from Washington, averaging 17 points per game in his time there, and help a struggling Bulls offense. In the playoffs, the Heat managed to shut down Rose and the Bulls struggled to keep up, but Young's scoring presence would allow the Bulls the best pure scorer in this free agent class as the team's second option.
Will: Wizards
Nick Young enters this free agent class as a restricted free agent, which means that his current team, the Washington Wizards, can match any deal offered. The Wizards have to spend to meet the new salary cap minimum (especially so if they use the amnesty clause on Rashard Lewis), and will hardly let their best scorer and future of their franchise go. I believe Washington will match any offers on the table in order to keep their star scorer in the nation's capital. 
Jamal Crawford
Should: Heat
The heat could use a scorer off their bench to spark some offense when they rest the Big Three, and Crawford knows how to score, putting up 52 points against the Heat last season.  Also, this may be more about stopping the Bulls from getting Crawford who as stated earlier that they simply need a pure scorer off the bench to overcome the possibility of Rose getting shut down. However, the Heat can only afford the mid level exception of 5.5 million for Crawford, and will need him to take a pay cut in order to compete for an NBA championship.
Will: Hawks
Crawford is a crucial player for Atlanta, his scoring potential off the bench providing the Hawks with an X factor that even Joe Johnson can't match. Unfortunately for the Hawks, the big money contract they handed out to Johnson may restrict how much they can afford to offer Crawford, but such is his vital importance to the team that Atlanta will almost certainly find a way to keep him. 
Thaddeus Young
Should: Clippers
Young would be a fine addition to the Clippers' young core.  The exciting, dynamic young small forward showed signs of great improvement last season, and Los Angeles lack a player at his position with his natural talent and massive upside. He would be a fine complement for Blake Griffin.
Will: 76ers
Philadelphia realize just how talented Young is, and coach Doug Collins showed signs last season that he was figuring out an effective role for Young in the team. While there are three other small forwards ahead of Young in the Sixers depth chart (including the highly paid Andre Iguodala), Young's great potential will all but force Philly into paying him whatever they have to in order to keep him around.
Arron Afflalo

Should: Lakers
Afflalo is exactly what the Lakers need to rejuvenate their team and launch themselves back into the championship contention. He would become the team's best defender (allowing LA the luxury of cutting Metta World Peace), capable of neutralizing the opposition's most potent scoring threat. Afflalo's dangerous shooting potential would also add another dimension to the Laker's attack, and would allow the team to spread the paint and provide more space for LA's big men.
Will: Nuggets
With all that said, he is a pivotal player already for the Nuggets, who have made it clear that they consider keeping him and Nene their top offseason priorities. If Denver has any chance of staying relevant in the Western Conference, they should do everything they can to convince Afflalo re-sign.