Fantasy Football 2011: Musts, Trusts and Busts (Week 12)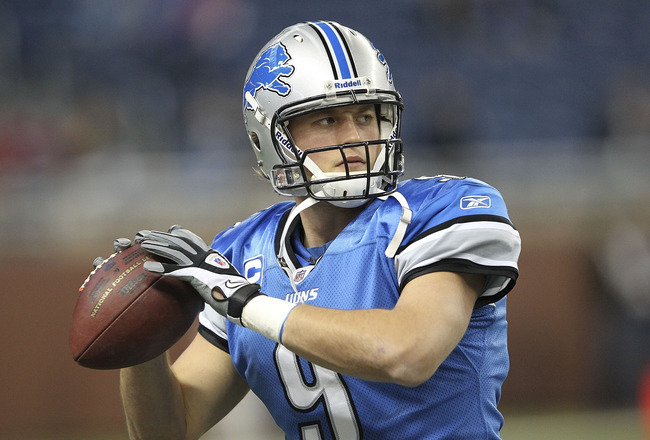 Leon Halip/Getty Images
Welcome to the Musts, Trusts and Busts Week 12 Thanksgiving special edition.
The Packers versus Lions matchup is sure to provide a significant amount of fantasy points. But who is it going to be? Is it going to be Aaron Rodgers, or is it going to Calvin Johnson. It could be a multitude of players.
But, I believe it's going to be Matthew Stafford. He is the matchup's greatest wild card. I predict a four-touchdown, two-interception performance out of the Detroit Lions gun-slinger.
Look to the MTB for more fantasy football direction, including some significant injury information that you MUST take into consideration while assembling your lineups.
Quarterback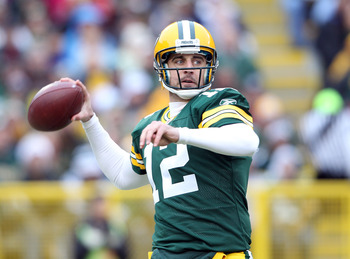 Elsa/Getty Images
Musts:
1. Aaron Rodgers
2. Cam Newton
3. Drew Brees
5. Matthew Stafford
Trusts: Tony Romo, Eli Manning, Tim Tebow, Matt Ryan
Busts: Mark Sanchez, Matt Moore, Christian Ponder, Curtis Painter
Injury Fill-In: Matt Leinart, Vince Young, Andy Dalton, Sam Bradford
Injury Report
Michael Vick (Ribs) Taking it day by day, look for Vince Young to start this week. There is no quarterback controversy in Philadelphia; it's Vick's job when he returns to form.
Matt Schaub (Foot) Schaub's season is officially over, he's been placed on the IR. Matt Leinart will start Week 12. With that being said, look for the Texans to move to newly acquired Kellen Clemens in the following weeks if Leinart begins to falter.
Running Back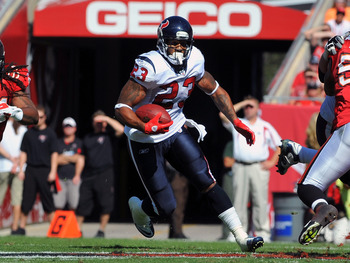 Al Messerschmidt/Getty Images
Musts:
1. Arian Foster
2. LeSean McCoy
3. Matt Forte
4. Michael Turner
5. Marshawn Lynch
Trusts: Ray Rice, Rashard Mendenhall, Maurice Jones-Drew, DeMarco Murray
Busts: Chris Johnson, Shonn Greene, BenJarvus Green-Ellis, Toby Gerhart
Injury Fill-In: Kevin Smith, C.J. Spiller, Reggie Bush, Ryan Grant, Michael Bush
Injury Report
Fred Jackson (Fractured Fibula) Jackson has been placed on the IR effectively ending his season. This is a huge blow to Jackson's fantasy owners, but an ever bigger blow to Jackson himself. At 30 years old after suffering a significant injury such as a fractured fibula, it will be extremely difficult to get that big money contract he was most assuredly in line for prior to the injury. Make all attempts to pick up C.J. Spiller, as he has proven to be effective in the passing game.
Beanie Wells (Knee) He's been battling a knee injury over the past few weeks, and Arizona has been limiting his snaps. Still, look for at least 8-10 points out of Wells versus the Rams this week.
Darren McFadden (Foot) McFadden WILL NOT play this week. With Bush playing so well, it doesn't look as if Oakland will rush Run DMC back to the field. He wont play again until he's completely healthy.
Wide Receiver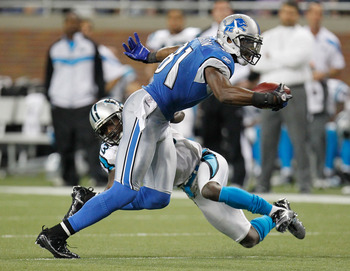 Gregory Shamus/Getty Images
Musts:
1. Calvin Johnson
2. Steve Smith
3. Jordy Nelson
4. Roddy White
Trusts: Greg Jennings, Mike Wallace, Vincent Jackson, Andre Johnson, Hakeem Nicks, Dez Bryant
Busts: Wes Welker, Brandon Marshall
Injury Fill-In: Victor Cruz, Torrey Smith, Brandon Lloyd, Nate Burleson
Injury Report
DeSean Jackson (Foot Contusion) DeSean has practiced at a limited capacity this week. He should be available for your lineups.
Stevie Johnson (Shoulder) Johnson missed Wednesdays practice, his absence could be a product of Buffalo erring on the side of caution. Start him.
Keep Reading