2011 NFL Season, Week 12: Picks for All Games Including Thanksgiving
November 23, 2011
Rob Carr/Getty Images
Ah, the holidays are upon us as we gather together, giving thanks for three tremendous games on Thanksgiving Day.
Miami will not win this game. Dallas does not lose very often on this particular day at home. Easy deal.
The line is 6.5 and my wife takes the points and Miami, while I, who knows more, says Dallas covers.
In Detroit, Green Bay will be beat after a short week in most likely one of the few losses this season brings.
The line is 6.5 also with Green Bay, of course favored. In my humble opinion, Detroit covers and maybe even wins.
The third Thanksgiving contest pits San Francisco against the Ravens in Baltimore. I don't give games out following my heart. This Niners fan picks Baltimore as the holiday traveling sucks for the San Francisco.
The points on this one are 3.5 and Baltimore has it's A-game and a cover this week.
On Sunday, Atlanta wins over Minnesota, but Minnesota will cover the 9.5 points.
The Jets, who usually dominate Buffalo over the last few seasons, are favored by 8.5. This seems unrealistic. I like Buffalo and that huge amount of points.
In Cincinnati, Cleveland visits in a division rivalry. These games are always close, and who's to say Cleveland can't win one now and then. 8.5 points is again, too many. Take the Browns.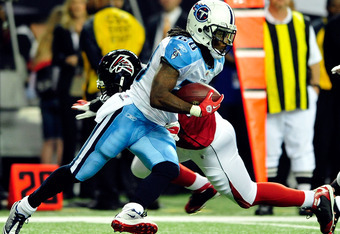 Grant Halverson/Getty Images
There was a Chris Johnson sighting recently, so I will take Tennessee to slip by Tampa Bay at home. You give 3.5.
Carolina covers the points in Indy at 3.5 like a blanket. Everyone knows the Colts are taking Luck and even possibly dealing Peyton Manning.
The Rams play Arizona in this week's boredom bowl. Take the Rams and give the 3.5 points. Home team wins this one.
Houston without Schaub should do alright this week playing Jacksonville. Houston is still favored with a back up qaurterback by 3.5. Vegas knows, so trust them and take the Texans.
The Bears go into Oakland with a rookie backup quarterback. Something tells me Chicago has it together, despite this trip into unchartered waters. The line is 4.5 and the Bears continue their rise to the wild card. 
Green Bay wins the division, in case you might not have noticed they are on pace to go 16-0 or 15-1 if I call the upset correctly on Thanksgiving Day.
Seattle is a tough place to visit coming from the East, and Washington does not have much. 4.5 seems attainable for the Seahawks. Go get a win for ocean birds everywhere.
The Chargers will come out of their self-induced stupor to beat Tebow and Denver. Phillip Rivers will dominate this game. Fearlessly give Denver a touchdown.
Philadelphia with or without Vick, are no match for the Patriots this season. The Eagles are getting 4.5 at home. Wonder why? Take Tom Brady as usual.
The Steelers visit Kansas City favored by 10.5. They lost to K.C. last season. Revenge, or close again? This may be too many points, but then again, backup quarterback for Kansas City. Take Pittsburgh.
On Monday Night New Orleans will beat the Giants covering the touchdown given to the Giants. They are getting a bit worn out at certain positions. 
Happy Thanksgiving from NFL Mikee.