Detroit Lions 2011 Playoff Race: Week 12 Contenders: A Weekly Series
November 21, 2011
Leon Halip/Getty Images
Well, the Detroit Lions and Matt Stafford pulled themselves together for a 49-35 victory over the Carolina Panthers in Week 11. Stafford, borrowing gloves from DE Kyle Vanden Bosch, got his groove back after some brutal first quarter misfires, including two interceptions.
The emergence of retread RB Kevin Smith was the big story for the Lions. Smith racked up 140 rushing yards and two touchdowns. A remarkable performance that will impact opponents' game plans for the remainder of the season.
Jahvid who?
The ink on this article won't have time to dry before Keiland Williams is deactivated—or even waived—after his fumble and otherwise lackluster performance.
It has gone largely unnoticed, but the Lions offensive line had their best game of the season against, admittedly, a mediocre Panthers defensive front.
Lets take a look at the NFC playoff picture after Week 11. There was one surprising result and one huge injury that will have profound implications moving forward.
Division Champs: Green Bay (10-0), San Francisco (9-1), New Orleans (7-3) and Dallas (6-4).
Wild Cards: Chicago (7-3) and Detroit (7-3). Detroit holds the tiebreaker.
Contenders: New York (6-4) and Atlanta (6-4).
On the Outside Looking in: Tampa Bay (4-6), Philadelphia (4-6) and Seattle (4-6)
Here's the Week 11 results and ramifications on the NFC playoff race: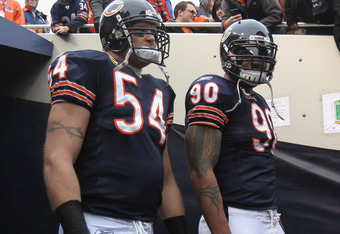 Jonathan Daniel/Getty Images
Philadelphia (4-6)
The Eagles' surprising 17-10 road victory over the Giants behind QB Vince Young has temporarily turned down the heat under head coach Andy Reid's hot seat.
The Eagles' season is on life support now, and they will have to find a way to beat New England at home in Week 12 or the season will come to an abrupt end. 
Is Vince Young the answer? He'd better be, or Eagles fans will start looking forward to the offseason.
Tampa Bay (4-6)
The Week 11 loss in Green Bay has pushed the Bucs to the brink of elimination. Tampa Bay needs a healthy dose of good luck as they travel to Tennessee for their elimination game.
The only thing keeping Tampa Bay alive is what might transpire in the continuing drama in the NFC South, where New Orleans and Atlanta are fighting it out for divisional supremacy.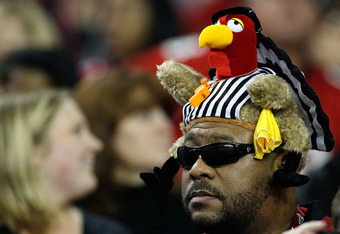 Kevin C. Cox/Getty Images
Seattle (4-6)
The Seahawks' Week 11 win over St. Louis (2-8) kept their distant playoff hopes barely alive. Seattle seems to have found some modest traction as the season has progressed, but a Week 12 test against the visiting Washington Redskins (3-7) will likely be an elimination game.
The Redskins at the Seahawks is one of those games about which you can say, "Who cares?" The losers will be given shovels and be ordered to dig their own graves.
Atlanta (6-4)
The Falcons stayed alive by beating the Titans (5-5), but that Week 10 snafu against the Saints is still haunting them.
Atlanta still holds a tiebreaker against Detroit, but their hopes might hinge upon what happens in the NFC East, where Dallas and New York are locked in a race for the better Wild Card record.
The Falcons are home for a Week 12 tilt against the Vikings (2-8). If Adrian Peterson's ankle is good to go, Minnesota could spoil Atlanta's fleeting playoff hopes. This smells suspiciously like a trap game.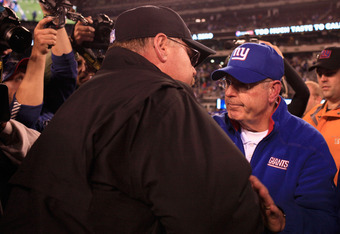 Patrick McDermott/Getty Images
New York Giants (6-4)
Giants head coach Tom Coughlin was apoplectic after stumbling at home against Philadelphia (4-6) on Sunday Night Football. Coughlin's analysis that the offensive line didn't block anybody was accurate, but he failed to call out QB Eli Manning and the receivers for going AWOL.
This galling loss puts Dallas (6-4) in the driver's seat for the division lead, even though the teams are tied. Not even a healthy Ahmad Bradshaw can stop the Giants precipitous slide.
The Giants go to New Orleans (7-3) for what appears on paper to be a spanking in Week 12.
Detroit (7-3)
The Lions' record would be good enough for a share of the lead in six NFL divisions, but will it be good enough to earn an NFC Wild Card spot? A Catch-22 if ever we saw one.
Detroit's victory over Carolina (2-8) sets up the most hyped Thanksgiving Day game against visiting Green Bay (10-0) that they've played in many, many years.
Which Lions team will show up on Turkey Day? Will it be the 1962 Lions, who blew away an undefeated Packers team? Or will Lions fans be left with another loss to contemplate for 10 long, dreary days?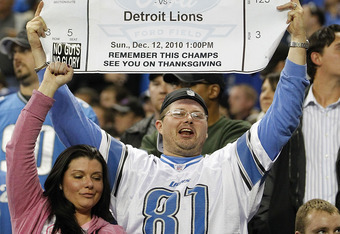 Leon Halip/Getty Images
The Thanksgiving Day game against the Packers will do more to define the Lions season than any other game on the schedule.
Chicago (7-3)
The Bears wore down and defeated the San Diego Chargers (4-6) in Week 11. The Bears also lost QB Jay Cutler for six to eight weeks with a broken thumb.
The Cutler injury will put the now tenuous playoff hopes of the Bears on the shoulders of the defense and special teams. Backup QB Caleb Hanie is ill-equipped to take the reins in the Bears' sophisticated offense.
Can Matt Forte carry the Bears offense? Can offensive coordinator Mike Martz come up with a game plan that lessens the blow due to the loss of Cutler?
Chicago travels to Oakland (6-4) for a Week 12 game that will answer both questions. Oakland will be looking for it's second consecutive win against an NFC North foe.
Lions fans will want to watch this one, for sure.
The Division Leaders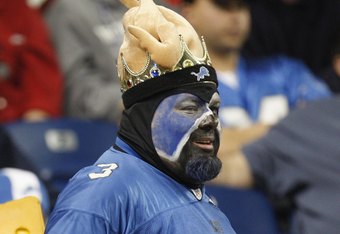 Gregory Shamus/Getty Images
Green Bay (10-0) and San Francisco (9-1) remain on a collision course for an NFC championship showdown. Home-field advantage is at stake and the NFL schedule makers have thrown some games of interest together in Week 12.
Green Bay travels to Detroit for a huge game against the Lions. The 49ers travel to Baltimore for a big showdown with the Ravens (7-3). Both games are on Thanksgiving Day and will have nationwide audiences.
Not to be overlooked is the Turkey Day afternoon game featuring the Dallas Cowboys (6-4) and the suddenly dangerous Miami Dolphins (3-7), who are winners of three straight games.
Dallas will look to better it's position against the faltering Giants in the NFC East. It will be interesting to see if the Dolphins can trap the Cowboys.
New Orleans (7-3) will host the aforementioned faltering Giants next Sunday. A loss by either team will have dire playoff implications going forward.
Summary
The Jay Cutler injury and the free-falling Giants have brought Detroit, Dallas, Atlanta and New York back into the thick of the Wild Card race in the NFC.
The division leads held by Dallas and New Orleans are anything but safe. Both teams, however, do control their own destinies.
Week 12 promises to cull those teams whose playoff hopes have a weak, thready pulse and bring the real contenders into better focus.
In any event, we will be taking a closer look at tiebreaker formulas after Week 12.
Happy Thanksgiving Day, everyone!