NFL Week 11 Picks for All Games by NFL Mikee (76-56 vs. the Line)
November 16, 2011
Ethan Miller/Getty Images
Survival was the key word in Week 10, as many teams felt the wrath of injuries, upsets and blown spreads.
An 8-8 record last week against the line means just a little juice lost as we plan this week's attack starting Thursday Night in Denver, where the Broncos host the underachieving New York Jets.
If the Jets defense can 't stop the Tebow option attack, I will be in absolute shock. If you can' t pass in the NFL, you will have a very short career. All of Tebow's running will take its toll and the craze will soon be over.
Take the Jets on Thursday Night Football and give the points. 4.5 is easy.
Buffalo goes to Miami, who poses no threat to the Bills' playoff hopes. Although Miami has improved, their dismal home record over the last two seasons makes Buffalo an easy winner this week. You are gladly getting a 2.5 point bonus for taking the better team.
Cincinnati is at home hosting the up-and-down Ravens. I like the Cincinnati defense to hold up in this game and keep it a low-scoring affair. The spread seems too large with Baltimore's offense struggling.
You get eight large points taking the Bengals.
Cleveland is pretty bad, so why not take the Jaguars? The same logic worked last week when I took the lowly Rams. It's a pick-it. Just win the game, Jags.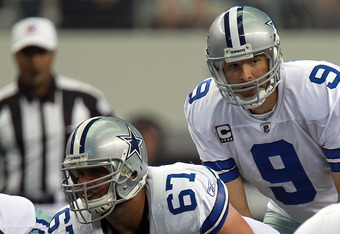 Ronald Martinez/Getty Images
Dallas rolls into Washington with plenty of steam. Young talent with a decent defense and an on-point Tony Romo makes this one of the easier winners this week. You give 7.5 points to win this game handily.
Carolina travels to Detroit, where the Lions will end their three-game skid against Cam Newton and the Panthers
I have plenty of fantasy action in this game with Cam Newton, Steve Smith and Calvin Johnson. I expect plenty of scoring, with Detroit covering the six-and-a-half points.
Green Bay will crush Tampa Bay by 20 points, as they did last week to Minnesota.
Oakland, on the other hand, has a chance of an upset in Minnesota. Carson Palmer is productive and has a nice target in Denarius Moore.
If Minnesota has a bad running day, the Raiders will win. I'll take this slight upset, getting a point-and-a-half.
Seattle, behind the running of Lynch and good defense, can beat the Rams. You get two-and-a-half points as the visitor.
Arizona plays a division game against the 49ers. The Cardinals will come ready to play with Larry Fitzgerald as a threat to any defense. San Francisco wins this game, but Arizona covers the nine-plus points.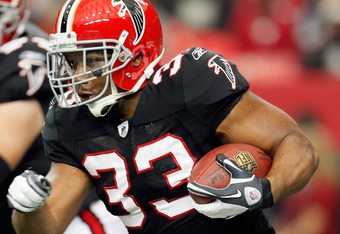 Kevin C. Cox/Getty Images
Atlanta seems to be coming into its own again, running the ball more. You give six points to Tennessee, who has the washed-up fantasy player of the season in Chris Johnson. Still, being the idiot I am, I start him every game. Who knew? Take the Falcons and the under.
I am expecting the Chargers to blow out the Bears for some inexplicable reason. Don't ask me why. I'm doing pretty well this season with these gut feelings. You get almost four points you won't need.
The Giants will punish Michael Vick and his ribs if he plays Sunday. Take the New York Giants at home. You give only three-and-a-half. Vick has just about had it in Philadelphia. Andy Reid may be a casualty of the Vick experiment as well.
The Dolphins would be happy with Andy Reid and Peyton Manning next season. 
On Monday Night Football, New England wins by 15 over Kansas City..
Good luck to all your fantasy studs and your teams in Week 11 of the 2011 NFL Season.