Peyton Manning Is Having a Better 2011 NFL Season Than Michael Vick
November 14, 2011
Rob Carr/Getty Images
Peyton Manning is having a better season than Michael Vick.
By itself, that statement is preposterous. Peyton Manning has a career-threatening neck injury. His team has yet to win a game, which may very well mean they will draft Manning's replacement.
The huge contract Manning signed won't fully go into effect until he receives a $26 million roster bonus next season.
So Manning could lose his contract, end up on a different team or even have to retire. How on Earth could he be having a better season than Michael Vick?
Vick is the starting QB for one of the most visible NFL franchises. He just signed his second $100 million contract. Despite a few nagging injuries, Vick has remained fairly healthy throughout the 2011 season.
How could Manning be having a better season?
To start with, if you asked NFL writers to vote for the NFL MVP right now, I am confident Peyton Manning might receive more votes than Vick.
Seriously. Vick wouldn't receive a single vote. I think Peyton might.
Michael Vick is a more physically talented QB than Peyton Manning. Manning is obviously more of a cerebral QB and a more accurate passer.
But Vick has a better arm than Manning and he's ten times the athlete Peyton is. While each man is different, both have always been saddled with the highest of expectations.
The Indianapolis Colts are 0-10. I believe the Colts would at least be 5-5 if Manning was under center on Opening Day.
The Eagles are 3-6, and I'm not sure they would be any worse without Michael Vick.
A truly elite QB raises the level of play of the players around him.
Dallas Clark and Reggie Wayne are good players, but they're not the most talented guys at their positions. Peyton Manning made them.
A great QB turns good players into great players and average players into good players. That's why they get all the credit in victory and all the blame in defeat. That's why Tom Brady can make $20+ million per season and nobody raises an eyebrow.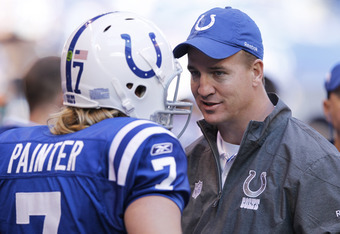 Joe Robbins/Getty Images
Michael Vick doesn't make the players around him better. In fact, he sometimes hurts them.
Offensive linemen have a tougher job blocking for Vick, because they never know what he is going to do. Receivers aren't as effective with Vick, because they either have to alter their routes when Vick takes off or start run blocking for Vick.
Running backs might get a bit more room to operate with Vick under center. But that's it.
Vick's tendency to turn the ball over constantly puts his defense in untenable positions.
Everybody knows golf, right? The lower your score, the better you played. Say you played 10 rounds of golf. Your scores are 97, 99, 95, 96, 94, 97, 101, 82, 98 and 97.
What kind of golfer are you really? You're a golfer who shoots in the mid-to-high 90s. But if somebody just saw you shoot that 82, they might think that's your usual level of play.
Michael Vick is exactly the QB he is playing like this season. He turns the ball over, he's not particularly accurate and he throws the ball into double and triple coverage.
Sure, he makes some plays with his feet and he has a cannon. But he's not going up to New England and leading the Eagles to a game-winning TD with three minutes left. Peyton can do that. Michael Vick can't.
For approximately half a season (eight to 10 games) in 2010, Michael Vick played at an elite level. We know he is capable of it. But everybody fooled themselves into thinking that wasn't Vick's absolute ceiling.
But it was. That was the best stretch of games he will ever have in his NFL career.
Let's make this even more simple and lean on the golf analogy a little more. Michael Vick is John Daly. He can make the crowd "Oooh" and "Ahhh" at times. Occasionally, he can show flashes of dominance.
But there's no consistency to go with the talent. Peyton Manning is Tiger Woods in his prime. A machine built to play his sport at the highest level consistently.
This is who Michael Vick is. Maybe he needs a coach like John Fox. A coach who is willing to do whatever takes to win, even if it means scrapping his beloved offensive system.
When Andy Reid looked out on the field late in Sunday's game, he saw Jason Avant, Steve Smith 2.0, Riley Cooper, Brent Celek and LeSean McCoy.
One of those players is among the best offensive weapons in the NFL. But of course, Andy Reid would rather call passes from his inaccurate QB to his backup WRs than lean on his All-Pro RB.
Andy Reid and Michael Vick are not a winning combination.
In complete honesty, Andy Reid needs a smart, accurate QB. The Eagles' offense is filled with dynamic play makers who can create their own offense after getting the ball in their hands.
That's not Michael Vick. Have you seen how many "Hospital Balls" Vick has thrown this year? He nearly got Jeremy Maclin killed Sunday.
As an Eagles fan, I would love to tell myself they can turn this thing around. They have the talent. Andy Reid is a good coach. Michael Vick is a physically talented football player.
But together, they will never be more than a 9-7 or 10-6 team that loses early in the playoffs.
Unless Andy Reid was willing to become a run-oriented team. And there's a better chance of me coaching the Eagles next year than that happening.
It's too late for the Eagles to "Suck for Luck". But the Colts are doing that just fine. And when they do, they will take Andrew Luck No. 1 overall in the 2012 NFL draft.
But Luck probably won't want to play for the Colts with Peyton Manning still on the roster.
So am I endorsing the Eagles trading away Michael Vick in order to bring in an aging Peyton Manning and drafting a young QB? You bet I am.
Will such a thing actually happen? No way. Would it make a ton of sense? It actually would.
But with the Raiders having given up most of their draft picks for the next century, I'm not sure who would trade anything of value for Michael Vick. That's your $100 million QB.
I don't think the Eagles could get a second round pick for him. With his current contract, he's actually worth less than McNabb was two seasons ago.
In this scenario, I would bet money that the Eagles' backup QB behind Peyton Manning would be Donovan McNabb.
Because you know Eagles fans would be behind acquiring Manning at this point. So Eagles management would need to do something to alienate them.
Re-signing McNabb as a backup just seems to be perfectly ironic.
I've been bashing Vick (as a football player) without remorse for three seasons now. I don't think anything has changed. We saw him play great for a stretch because he had to.
The Eagles offered Vick in trade around the league last offseason. He couldn't even bring a fifth round pick in return. Vick was almost $40 million in debt.
If he had bombed with the Eagles, we're talking about a guy who would've been stuck playing in Canada or even the Arena League to try to make money.
So he gave it all he had. He studied hard. He said all the right things. And then what happened?
Everybody spent an entire year telling Vick how great he is. The Eagles gave him enough money to erase his debts and return to his lavish lifestyle. The endorsements returned. The animal activists faded into the background.
Michael Vick believed what he heard. He was back. So it's right back to the way it was. The ego is back. The arrogance is back. Vick is better at giving the media sound bites now, but look at his play on the field and his body language. Nothing is ever his fault.
Then you have Andy Reid.
All he will ever say is everything is his own fault. And some of it is. But the Eagles don't have the type of locker room leaders to keep everybody in line.
There's no Jeremiah Trotter or Brian Dawkins anymore.
Andy Reid needs those players. When you're a players coach, it's hard to be a disciplinarian. Why do you think Bill Belichick was recently voted a bottom three coach in an NFL players poll about which coaches they would like to play for?
Being comfortable is more important to most players than winning.
Nothing is going to change. Andy Reid will be the Eagles' coach in 2012. Michael Vick will be the QB. The Eagles will trade back in the first round to make sure they get that defensive lineman for the millionth time.
And we'll be right back here a year from now.
Maybe I can look back on this article and laugh seven weeks from now when the Eagles are 10-6. But I wouldn't bet on it.
Do you have anything to add to the discussion? Please use the comments feature below.
Follow John on Twitter
Check out John on Bleacher Report