Jets in a 3-Way Tie Atop the AFC East: Need to Beat the Pats to Move into 1st
November 8, 2011
Rick Stewart/Getty Images
So the Jets defeated the Bills on Sunday in a win they had to have to keep pace in the AFC East. It took me until later after the game to figure out what felt unusual about that 27-11 win. And then it hit me: not once did I scream at the TV in frustration over the offensive line!  In fact, for the first time this year, the Jets looked like the Jets of last year's playoffs. Confident and prepared to play tough, physical football.
Let's take a look back, starting with No. 6.
Mark Sanchez, prepare yourself for a week of teasing over the flinch seen around the league. I don't know what you saw that made you jump so much when you were lined up as a receiver in the wildcat against Drayton Florence, but you are going to get hazed by the whole locker room when you watch that tape. Phil Simms had so much fun with it, it was almost unseemly.
Anyway, enough with the wildcat for these Jets. The element of surprise is long gone and without Brad Smith to operate it as a credible threat to run or pass, well, it just seems like a wasted down to me. 
The first half for Sanchez wasn't great, especially the pick in the end zone and the fumbled snap.  Sigh. I have a feeling he got read the riot act at halftime.
But after that, a much better job. Nice execution of long drives throughout, converting on third down and mostly being smart with the football. 
What I did not like was throwing for the second time into triple coverage in the end zone.  Santonio Holmes bailed you out with the TD catch and even gave you credit for a good throw when he spoke at the post game press conference. But there is no reason to live so dangerously. Let's nip this trend of end zone turnovers in the bud. You dodged a bullet with that one.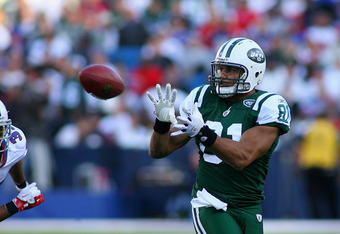 Rick Stewart/Getty Images
Dustin Keller—allow me to add my voice to every one of your teammates who told you, please don't try to be a hero when the downside is potentially catastrophic. You do not need to be hurdling over Bills players for minimal extra yardage when the outcome could have been a shoulder injury, concussion or worse. You are invaluable to this team. Please play smarter.  (By the way, wasn't it nice to see the Bills training staff immediately rush out to help with Keller? Very nice display of sportsmanship.)
Offensive line—flew under the radar, just the way we like it.
Defense—well done. Everyone played great. Bart Scott had a great game after a few so-so ones.  Calvin Pace and David Harris also had nice games.
Special teams—so Nick Folk missed a FG. Not that big a deal. I hate those long streaks of made FGs anyway. They always feel jinxy to me. Get the miss out of the way now.
Coaching—terrific job. Great play calling by Brian Schottenheimer. Possibly the best I've seen all year.  Rex Ryan had the whole group ready to go. Not overly amped up, just ready to come play like a Jet. Buffalo is a quality team. But they haven't been baptized by fire the way this Jets group has. Everything changes when there are expectations.
So the Jets record a quality win coming off the bye and now face the New England Patriots at Met-Life Stadium in yet another must-win game. But the Jets sort of brought this on themselves with that three game road loss all to AFC teams. 
The Jets should be able to win this game. The only thing that gives me pause is that I cannot recall a time in the Brady/Belichick era where the Pats have been looking at losing three in a row. (Turns out it was back in 2002.) That is ominous.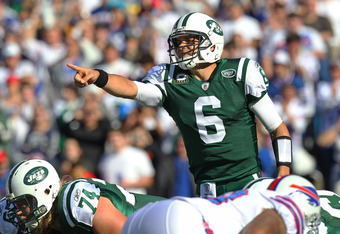 Tom Szczerbowski/Getty Images
Tom Brady is absolutely irate. I watched that game against the Giants. You can't tell a thing from Brady's post game press conference. He has mastered the art of standing at the podium for five minutes and saying absolutely nothing.
No, what you have to watch is his demeanor on the field and sidelines. The TV crews did a great job of catching his various reactions, highlighted by him coming off the field after another fruitless drive screaming and throwing things. He is supremely frustrated. 
The thing is, for the first time in a long time, I think the Jets have the advantage over the Pats. I know that is heresy in the football world. You don't bet against Brady and Belichick coming off a two game losing streak.
But, hear me out. Mark Sanchez is not a better quarterback than Tom Brady. Brady is Hall of Fame. But Brady is being asked to carry a (for the Patriots) weak team. There is absolutely no reliable deep vertical threat on that team. Brady and Chad Ochocinco are still not on the same page.  It's Week 9. I don't know that they ever will get on the same page if they haven't by now.
Consequently, the Pats offense comes down to the short passing game particularly to the tight ends.  Their run game is pretty inconsistent too. 
The Jets know how to beat that. They did it last January. They can do it again. And the Jets are much better with the long ball than they have been because Holmes and Plaxico Burress finally have a feel for Mark's timing and touch on those downfield throws. Plus, the Patriots defense is not the Patriots defense of yore.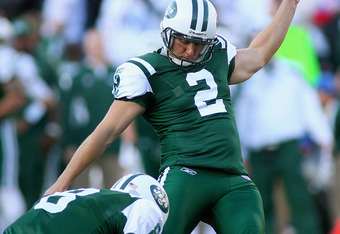 Rick Stewart/Getty Images
I think Bill Belichick and Rex Ryan are a pretty even match these days, coaching wise. Yes, I said it.  I think they are evenly matched as defensive schemers. Belichick is better at clock management and offensive strategy, but Ryan is better at getting his players to leave everything out on the field. Ryan's forte is motivation. Belichick's is execution. 
Funny how both quarterbacks mirror their coaches. Brady cool and aloof. Sanchez fiery and emotional.
I think the Jets can win. It won't be pretty and you can never underestimate another team's pride. But the Jets can run the football, keep time of possession slanted heavily in their favor and recalibrate the AFC East if they can pull this off. 
I hate that there is a shadow of doubt in how I just wrote that. But until I see the turnover problem get under control (I'm looking at you Sanchez), I can't state with ringing confidence that they will win.
But maybe that's better anyway. The Jets always seem to do better when they can play the "Our backs are against the wall; it's us against the world"  game.
Well gentlemen, be careful what you wish for. 
The Patriots are just as desperate as you are for this win.