NFL Week 10 Waiver Wire: Roy Helu and 5 Other Popular Picks to Avoid
November 8, 2011
Rob Carr/Getty Images
The waiver wire for Week 10 is upon us, and as usual, so many gurus have so many promises just waiting to be broken. Before you use that waiver priority on a bust, there are a few things to consider.
Roy Helu, RB, Washington Redskins

There is huge hype about this guy. With Hightower out and Torain failing to produce recently, you would imagine that would make Helu the starter for weeks to come. And it would if not for Mike Shanahan.
If you need a running back for one week to cover a bye, he may be a good pick up. However, don't be surprised if Miami's defense stops the run. Also, don't be surprised if he has a few bad carries and Shanahan pulls him for Tashard Choice or Torain.
Finally, don't expect any more than one consecutive start out of any of Shanahan's running backs—ever.
Donald Brown, RB, Indianapolis Colts

If there is one running game you can be less sure of than Washington's, it's Indy's. Delone Carter and Brown split carries and it's anybody's guess which way that split leans. Then an "active" Joseph Addai played bench-warmer, so it's anybody's guess what he'll be up to.
Here's what we do know. Before last week's 70-yard game, Brown hadn't reached 50 rushing yards in a single game this season. We also know Carter has been the preferred start. Don't let one 70-yard, scoreless game make you rush towards Brown.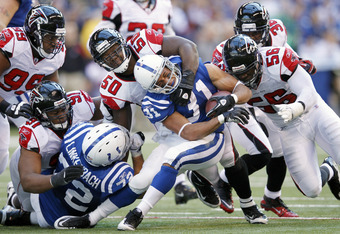 Joe Robbins/Getty Images
Torrey Smith, WR, Baltimore Ravens

Smith fans, and even game announcers, have a very selective memory. Yes, he caught the game-winning touchdown, but only after dropping a perfect pass in the end zone seconds earlier.
Five receptions, 77 yards and a touchdown, what a game! Except that 62 percent of Flacco's passes go to Rice or his tight ends and the only reason Smith saw that game was that they were forced to bomb the ball late game for a score.
Granted, Smith is a deep threat, but with the high-quality passes he tends to drop, he's an empty threat or, at best, unreliable.
Ben Tate, RB, Houston Texans

Tate is an incredible running back. He's had several 100-plus-yard games, and two of them were even with Arian Foster getting 100 yards as well. But let's not ignore the games in between.
In the last four weeks, he's had two 100-yard games, but the others were two 40-yard games. That's the difference between a strong flex and worthless for a fantasy team. He can be great, but you can't expect him to be.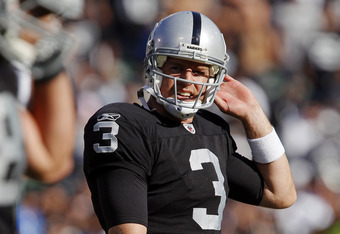 Brian Bahr/Getty Images
Matt Moore, QB, Miami Dolphins

I must've had the funniest look on my face when I started seeing people suggesting to pick up Moore. There was a time this season when throwing for 240 yards against Kansas City wasn't an all-star performance.
We're dealing with a starting QB who, in four weeks, has less than 800 yards. Before Week 9's favorable matchup, he had just one touchdown on the season. This was not a breakout, this was a Chad Henne Week 1-style fluke.
Carson Palmer, QB, Oakland Raiders

Palmer can throw some nice looking passes and definitely put up some fantasy points in Week 9. He seems to have some rapport with the blazing fast Jacoby Ford as well.
Let's look at a couple facts here before I make my point, though:
Denver's pass defense is ranked 23rd in the NFL allowing 258 yards per game.
San Diego's pass defense is ranked fourth in the NFL allowing 192 yards per game.
Denver had just three interceptions in their first seven games, yet Palmer still managed to throw them three picks in one game.
Finally, Oakland is ranked 20th in pass defense and 29th in rush defense giving their offense plenty of time to sit on the bench and watch Thursday's game without giving your fantasy team any help.
This Week's Trend
Well, if you haven't spotted it by now, there is a definite trend to the waiver advice out there this week. Each one of these players is a player capable of a great game, but you can't expect even a good game out of them in any particular week.