Fantasy Baseball 2012: Grading the Top 15 Shortstops
November 3, 2011
Jack Dempsey/Getty Images
Today we continue with our fantasy baseball series by taking a look at shortstops.
As usual, we will look at the top 15 guys using real offensive value (ROV), runs created (RC) and batting average on balls in play (BABIP). Rankings are based on a combination of ROV and RC. BABIP helps predict whether a player will improve or suffer a setback the following season.
15. Stephen Drew, Arizona Diamondbacks
ROV: .245
RC: 41
BABIP: .313
Drew missed most of the second half of 2011 due to injury, but he should be 100 percent going into next season. The Diamondbacks re-signed John McDonald, but that shouldn't cut into Drew's playing time too much. McDonald has already proven that he can't hit, so he will serve as a traditional utility infielder.
14. Derek Jeter, New York Yankees
ROV: .246
RC: 78
BABIP: .338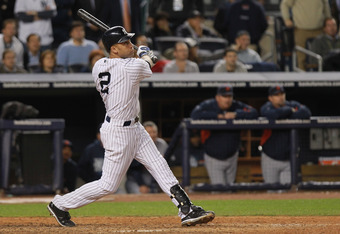 Nick Laham/Getty Images
Jeter's power is gone, so he is essentially good for batting average and some on-base ability. Naturally, being in the Yankees lineup is always a good opportunity to score runs and drive some in as well.
13. Alexei Ramirez, Chicago White Sox
ROV: .243
RC: 78
BABIP: .288
He ranks above Jeter simply because Jeter is getting older and is more likely to decline. To make matters more concrete, Ramirez's BABIP is due to improve, while Jeter's is due to decline, so Yankee fans can get off my back.
12. Elvis Andrus, Texas Rangers
ROV: .250
RC: 75
BABIP: .312
Andrus will probably go higher in most drafts simply because he offers stolen bases and plays in the best lineup in baseball. He is good for cheap runs scored at the very least, and likely a few extra RBIs.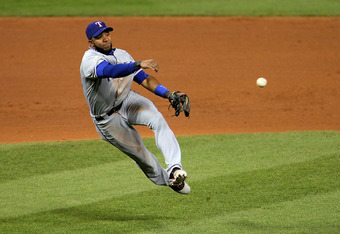 Doug Pensinger/Getty Images
11. Marco Scutaro, Boston Red Sox
ROV: .262
RC: 59
BABIP: .312
Scutaro comes back and he should have a completely healthy 2012 season. Add about 20 runs created to his total, and that is where he should be. Being a member of that lineup probably doesn't hurt either.
10. Starlin Castro, Chicago Cubs
ROV: .252
RC: 94
BABIP: .344
Some players' value is hidden. Castro's is in your face. Virtually all of his value is tied up in batting average. That should concern you when you see a .344 BABIP. He is a good value at this spot, but a lot of fantasy managers will take him too high.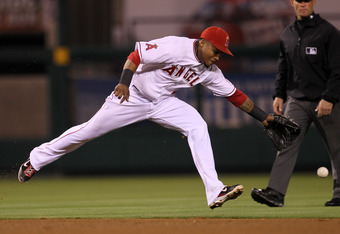 Stephen Dunn/Getty Images
9. Erick Aybar, Los Angeles Angels
ROV: .260
RC: 76
BABIP: .301
Here is your American League Gold Glove winner at shortstop. Excuse me while I roll my eyes in disgust. Aybar is a solid fantasy contributor. If you wait to fill your shortstop hole, he's not a bad choice. He'll give you a little bit of everything.
8. Yunel Escobar, Toronto Blue Jays
ROV: .266
RC: 80
BABIP: .316
The Jays are quietly building a very good offense above the border. Escobar is a nice hitter in the one or two slot, so look for him to score some runs. He's not going to steal a lot of bases, but he will hit the occasional home run and get on base.
7. Hanley Ramirez, Miami Marlins, Sleeper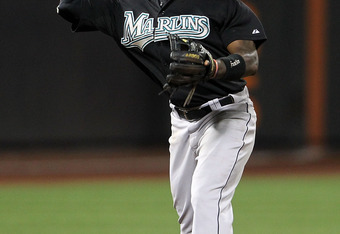 Nick Laham/Getty Images
ROV: .270
RC: 44
BABIP: .275
He is the No. 1 guy most seasons. He suffered through an injury-riddled season last year, but the Marlins are moving into a new ballpark, and Ozzie Guillen is coming to town. Something tells me the two are going to hit it off. Of course, it could end up being a disaster. I say roll the dice.
6. J.J. Hardy, Baltimore Orioles
ROV: .275
RC: 79
BABIP: .273
Sit back and imagine Hardy in that Milwaukee Brewers lineup. I know Brewers fans don't want to think about that. The Orioles signed him long term, so he will be there every day. He likely won't hit 30 home runs again, but 20-plus is easily within reach.
5. Jimmy Rollins, Free Agent
ROV: .270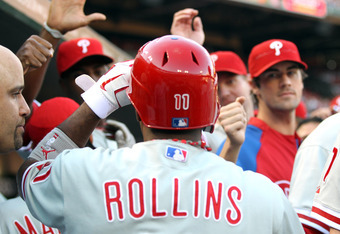 Jamie Squire/Getty Images
RC: 80
BABIP: .275
I'd be shocked if he didn't return to the Philadelphia Phillies. While the rest of his teammates were squeezing their bats into sawdust in the NLDS, Rollins hit over .400. He still has some left in the tank, but he is obviously on the downside of an excellent career.
4. Jhonny Peralta, Detroit Tigers
ROV: .275
RC: 83
BABIP: .323
There is talk of the Tigers pursuing Jose Reyes. Dave Dombrowski denied it, and I don't blame him. Peralta is a perfectly adequate defensive shortstop, and he seems to hit better when he plays there. I say leave well enough alone.
3. Asdrubal Cabrera, Cleveland Indians
ROV: .277
RC: 93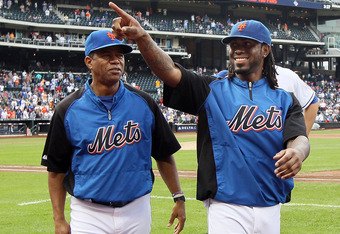 Jim McIsaac/Getty Images
BABIP: .302
ESPN single-handedly trumped up his defensive reputation, but the offense is for real. He has good power for the position, and the Indians are only getting better from here on out.
2. Jose Reyes, Free Agent, Buyer Beware
ROV: .317
RC: 108
BABIP: .353
I get nervous when players play above their heads during a walk year. I run into my panic room when I see the same player post a .353 BABIP. Reyes has bust written all over him. He'll still offer stolen bases and runs scored, but don't draft him this high unless you want to lose your league.
1. Troy Tulowitzki, Colorado Rockies
ROV: .335
RC: 106
BABIP: .305
The question with Tulo is not whether to take him as the first shortstop, but how high to take him overall. He has a significant lead on the other shortstops, so you could take him very early. However, there are other players on the board who might be better overall. It's a tough and interesting call.
Check out the previous series entries on 2012 fantasy catchers, first basemen, second basemen and third basemen.