Fantasy Baseball: Grading the Top 20 First Basemen for 2012
October 28, 2011
Kevork Djansezian/Getty Images
It's been awhile since I produced my top 20 catchers list. I have been busy covering the postseason and offseason market, but I have returned. Your comments on the catchers came in loud and clear.
I have revamped the real offensive value (ROV) statistic to include the standard secondary average (SEC), and I have also included runs created to provide some balance to my speculative numbers.
Before we dive in, let me provide a quick glossary of terms so everyone will know what I am talking about:
AVG—this is batting average.
SEC—this is secondary average. This is essentially everything a player does outside of batting average.
ROV—Real offensive value is batting average and secondary average averaged together. A .300 ROV is good.
BABIP—Batting average on balls in play is exactly as it sounds. League average tends to be around .300
RC—Runs created is a complicated formula that takes everything a hitter does and spits it out into one number that appears similar to runs and RBI. 100 is considered very good.
Buyer Beware—This denotes a player I believe will fall in production due to any number of factors.
Sleeper—This denotes a player I believe will rise in the rankings due to any number of factors.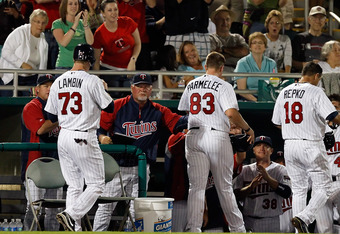 J. Meric/Getty Images
20. Derrek Lee—Free Agent
AVG: .267
SEC: .257
ROV: .262
BABIP: .314
RC: 62
Lee likely will return to the Pirates and be the same Lee he has always been. Look for 20 homers and around 80 RBI yet again.
19. Eric Hosmer—Kansas City Royals;  Sleeper
AVG: .279
SEC: .249
ROV: .264
BABIP: .314
RC: 78
Hosmer seemed to come on late in the season. He has an excellent pedigree, so he has the chance to bust out and create 100 runs in a full season.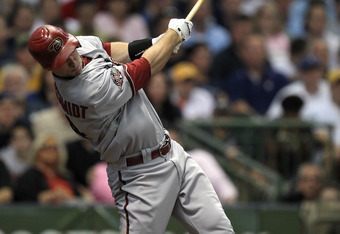 Jonathan Daniel/Getty Images
18. Mark Trumbo—LA Angels
AVG: .254
SEC: .278
ROV: .266
BABIP: .274
RC: 69
Will Kendry Morales come back and claim his spot?
17. Freddie Freeman—Atlanta Braves
AVG: .282
SEC: .259
ROV: .270
BABIP: .339
RC: 87
It was a solid rookie campaign for Freeman, but he is a low-ceiling guy for this position.
16. Carlos Lee—Houston Astros
AVG: .275
SEC: .274
ROV: .275
BABIP: .279
RC: 91
Somebody has to drive in runs in Houston, and it might as well be Lee in his contract year.
15. Gaby Sanchez—Miami Marlins
AVG: .266
SEC: .294
ROV: .280
BABIP: .287
RC: 87
A new stadium might produce more offense than "Whatchamacallit Field."
14. Jesus Guzman -- San Diego Padres
AVG: .312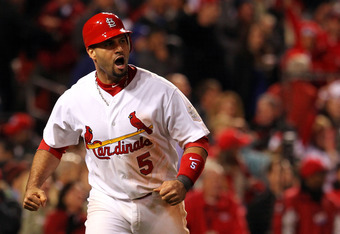 Jamie Squire/Getty Images
SEC: .283
ROV: .298
BABIP: .360
RC: 44
He is the fluid candidate. Will he play all season or lose time to Anthony Rizzo?
13. Todd Helton—Colorado Rockies
AVG: .302
SEC: .302
ROV: .302
BABIP: 328
RC: 80
Helton has come full circle. He won't dazzle you, but he would be solid depth for any fantasy team.
12. Ike Davis—New York Mets; Buyer Beware
AVG: .302
SEC: .372
ROV: 337
BABIP: .344
RC: 26
The numbers look great, but Davis is likely no better than a solid depth guy on your bench.
11. Chris Parmalee—Minnesota Twins; Sleeper
AVG: .355
SEC: .395
ROV: .375
BABIP: .390
RC: 20
His numbers look great, but he will not be that good. Still, he will play somewhere regularly for the Twins.
10. Paul Goldschmidt—Arizona Diamondbacks; Sleeper
AVG: .250
SEC: .378
ROV: .314
BABIP: .323
RC: 25
Another one hard to predict, but he looks like a 30-homer, 100-RBI kind of guy.
9. Carlos Pena; Free agent
AVG: .225
SEC: .442
ROV: .334
BABIP: .267
RC: 89
Blow away your friends and colleagues by dropping secondary average on them. Pena could be a sleeper depending on where he signs.
8. Michael Morse—Washington Nationals
AVG: .303
SEC: .314
ROV: .309
BABIP: .344
RC: 102
He will play somewhere in 2012, but it may not be first. The depth of first base is shown here in where Morse is ranked.
7. Mark Teixeira—New York Yankees; Sleeper
AVG: .248
SEC: .380
ROV: .314
BABIP: .239
RC: 103
I know it's hard to call Tex a sleeper but look at his BABIP. If you add 60 points to his batting average think of what you have. That isn't out of the question.
6. Paul Konerko—Chicago White Sox
AVG: .300
SEC: .359
ROV: .330
BABIP: .304
RC: 111
Steady as she goes. Konerko has been a pillar of consistency the last several years.
5. Albert Pujols—St. Louis Cardinals
AVG: .299
SEC: .361
ROV: .330
BABIP: .277
RC: 107
I know it seems like sacrilege, but he has slipped some and players rarely play well in the first year of a huge contract.
4. Adrian Gonzalez—Boston Red Sox; Buyer Beware
AVG: .338
SEC: .329
ROV: .334
BABIP: .380
RC: 135
I always get really nervous when I see a BABIP that high. His average could dip into the .280s or .290s very easily.
3. Joey Votto—Cincinnati Reds
AVG: .309
SEC: .409
ROV: .359
BABIP: .349
RC: 133
The Votto trade rumors are going viral. If he is on the move, pay attention to where he goes before taking him.
2. Prince Fielder; free agent
AVG: .299
SEC: .455
ROV: .377
BABIP: .306
RC: 135
He'll succeed anywhere he goes.
1. Miguel Cabrera—Detroit Tigers
AVG: .344
SEC: .432
ROV: .388
BABIP: .365
RC: 149
Whether he's working out or knocking back a bottle of Hennessy, he just keeps hitting.
Position Overview
First base is almost always the deepest position on the diamond in fantasy terms. There are two ways to go on draft day. Either you strike early and often and get two dominant offense players to put at first and your utility slot. The top six or seven guys all have the chance to be dominant hitters.
You can also allow others in the draft to make their run on first sackers while you shore up other positions on your team. This draft can go as much as 15 or 16-deep in some leagues if you are allowed to include DHs like David Ortiz. You can get the best shortstop, second baseman or catcher while fielding a perfectly capable first baseman in the process.