Fantasy Baseball 2012: Grading the Top 15 Third Basemen
November 1, 2011
J. Meric/Getty Images
We continue our look at the top 15 fantasy players at each position with third base. In the case of third base, we are including a couple of designated hitters that are also eligible at the position. In this case, it makes the position a lot stronger and more interesting on draft day. There will be at least one prominent name left out.
Like with the second basemen, we will see real offensive value (ROV), runs created (RC) and batting average on balls in play (BABIP). Rankings were made based on a combination of ROV and RC. BABIP was included to give people a sneak preview of which hitters may surge next season and which ones will fall back. A low BABIP is a good thing for future performance while a higher BABIP is a warning sign.
15. Chase  Headley, San Diego Padres
ROV: .283
RC: 61
BABIP: .368
Headley is a nice little player and if fantasy baseball ever made adjustments for ballpark effects, he would be a lot better. Sadly, they do not. He is stuck in Petco Park where his average power looks meager. Yet, he will give you some steals and he will play regularly. Watch for the batting average to drop, though.
14. Ryan Zimmerman, Washington Nationals
ROV: .276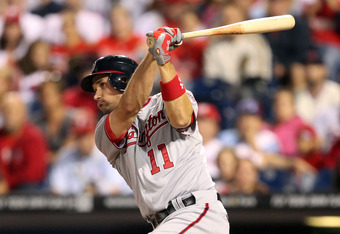 Hunter Martin/Getty Images
RC: 60
BABIP: .326
Zimmerman is a tease. He looks like he should be a top five third baseman, but something always seems to get in the way. He has had only one full season over the last several. He should be healthy next year, but they have been saying that in Washington for the last five years.
13. Edwin Encarnacion, Toronto Blue Jays
ROV: .278
RC: 70
BABIP: .292
They picked up his option in Toronto, so they must have plans for him. It likely won't involve a lot of third base. Brett Lawrie has that position nailed down, but depending on what happens this winter, there could be an opening at either first base or DH. He'll go up a few spots if he had a guarantee of 500 plate appearances.
12. Chipper Jones, Atlanta Braves
ROV: .292
RC: 73
BABIP: .295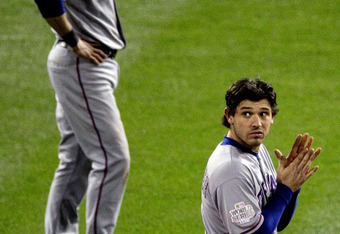 Rob Carr/Getty Images
The ageless wonder will retire one of these days. It says here that he gives it one more go. He thought about retiring until he tore his ACL a couple of years ago. Clearly, he doesn't want to go out with a bad taste in his mouth. Aftertastes don't get much worse than this past September.
11. Ryan Roberts, Arizona Diamondbacks
ROV: .292
RC: 73
BABIP: .275
Roberts had a very good season off the radar in Arizona. He won't be off the radar this season. On the one hand, he should have the job from day one, so he will get more plate appearances. On the other hand, everyone has a book on him now, so he might have a tougher go of it.
10. Michael Young, Texas Rangers, Buyer Beware
ROV= .278
RC= 112
BABIP= .367
Every once in awhile, that little voice in your head starts going nuts. Right now, it is shouting, "Career Year! Career Year! Career Year!" Listen to that voice. That BABIP is way too high to sustain and unlike many of these guys, Young relies more on batting average for his value. He does have some versatility, but please don't over-slot him.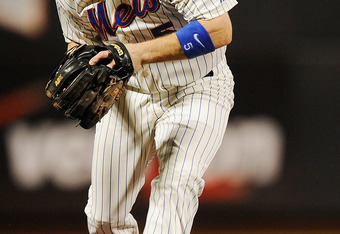 Patrick McDermott/Getty Images
9. Alex Rodriguez, New York Yankees
ROV: .294
RC: 62
BABIP: .311
A-Rod had an impressive streak of 100 RBI seasons end last season. All good things must come to an end and his run as a top-flight fantasy third baseman is probably done as well. Yet, all great players usually have one bounce back year in them before they finally begin the ride downhill.
8. David Wright, New York Mets
ROV: .294
RC: 62
BABIP: .302
Wright is one of those players rumored to be on the move. Of course, rumors are plentiful this time of year. The Mets are moving in the fences and making them shorter, so all hitters should benefit, but none more than Wright. It has been tragic what that ballpark has done to his career in the past three seasons.
7. Aramis Ramirez, Free Agent
ROV: .293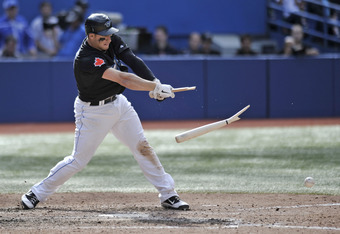 Brad White/Getty Images
RC: 104
BABIP: .308
Nothing makes me more nervous than a player that has a big season during his walk year. Someone will overpay Ramirez and his production will likely decline. If he goes to a contender, he still might be good for some cheap RBI.
6. Brett Lawrie, Toronto Blue Jays, Sleeper
ROV: .363
RC: 35
BABIP: .318
We have to keep our wits about us before we completely lose control, but this guy looks like a stud. He's a great fielder and he hit the big leagues slugging. We can expect a hangover, but if it is minor enough, he still might be the best fantasy baseball third baseman.
5. Adrian Beltre, Texas Rangers
ROV: .306
RC: 87
BABIP: .273
Beltre showed a lot last season. He showed that he is a very good offensive player when you put him in a neutral or pro hitter park. He got a bad rap in Safeco all those years, but he can rake. He drove in 100 runs despite missing six weeks. Texas is just in a different stratosphere offensively.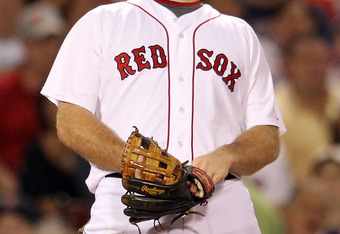 Jim Rogash/Getty Images
4. Pablo Sandoval, San Francisco Giants
ROV: .312
RC: 79
BABIP: .320
Kung Fu Panda dropped a few pounds and found his stroke. He missed some time, but was very productive. If the Giants get some more offense this offseason, you will see his run production soar.
3. Mark Reynolds, Baltimore Orioles
ROV: .314
RC: 85
BABIP: .266
No, I'm not high right now. First thing, he had a very low BABIP last season, so his average should easily increase 30 to 40 points. Secondly, most leagues are now incorporating OBP, so he won't be such a drag. His power is impressive and if they get him out of third base (DH?) he could possible soar.
2. Kevin Youkilis, Boston Red Sox
ROV: .313
RC: 77
BABIP: .296
Youk is essentially Mark Reynolds with a good batting average. He missed more than a month due to injury, so he easily could have created over 100 runs this past season. The so-called Greek God of Walks hasn't been that at the big league level, but he is quite patient and matches that with power.
1. Evan Longoria, Tampa Bay Rays
ROV: .331
RC: 88
BABIP: .239
Evan Longoria was arguably the MVP of the second half. Imagine if he puts two halves together. That isn't that hard to imagine when you look at his BABIP. Another 60 points on batting average and he is an absolute stud and likely the actual MVP.