Oakland Raiders: What Got the Raiders to Week 9 and How To Use It Against Denver
November 2, 2011
Brian Bahr/Getty Images
This NFL season has promised to be anything but ordinary.
The lockout gave teams with younger players the advantage early on as those same players could bring that fire and youth from the start, where as older teams, those that were more ''structured,'' took a bit longer to reach their usual playing methods.
With half the season complete, who would have thought both Bay Teams (SF & Oakland) would be in playoff talks, the Bills would be looking unstoppable and Cam Newton would be on course  to break Peyton Manning records and oh yeah..
The Chiefs shutting the Raiders out at home in Oakland.
No..No tomfoolery here, all of this has either happened or is happening.
Carson Palmer's presence in Oakland has its believers as well as its skeptics in Raider Nation. Like most other seminal moments in the Raiders' organization, there is never one clear cut winner; there always seems to be a sense of controversy in the air.
Last year? Campbell vs. Gradkowski—who should lead the Raiders? Some made claims that Gradkowski had earned the spot, going so far as to boo Jason Campbell during a home game.
Also last year, there was the firing of Tom Cable. Many (myself included) felt that Cable's progress with the team earned him more time as head coach in Oakland,
This year, many were upset that Nnamdi Asomugha left and even angrier that Zach Miller was allowed to leave as well..
But on the flip side? Many supported Campbell over Gradkowski and supported Cable's firing, as they did with seeing Nnamdi and Miller go on their respective paths.
Now? Halfway through the season many fans do not miss Nnamdi's presence, as they do not miss Zach and Cable either. The best part of being a part of Raider Nation is watching how one move by upper management will cause a ruckus and turn brother against brother (within the Nation) in a second, only for the situation to be mended at the next game.
First big move this year? Enter Aaron Curry.
Curry's career in the NFL, for a lack of a better work, sucked.
Get the past tense there? "-ed" at the end of ''suck?''
Since being traded to Oakland, Aaron Curry has found new success, reclaimed his starting job and has had a significant impact thus far.
In his first game as a Raider, Aaron Curry managed to get to Peyton Hillis and bring him down before working with a full head of steam, which Quentin Groves had trouble doing.
Against the Chiefs? Curry caused a fumble on a goal-line stand that SHOULD have prevented a Chief touchdown but did not.
At the end of the day, Curry's presence in Oakland has been productive and he can only get better.
The Raiders had another move in store for the NFL before the trade deadline..
Carson Palmer.
When Jason Campbell went down with that significant injury, nobody liked it. Whether or not you as a fan support Jason Campbell in Oakland's starting role as quarterback, he was our starting quarterback and a collective sigh of anguish was let out when Boller trotted onto the field.
Kyle..BOOller, is more like it.
In Cleveland, Boller managed to look as if he had taken the entire season off and was too busy padding his stats in Madden 12, missing pass after pass, and having no excuse for it either. As a backup in the NFL, one must be ready at the drop of a hat and he definitely was not.
Luckily Shane Lechler's arm (and not foot) made a HUGE play when he threw a TD to Kevin Boss on a fake field goal that had Lechler look like our true backup quarterback. Despite a ''meh'' performance, Oakland beat Cleveland, and went on to do just as Al Davis said..
"Just win baby."
The next day, Campbell was diagnosed with a broken collarbone and decided to take the surgery option so he could return to the field as quickly as possible, probably because he knew how terrible Kyle BOOller is and how raw and inexperienced Pryor is.
BAM!
Hue Jackson trades the Raiders' first round draft pick in 2012 and a conditional pick in 2013 for the semi-retired, completely disgruntled Bengal, Carson Palmer.
This set off a chain reaction that STILL has not found an end; a chain reaction that continues to go.
The biggest worries regarding Palmer are his elbow and his throwing power. Critics say he has no zip on the ball, is not a proven leader, quit on his team and is washed up.
Take into consideration most critics are also using his debut against the Chiefs as evidence to support their argument that Hue Jackson is insane, Carson Palmer is ''finished'' and Oakland are fools.
That's cool.
When the struggling Denver Broncos show up in Oakland on November 6 with a lot more questions and dysfunction in their ranks, they will be engaged in a scrimmage, pitting a new quarterback working with his tools to find a comfort zone.
Essentially, Denver will be glorified guinea pigs in the latest round of ''The Palmer Project'' in Oakland to figure out what works, how things work and who makes things work.
Oh, one of those tools will be TJ Houshmandzadeh, a man who was coached by Hue Jackson during Jackson's time in Cincy, who is now also reunited with Carson Palmer.
Denver is in serious trouble.
With an offensive line like Denver's that causes Tebow to put on his best Michael Vick impersonation and attempt to make plays with his feet, Tebow will be in constant trouble with the speed of Oakland's defense.
Tebow's inaccuracy will be Denver's biggest downfall as he tends to over-lead his receivers which means Michael Huff and Tyvon Branch will be able to put that speed on exhibit and capitalize on  Tebow's mistakes.
The key to stuffing the Broncos entirely is having Tim Tebow throw. Stacking the box and blitzing will send Tebow's ineffective left arm heaving ball after ball, causing mistake after mistake. With Oakland's run defense dramatically improved (with Aaron Curry's arrival) McGahee and Moreno will not put up good numbers, leaving Denver with no answers.
Tebow will be forced to beat Oakland in the air, but this time he will be without Brandon Lloyd. While still a work in progress, DVD's addition to the secondary until Chris Johnson and Chimdi Chekwa's health is insured will be more than enough to hold Denver's offense to nothing.
On offense? Carson Palmer will go to work, this time with a  whole two weeks of preparation under his belt and hours upon hours of work put in with Oakland's skill positions.
Jared Veldheer will have a fantastic game stopping Von Miller and Elvis Dumervil. Carson Palmer will benefit from this when he is not handing the ball off to Michael Bush (or DMC if he plays) and Taiwan Jones.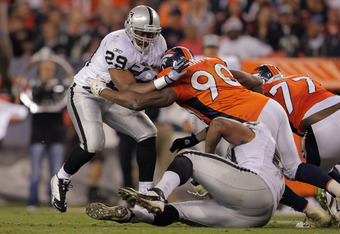 Doug Pensinger/Getty Images
The key to beating the Broncos in Week 9 will be to pound the rock—forgetting about the initial strategy can and probably will work against the Raiders. Carson Palmer playing error-free football when he does drop back is also instrumental to a win. To expect Palmer NOT to throw the ball is ridiculous; he does need to develop timing with DHB, Moore, Murphy, Boss, Hagan and Chaz since the timing with TJ is already there.
Regardless, two of the last three additions to the Oakland Raiders' roster will make a difference in a victory over the Broncos: Aaron Curry stopping the run and forcing Tebow into making mistakes, and Carson Palmer establishing the pass to allow McFadden or Bush to run without having to worry about facing eight or nine men in the box.
The Bronco will have a long day in Oakland as the Raiders will bounce back from that loss against Kansas City and reclaim their position on the top of the AFC West.