NFL Week 8: Fantasy Football Sleeper Picks
October 28, 2011
Matthew Stockman/Getty Images
Here we sit at week 8; just past the midway point of the season and things are finally starting to take shape. As usual perennial all stars from years past are slumping (ahem Chris Johnson), new faces are making big names for themselves and the injury bug is floating around the league, infecting talent at random. Pile in the fun of the bye week stretch, and your rosters probably look pretty mangled since that eternal hope shined on draft day. Let's take a look at the wire to see who might be still available in your league to fill the gaps and lead your team into the playoff stretch. As always, my criteria for weekly sleeper selection are players owned in less than 50% of leagues on Yahoo who look interesting for the week ahead as well as some long term plays.
RB Bernard Scott (Cincinnati Bengals) – It's finally time to dust off that week 6 pick and put him to work. We've all known the suspension to Cedric Benson was coming, but the question has been when. Well week 8 it is and up steps Bernard Scott to fill his shoes. Unfortunately for Scott owners, this looks to only be a one week play since Benson's original three game suspension was trimmed down to one. Scott goes up against Seattle's defense who is middle of the pack at stopping the run. As the featured back, Scott should get enough carries to make this a great fill-in start.
Owned in 37% of Yahoo Leagues – 28% Change from Last Week
WR Jabar Gaffney (Washington Redskins) – The winds of change are certainly blowing in Washington. The three primary weapons who largely contributed to the team's 3-1 record through week 4 are injury castoffs or just finally showing themselves to be the interception machine we always knew they were (that's you Grossman). The latest casualty is Santana Moss who suffered a broken bone in his hand during last week's game against Carolina. He's projected to miss 3-6 weeks recovering from surgery. Jabar Gaffney gets elevated to the number one wide receiver spot for the Redskins in his absence. Granted, Moss wasn't burning it up since TE Fred Davis seems to be Beck's first look, but now that the QB changing of the guard is final, Beck should be a more consistent passer which will ultimately benefit Gaffney.
Owned in 37% of Yahoo Leagues – 18% Change from Last Week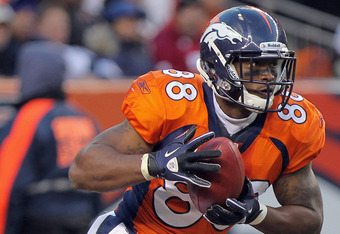 Doug Pensinger/Getty Images
WR Demaryius Thomas (Denver Broncos) – Eric Decker owners groaned loudly when Kyle Orton was benched for the Mile High Messiah in week 5. Tebow is known for making plays with his legs and Decker's receiving talents don't necessarily mesh with Tebow's. You know, crisp route running vs "I'll throw it up somewhere on your side of the field and you find a way to find yourself underneath it." While recommending any receiver with Tebow manning the ship is a dangerous thing, Demaryius Thomas seems to be the exception. Thomas was Tebow's favorite target in week 7, logging 27 yards on 3 passes and a touchdown. Sufficiently underwhelmed by those numbers? It was Thomas' first game back from injury this season and he was the focus of a team high 10 targets. Tebow's accuracy will improve (it can't really get much worse can it?) as he gets more games under his belt and his timing with Thomas will start to sync.
Owned in 16% of Yahoo Leagues – 7% Change from Last Week
QB Christian Ponder (Minnesota Vikings) – Can we officially close the book on Donovan McNabb? After his disastrous time with the Redskins, I'm amazed the Vikings stepped up to give him another tour of duty. Shockingly, the results were the same so rookie Christian Ponder ascends to the throne to see what the franchise has in their first round draft pick out of Florida State. Based on his first game against Green Bay, things don't look too shabby. He passed for 219 yards going 13 for 32 with two touchdowns and two interceptions. Echoing my comments on Tebow, he'll continue to develop that tighter rhythm with his receivers as he gets more time with the first team offense and gets game time experience. He looks like a solid QB2 option who could put up QB1 numbers given the right matchup.
Owned in 18% of Yahoo Leagues – 9% Change from Last Week
TE Jake Ballard (New York Giants) – Don't look now, but TE Jake Ballard is putting together solid stat lines for the past three weeks. In those games, he's averaged 62 yards and caught two touchdowns. He's averaging 18.2 yards per catch which trails only Ahmad Bradshaw for the team lead. This week he has the juicy matchup against the Dolphins who have surrendered more points to tight ends than any other team save Chicago. Ballard should continue to help Giants fans forget about the preseason departure of Kevin Boss and rewarding fantasy owners.
Owned in 18% of Yahoo Leagues – 9% Change from Last Week
DEF Tennessee Titans – The Titans aren't the defensive powerhouse they've been in season's past, but this week's match up is too good to pass up if you are looking for a bye week stand-in. The Titans take on the woeful Colts who are on their quest to suck for Luck, weighing in at 0-7. They can't get any offense going so the Titans should easily have their way with this unit.
Owned in 33% of Yahoo Leagues – 12% Change from Last Week
For more fantasy football articles, weekly projections and up to date news on the NFL and college football, visit Football Schedule.