Harsh Reality of the NFL: Why the Colts Need Andrew Luck over Peyton Manning
October 29, 2011
Andy Lyons/Getty Images
Let's put one thing out there at the start: the National Football League is a business first.
Every fan learned that over the course of the spring and summer. Franchises need to make a profit in order to remain in their cities, afford quality facilities and amenities, keep a competitive product on the field and satisfy their clients (the fans).
The second any team starts to lose games at a rate that threatens overall profit, warning sirens are bound to sound tirelessly. 
Consequently, the NFL is not a place for personal relationships to trump the well-being of a franchise. Right now, the Indianapolis Colts franchise is on the brink of disaster. They're losing games by embarrassing margins, failing to establish any hope for the future and losing the confidence of their fan base at a rapid rate.
The only way to save them is to draft Andrew Luck and trade Peyton Manning.
I know Manning is a hero in Indianapolis, so getting rid of him won't be popular. But it's the smartest thing for the Colts.
Manning is 35 years old and, based on the average age that NFL quarterbacks retire, has another three to four solid years left. That's before you factor in the knowledge that he's coming off two neck surgeries in three years and had stem cell treatments in Europe to help himself heal. Nobody is certain how long it takes a player to come back from the type of fusion surgery that Manning had. 
Even if Manning were to come back healthy, with him having approximately four years left, the Colts would need to be in win-now mode in order to take full advantage of his talents. Clearly, this season has showed us that they are nowhere close. Manning may bring a lot to the team, but as bad as the Colts have played, even he could not make up for the poor personnel management, coaching and bad drafting that has built a mediocre roster and landed them in this current state.
Their offensive line is getting old and has been inconsistent for a few years. They've struggled to mount any consistent running game, even without Manning keeping secondaries honest. According to Football Outsiders, Delone Carter is currently their most effective back, and he ranks only 21st in the NFL in DYAR (Defense-Adjusted Yards Above Replacement). The team ranks second to last in DVOA (Defense-adjusted Value Over Average) at -37.3%, and their special teams are ranked dead last in the NFL by Football Outsiders. 
Additionally, the Colts allow over 400 yards per game and currently have the worst defense in the NFL, according to Football Outsiders. The secondary has been below average, allowing 81 yards per game to No. 1 wide receivers (the league average is 74) and 61.1 yards per game to No. 3, No. 4, and No. 5 wide receivers, which indicates poor secondary depth.
They also have the 31st-ranked rush defense and are 26th in the NFL in sacks and 28th in interceptions. 
In order to contend again as a team, they need help all over the field, even if Manning returns. So, the logical questions is: if the Colts were to receive the "Luck pick," why not trade it for a slew of draft picks?
A solid argument, but one that has an easy answer: trading for a load of draft picks in multiple drafts is most effective if a franchise is taking the time to build their team, and Peyton Manning does not have time on his side. 
Sure, the New England Patriots have successfully taken picks from multiple drafts and used them to trade around to acquire talented veterans or promising rookies. However, the Patriots are the exception to the rule and have far fewer holes to fill than the Colts. This strategy also requires a team to draft successfully, something the Colts have certainly not done in recent years.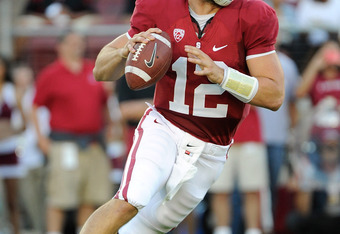 Thearon W. Henderson/Getty Images
So, if the Colts were to get multiple first-round picks by trading the Luck pick, they would not all be in the same draft. It would take two or three years for the Colts to use all the draft picks that they received from trading the Luck pick. By that time, Manning would have few years left, and that's assuming that the Colts successfully utilize the picks.
Even if they went another route with the Luck trade, targeting veteran players to add to a win-now mode, the Colts would likely be unable to receive enough talented, current players. Most of the teams that would try to trade for the Luck pick are not strong enough teams to be able to send multiple talented contributors to the Colts.
Most teams want to rebuild around Luck, not purge their team of talented players to land him. In order to acquire the pick, teams will have to give up a king's ransom of players or picks. This means that even if a contender were to acquire Luck with players, they would have to give up enough talent that they would likely no longer contend, thus making the deal unlikely.
Therefore, despite the love that Indianapolis has for Peyton, the best thing for the long-term success of the franchise is to trade him. If he comes back from his neck injury at anything close to his current self, there will be a few contending teams that would give up a boatload of picks in order to acquire him.
If the Oakland Raiders gave up two first rounders for Carson Palmer, imagine what the San Francisco 49ers, Seattle Seahawks, Tennessee Titans, Washington Redskins or Minnesota Vikings would give up for the chance to have Manning for three to four years.
The Colts would then be armed with the best quarterback prospect to come out of college since, well, Peyton Manning, a slew of draft picks to build around him and the potential to acquire even more picks by trading older veterans like Reggie Wayne or Joseph Addai. It will significantly limit the teams's effectiveness over the next couple of years, but would set the team up for another long, consistent reign as a premiere franchise.
After all, the first step to solving any problem is admitting your faults or weaknesses. The Colts need to admit that they are not a strong football team. They need a massive overhaul to become competitive again.
That Colts can start by swallowing sentiment and trading Manning.