NFL Week 8 Fantasy Football: Running Back Rankings
October 27, 2011
Streeter Lecka/Getty Images
With each passing week, the Bears will need to fork over more money to their do-it-all running back Matt Forte, who is set to become a free agent in 2012, when (or if) they finally reach a deal.
Through seven games this season, Forte has rushed for 672 yards, which ranks third in the NFL, and has 38 receptions for 419 yards. Forte is averaging a league-high 155.9 yards from scrimmage per game.
In other words, Forte is on pace of nearly 2,500 yards from scrimmage (2,494 to be exact). Only two players in NFL history have finished with at least 2,400 yards from scrimmage (YFS): Chris Johnson (2,509 in 2009) and Marshall Faulk (2,429 in 1999).
Since the Bears have decided to run the ball more often four weeks ago, however, Forte's stats are even more impressive. During that four-game span, Forte has 89 rush attempts for 553 yards with 16 receptions for 132 yards. That is an average of 171.25 YFS per game.
Although Forte has a bye in Week 8, he closes out the first half of his season with a very favorable fantasy matchup against the Eagles, who have allowed the most fantasy points per game to opposing running backs this season, in Week 9.
The other teams (running backs in parenthesis) on bye this week are: Atlanta (Michael Turner), Green Bay (James Starks and Ryan Grant), Oakland (Darren McFadden and Michael Bush), Jets (Shonn Greene and LaDainian Tomlinson) and Tampa Bay (LeGarrette Blount).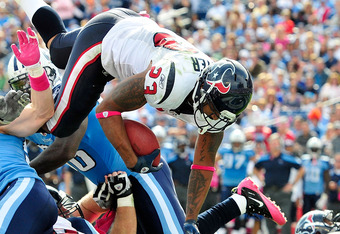 Grant Halverson/Getty Images
Week 8 Notes: Active Running Backs

- Texans running back Arian Foster became the first player since 2009 to rush for 100-plus yards and have 100-plus receiving yards in the same game. Foster finished with 234 yards from scrimmage and three touchdowns. Teammate Ben Tate carried the ball 15 times for 104 yards.
- Titans running back Chris Johnson, who was the last player to finish 100-plus rushing and receiving yards in the same game, had another sub-par performance. Johnson rushed 10 times for only 18 yards and caught a game-high six passes for 27 yards. On the season, Johnson has 93 carries for only 268 yards (2.88 yards per carry). In Week 8, Johnson faces the Colts, who have allowed the fourth-most fantasy points per game to opposing running backs.
- Jaguars running back Maurice Jones-Drew has 84-plus rushing yards in all seven games this season. No other running back has more than four games with 84-plus rushing yards through Week 7, according to data from Pro Football Reference.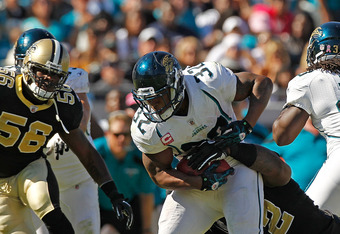 Mike Ehrmann/Getty Images
- It's always anyone's guess when it comes to the Redskins running game (and I guessed wrong in Week 7). Until leaving the game with a torn ACL, Tim Hightower got virtually all of the work (17 carries for 88 yards) after getting no carries in Week 6. Meanwhile, Ryan Torain, who had led the team in carries for two straight weeks, had only two carries for minus five yards.
- Browns running back Montario Hardesty averaged less than three yards per carry last week, but he carried it 33 times and finished with 95 yards. Practicing fully on Wednesday, Peyton Hillis should resume his starting role on Sunday. Unfortunately for Hillis and Hardesty, the Browns face the 49ers, who are the only team that has not allowed a rushing touchdown this season.
- Dolphins running back Daniel Thomas rushed for 53 yards on 19 carries, both team highs, but Reggie Bush rushed ten times for 42 yards as well. Thomas missed practice on Wednesday.
Adrian Peterson: Three 100 Yard Games, DeMarco Murray Sets Record
- Vikings running back Adrian Peterson carried the ball 24 times for a season-high 175 yards and a touchdown in Week 7. It was Peterson's third 100-yard game and he now has a league-high eight rushing touchdowns this season.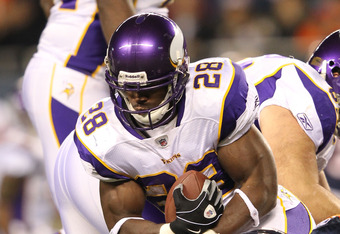 Jamie Squire/Getty Images
- Rookie running back DeMarco Murray rushed for 253 yards, which sets the Cowboys franchise record for most rushing yards in a game. This week, the Cowboys have a tough real-life game (but fantasy-friendly matchup for Murray) against Philadelphia on Sunday Night Football.
- Running back Steven Jackson rushed for 70 yards and a score on 18 carries. It was the first time this season that the Cowboys allowed more than 58 rushing yards to a running back.
- Steelers running back Rashard Mendenhall had 13 carries for only 32 yards in Week 7. Mendenhall has only one game this season with more than 66 rushing yards.
- After getting off to a slow start in his first three games, 49ers running back Frank Gore has been a fantasy force in the past three weeks. In his most recent three games, Gore has rushed for at least 125 yards and scored a touchdown in each one. (Take our poll on how many rushing yards Gore will have in Week 8 vs. the Browns.)
- In his last game (Week 6 vs. Buffalo), Giants running back Ahmad Bradshaw rushed for more than 100 yards for the first time this season and scored three touchdowns. With Brandon Jacobs expected to return in Week 8, it's unlikely that Bradshaw gets anywhere near the workload (26 carries) he got in that game. In his first five games, he had 17 carries or less every week.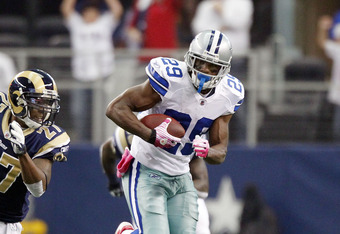 Layne Murdoch/Getty Images
Our Top 40 Fantasy Running Backs for Week 8
1. Adrian Peterson, Vikings (at CAR)
2. Arian Foster, Texans (vs. JAX)
3. Fred Jackson, Bills (vs. WAS)
4. Ray Rice, Ravens (vs. ARI)
5. Frank Gore, 49ers (vs. CLE)
6. Chris Johnson, Titans (vs. IND)
7. LeSean McCoy, Eagles (vs. DAL)
8. Ahmad Bradshaw, Giants (vs. MIA)
9. Ryan Mathews, Chargers (at KC)
10. Maurice Jones-Drew, Jaguars (at HOU)
11. DeMarco Murray, Cowboys (at PHI)
12. Steven Jackson, Rams (vs. NO)
13. Darren Sproles, Saints (at STL)
14. Rashard Mendenhall, Steelers (vs. NE)
15. Daniel Thomas, Dolphins (at NYG)
16. BenJarvus Green-Ellis, Patriots (at PIT)
17. Mark Ingram, Saints (at STL)
18. Ryan Torain, Redskins (at BUF)
19. Jackie Battle, Chiefs (vs. SD)
20. Mike Tolbert, Chargers (at KC)
21. Bernard Scott, Bengals (at SEA)
22. Marshawn Lynch, Seahawks (vs. CIN)
23. Peyton Hillis, Browns (at SF)
24. Knowshon Moreno, Broncos (vs. DET)
25. Jonathan Stewart, Panthers (vs. MIN)
26. DeAngelo Williams, Panthers (vs. MIN)
27. Pierre Thomas, Saints (at STL)
28. Brandon Jacobs, Giants (vs. MIA)
29. Maurice Morris, Lions (at DEN)
30. Roy Helu, Redskins (at BUF)
31. Alfonso Smith, Cardinals (at BAL)
32. Delone Carter, Colts (at TEN)
33. Ben Tate, Texans (vs. JAX)
34. Joseph Addai, Colts (at TEN)
35. Reggie Bush, Dolphins (at NYG)
36. Keiland Williams, Lions (at DEN)
37. Donald Brown, Colts (at TEN)
38. Montario Hardesty, Browns (at SF)
39. Kendall Hunter, 49ers (vs. CLE)
40. Stevan Ridley, Patriots (at PIT)
41. Tashard Choice, Cowboys (at PHI)
Throughout the week, we will update our rankings, as necessary. In addition, our rankings for other positions will be available at TheTipDrill.com, our fantasy section.
To keep track of our fantasy updates throughout the week, you can (1) follow us on Twitter @EDSFootball or (2) "like" us on Facebook or both.
Good luck in Week 8!