MLB Free Agency 2012: Cleveland Indians and Carlos Pena Should Make a Deal
October 26, 2011
Rob Carr/Getty Images
Carlos Pena would be a massive upgrade at first base for the 2012 Cleveland Indians, and the Tribe would be well served to do everything in their power to bring him to Cleveland.
Unfortunately for the Indians and their fans, it is unlikely that Albert Pujols, Prince Fielder, Kevin Youkilis, Joey Votto or any other big name first baseman will sign or be traded to Cleveland. Carlos Pena, however, isn't on their level.
After 28 HR, 80 RBI and posting a .357 OBP, .462 SLG, .819 OPS (123 OPS+), .354 wOBA and 2.6 fWAR in 2011, one would think people would be more than happy to sign Carlos Pena. When it comes attached to a .216 batting average from 2009-2011, teams tend to shy away.
Considering the lack of production the Indians have gotten out of the first base position, those numbers aren't all that bad. Pena has hit 95 home runs over the past three seasons, 61 more than the Tribe's primary first basemen over that span (LaPorta in 2011 and 2010, Garko in 2009). 
Despite Pena's production, he only was given a one year, $10 million contract by the Chicago Cubs before last season. In MLB Trade Rumors' first base free agency preview, they said that Pena would likely be limited to a one-year deal thanks to his low batting average. Common wisdom is there is no such thing as a bad one-year deal and the Indians wouldn't be risking much signing Pena to another $10 million contract.
The worst thing that could be said about signing Pena would be that it would be another left-handed bat in an already lefty-heavy lineup. That problem can easily be solved.
When facing right-handed pitchers (which around 70 percent of starters are), the Tribe would have a very strong C-1B-DH combo (showing 2011 stats vs. right-handed pitchers):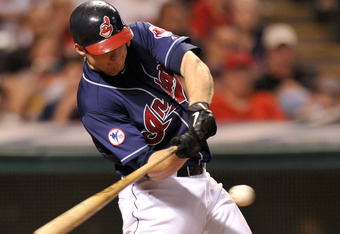 Jamie Sabau/Getty Images
C: Carlos Santana: .201/.314/.418 slash line, .732 OPS, .319 wOBA
1B: Carlos Pena: .255/.388/.504 slash line, .892 OPS, .383 wOBA
DH: Travis Hafner: .302/.404/.482 slash line, .886 OPS, .384 wOBA
Santana should improve in his second full season, and the rest of the Tribe's lineup (being lefty-heavy) should fare well against righties too. But what about against left-handed pitching? Check out this lineup configuration (showing 2011 stats vs. left-handed pitchers):
C: Lou Marson: .297/.387/.407 slash line, .793 OPS, .353 wOBA
1B: Carlos Santana: .318/.428/.536 slash line, .964 OPS, .414 wOBA
DH: Either Shelley Duncan: .245/.316/0.363 slash line, .679 OPS, .298 wOBA or Travis Hafner .233/.259/.379 slash line, .638 OPS, .278 wOBA
Either Duncan or Hafner should be able to get closer to their career numbers against lefites (.256/.328/.441 slash line, .769 OPS, .332 wOBA and .260/.362/.445 slash line, .807 OPS, .353 wOBA respectively), which would be serviceable.
More importantly, Marson has shown an ability to hit left-handed pitchers. If only played against those, that offense added to his defense would be very valuable. Keeping Pena out of the lineup (.133/.260/.333 slash line, .594 OPS, .266 wOBA against lefties in 2011, .212/.312/.432 slash line, .744 OPS, .324 wOBA for his career) makes this a no-brainer.
So the Indians would be paying a lot of money to Carlos Pena to essentially be a part of a platoon. Yet this makes perfect sense. If Pena is played in 110 games against right-handed starters and Marson in 52 against lefties, these stat lines are easily conceivable:
Pena: .260/.390/.500 slash line, 20 HR, 60 RBI, .890 OPS, .380 wOBA
Marson: .290/.380/.400 slash line, 2 HR, 15 RBI, .780 OPS, .350 wOBA
Combined: .270/.387/.468 slash line, 22 HR, 75 RBI, .855 OPS, .370 wOBA
That may not seem like much, but consider this: only five first basemen had better stats than that in 2011. Their names? Prince Fielder, Paul Konerko, Miguel Cabrera, Joey Votto and Adrian Gonzalez.
Since it seems unlikely that any of those players are coming to Cleveland, I'll take a Pena/Marson platoon. Their potential offensive stats, combined with Marson's elite defense, just might be enough to put the Indians over the top.