MLB Trade Speculation: Cleveland Indians Should Go After Kevin Youkilis
October 4, 2011
Rob Carr/Getty Images
If the Cleveland Indians are serious about contending in 2012, I think that they should seriously go after Kevin Youkilis.
There aren't many things about the Tribe's 2012 lineup they can upgrade. The outfield is pretty well set with Michael Brantley, Shin-Soo Choo and Grady Sizemore (yes, I think they should pick up his team option for next year) and Travis Hafner, Carlos Santana, Jason Kipnis, Asdrubal Cabrera and Lonnie Chisenhall seem like virtual locks to be starting at DH, catcher, second base, shortstop and third base, respectively. 
With the other eight positions seeming locked in for 2012, first base is the only place the Indians can improve their lineup. And improve they must. As 2011 wore on, the offense bottomed out and arguably was the biggest contribution to the Tribe's fade.
Some players like Choo, Sizemore and Hafner could easily rebound in 2012, but the Indians are going to need real production from first base if they really want to contend.
At this point, it seems like the Matt LaPorta era may be over. This isn't like the Indians giving up on Brandon Phillips way too early. Phillips was 22 when he struggled in his first full season in 2003; LaPorta was 25 last year. The Indians gave up on Phillips, only giving him 33 PA in 2004 and 2005; LaPorta was given every chance to succeed this year and failed.
The Indians regret allowing Phillips to become a star for the Cincinnati Reds. I'm not sure Matt LaPorta will ever become a serviceable major league player.
As for other possible first basemen, I don't think that Shelley Duncan is up for the full-time gig despite his hot 2011. Last season's stats put him on pace for 29 HR and 124 RBI, but his defense isn't all that and I don't think anyone is expecting Duncan to actually hit at that rate for a full season.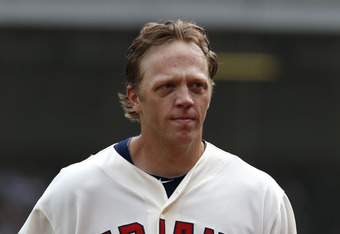 David Maxwell/Getty Images
There's a reason he just turned 32 and has only one season's worth of PA. Duncan is a great guy to have on the bench, but not someone you want to be your starting first baseman.
The only other in-house option for the Tribe at first base would be Carlos Santana, thus moving Lou Marson into the starting job at catcher. While I love Marson's defense and think he's definitely capable of hitting much better, the fact remains that the Indians need help on offense. Adding Marson's bat consistently to the lineup seems like the opposite of helping the Tribe's hitting woes.
So, enter Kevin Youkilis. The Greek God of Walks struggled with injuries this year, but most of that (if not all) can be attributed to playing third base. Youkilis just isn't suited for the hot corner anymore, but he's stuck there if he stays in Boston.
Adrian Gonzalez won't be giving up the first base job any time soon and while David Ortiz is a free agent, it's hard to see him leaving. No one has personified the Boston Red Sox for almost a decade like Big Papi and it's hard to see him in another uniform.
If the Red Sox keep both Gonzalez and Ortiz, there doesn't seem to be any room left for Youkilis. Add in that this is a team with a depleted farm system and could be headed at least for a mini-rebuild following their epic September collapse and I think it's conceivable that Boston could move Youkilis this offseason (Bill Simmons thinks it's a possibility, which is good enough for me).
It seems strange to think that the Indians youth movement could be over, but the Ubaldo Jimenez trade has put a definite window on the contending years for this team. With Jimenez free to leave after the 2013 season (and giving up Alex White and Drew Pomeranz), the pressure is on in Cleveland.
Sure, players like Kipnis, Chisenhall, Santana and Brantley are going to be around for a while, but consider this: Asdrubal Cabrera and Shin-Soo Choo are free to leave Cleveland with Ubaldo Jimenez after the 2013 season, and Justin Masterson can leave the next year. Those are four key pieces not locked in long term.
Because of this, I think that the Indians really need to get into win-now mode. Acquiring Youkilis would give the Tribe a pretty potent lineup (Kipnis/Cabrera/Youkilis/Santana/Hafner/Choo/Sizemore/Chisenhall/Brantley) to go with their decent rotation (I'm still hoping the Indians add a Wandy Rodriguez type to solidify it) and a (hopefully) still great bullpen in 2012. 
If the Indians are serious about contending (and I believe they are), they'll need to make a big move this offseason. It may not be a big as signing Prince Fielder, but I think that Kevin Youkilis should fit inside our parameters. It might just be enough to get us into the playoffs and beyond in 2012.