MLB Free Agency 2012: Could the Cleveland Indians Sign Prince Fielder?
September 18, 2011
Mark Hirsch/Getty Images
With Prince Fielder making headlines for saying he doesn't expect to return to Milwaukee next year, the hunt is on to figure out where Fielder is going to land. The usual suspects (the Red Sox and the Yankees) are set at first base and DH, making the picture a little harder to discern. 
MLB Trade Rumors has the Cardinals, Brewers, Rangers, Dodgers and Cubs as the favorites for Prince's final destination, and I can't argue with that logic. I can say, however, that a dark horse could easily emerge late (a la the Phillies and Cliff Lee) and steal Fielder away at the final moment.
What if that team is the Cleveland Indians?
Before you scoff and close this web page, hear me out. The argument against the Indians having any chance at signing Fielder is payroll. The five/six-year, $150/$180 million contract Fielder is expected to sign doesn't seem to fit into the small-market payroll of the Indians. A closer look at the Tribe's payroll, however, can make things look better.
The first thing the Indians would have to do is shed a little pre-existing payroll. Trading Travis Hafner for minimal value (maybe two lowish prospects) doesn't sound exciting, but getting rid of his $13 million salary is half of what is needed for Fielder. Not exercising Grady Sizemore's option would trigger a $500,000 buyout but save the Indians $8 million in the end. 
The thing that frees up so much money for the Indians is the wonderful system of indentured servitude that baseball players endure. Sixteen players that could be on the Indians roster next year (Lou Marson, Jason Kipnis, Lonnie Chisenhall, Ezequiel Carrera, Michael Brantley, Carlos Santana, Josh Tomlin, Jeanmar Gomez, Vinnie Pestano, Tony Sipp, Nick Hagadone, Chen-Chang Lee, Jason Donald, Shelley Duncan, Trevor Crowe, Matt LaPorta) will only be making the minimum salary of around $500,000.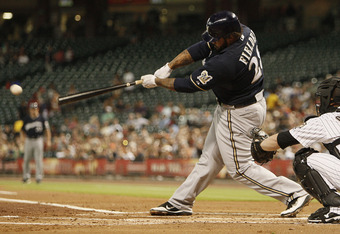 Bob Levey/Getty Images
So for 16 players (and Grady Sizemore's buyout), we're only at $8.5 million of payroll. Not a bad start in finding room for Fielder.
The next seven players are arbitration eligible: Asdrubal Cabrera, Shin-Soo Choo, Justin Masterson, Fausto Carmona, Chris Perez, Rafael Perez, Joe Smith. Jack Hannahan is as well, but in order to make this work, the Indians would have to let him go. The other day, MLB Trade Rumors estimated what these seven players are going to make next year. Using the high estimates, we add this to our payroll:
Cabrera: $4.9 million
Choo: $5 million
Masterson: $4 million
Carmona: $7 million (MLB Trade Rumors believes it will be cheaper for the Tribe to just pick up Fausto's team option. As such, that's the number represented here.)
Chris Perez: $4.3 million
Rafael Perez: $1.9 million
Smith: $1.9 million
Add up those totals and we are up to $29 million in arbitration and $37.5 million in total payroll for 23 players. Ubaldo Jimenez is under contract for $4.2 million next year, which takes us to $41.7 million for 24 players.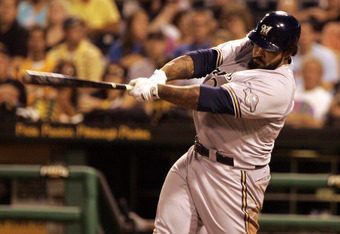 Justin K. Aller/Getty Images
If the Indians signed Prince Fielder to a five/six-year, $150/$180 million contract (which would only take him through age 32/33, hopefully avoiding his breakdown with age), the 2012 Cleveland Indians payroll would only stand at $66.7 million. 
For reference, the Indians spent $63.5 million this year. Going from what was supposed to be a rebuilding year (2011) to a contending year (2012), it's not unreasonable to expect payroll to rise $3.2 million. 
There would still be holes in this roster (I, for one, am not encouraged by a Jimenez/Masterson/Carmona/Tomlin/Gomez rotation), but the offense could be elite. Imagine this lineup:
CF Brantley
2B Kipnis
SS Cabrera
1B Fielder
DH Santana
RF Choo
3B Chisenhall
C Marson
LF Carrera
The outfield defense would be spectacular, the infield would be serviceable and the offense could mash. If the Indians could sign a No. 3 starter (Erik Bedard maybe) or trade for one (I would love to see Wandy Rodriguez come to Cleveland), then I think the rotation would be playoff-worthy. 
Personally, I don't think that investing heavily in Fielder is the right choice for any team, but especially not one like the Indians with such a small margin for error. That said, there is something to be said for being bold. With so many young players just hitting their prime (and still earning minimum salaries), the Tribe have plenty of room to fit in Prince's mammoth salary.
Plus, two or three years down the road, the Indians could flip Prince for prospects, fueling the next championship run. 
The Ubaldo Jimenez trade started the clock on the Indians' playoffs chances much sooner than any of us realized at first. With his contract up at the end of the 2013 season, we need to make a lot of noise in the next two seasons. Signing Prince Fielder could get us to the promised land before time runs out.