MLB Trade Rumors: The 20 Sexiest Names on the Trade Block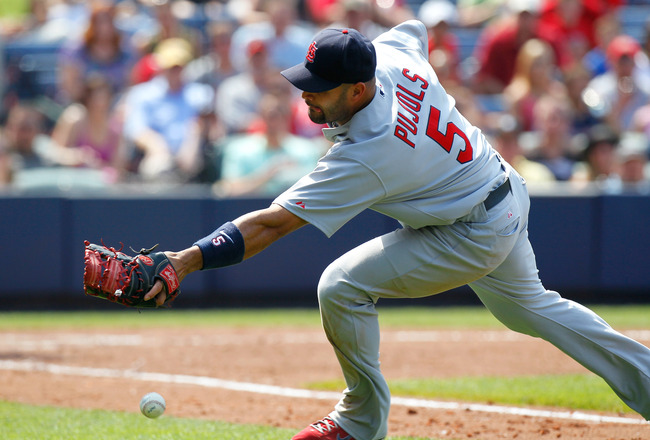 Kevin C. Cox/Getty Images
About six weeks into the 2011 season, Major League Baseball teams are developing a pretty good feel for what they have and what they need and, for some teams, whether they will be buyers or sellers at the trade deadline.
While it may be a bit early to look around the league and see who may be coming and who may be going, we take that look around nonetheless. Here is a look at who we can expect to see playing for new teams by year's end.
Some of the names may surprise you.
20. Corey Patterson, RF, Toronto Blue Jays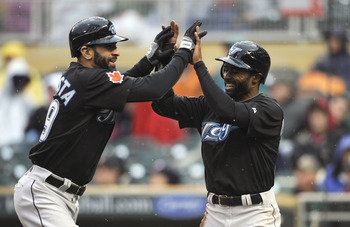 Hannah Foslien/Getty Images
Seriously, how long can Corey Patterson and Dusty Baker be separated?
19. Hunter Pence, RF, Houston Astros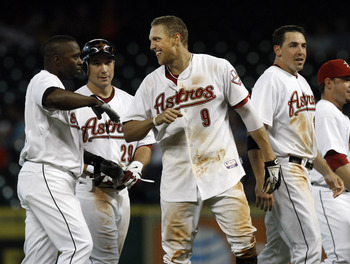 Bob Levey/Getty Images
One of the few bright spots on Houston's roster could net a handful of prospects from deeper teams, particularly in the American League where Pence's power/speed combination would play well.
18. Jason Kubel, DH, Minnesota Twins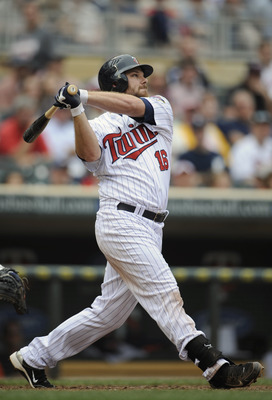 Hannah Foslien/Getty Images
Jason Kubel has been one of the truly unknown talents in the AL over the last couple of seasons. With the Twins languishing in a "What the hell is going on here?" AL Central, they could very quickly become sellers.
17. Dustin Moseley, SP, San Diego Padres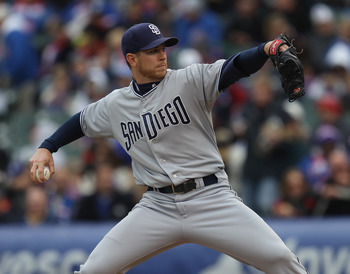 Jonathan Daniel/Getty Images
The Padres signed Dustin Moseley this offseason to fill a roster spot, and Moseley came to San Diego to have a place to play. Suddenly, the Padres are out of the hunt in the NL West and Moseley is playing well.
The Pads have no incentive to hold this guy, and lots of teams need quality starters.
16. Ian Stewart, 3B, Colorado Rockies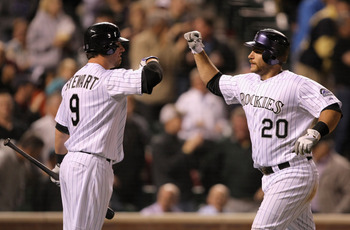 Doug Pensinger/Getty Images
Ian Stewart's run in Colorado appears to be over, which means he now enters the period of his career where other teams naively assume that his offensive production was not purely a product of Coors Field (see Atkins, Garrett).
15. Joe Blanton, SP, Philadelphia Phillies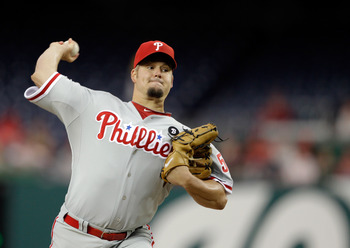 Rob Carr/Getty Images
It was incredibly nice of the Philadelphia Phillies to make sure Joe Blanton was included in all the preseason pitching staff hoopla, but with Vance Worley killing it and the Phillies struggling to fill the gaps on offense, Blanton may be on his way out.
14. Rajai Davis, CF, Toronto Blue Jays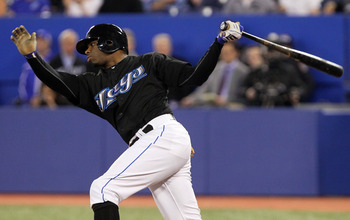 Abelimages/Getty Images
Speed? Check. Defense? Check. Offense?
Well, two out of three ain't bad, and Rajai Davis will be a coveted player for somebody come trade time.
13. Matt Kemp, LF, Los Angeles Dodgers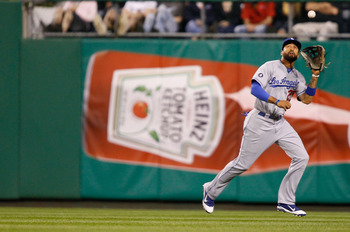 Jared Wickerham/Getty Images
After a miserable 2010 season on both sides of the ball, Matt Kemp has been a man on a mission in 2011 and is in prime position to be dealt by a Los Angeles Dodgers team for which all options are on the table.
12. Andre Ethier, RF, Los Angeles Dodgers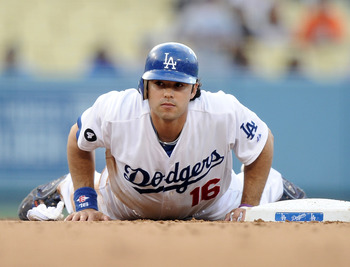 Harry How/Getty Images
This is appearing to be the year that Andre Ethier proves he can hit without Manny Ramirez in the lineup, and teams around baseball must be taking notice. All bets are off in Los Angeles these days, so Ethier may be part of a large auctioning off of assets by the trade deadline.
11. Alfonso Soriano, LF, Chicago Cubs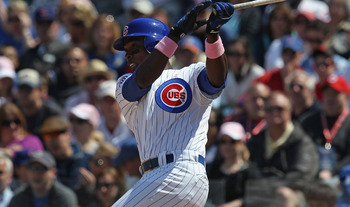 Jonathan Daniel/Getty Images
The current National League leader in home runs, there are several teams that could use a bat and the Cubs must be licking their lips at the chance to move on from this contract.
10. Wilson Betemit, 3B, Kansas City Royals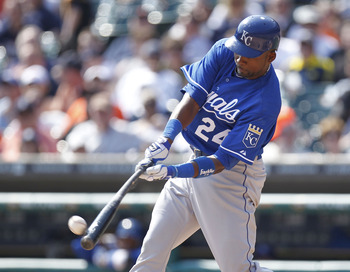 Gregory Shamus/Getty Images
The Kansas City Royals have third base uber-prospect Mike Moustakas waiting in the wings, so Wilson Betemit's consecutive seasons of productive hitting are pure bonus. Dayton Moore has established his preference of using any talented player as a trade piece, so look for Betemit to be on the trading block.
9. Joe Nathan, Closer, Minnesota Twins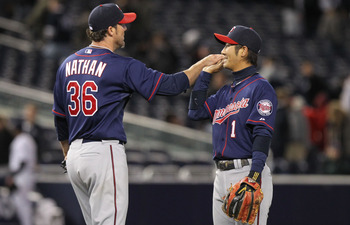 Nick Laham/Getty Images
Teams regularly go cuckoo for Cocoa Puffs when it comes to relief pitchers at the trade deadline, and with Nathan still working his way back from injury and the Twins playing for 2012, they would almost be silly to not sell on Nathan.
8. Kosuke Fukudome, RF, Chicago Cubs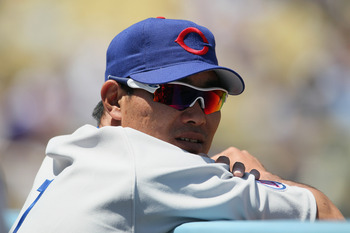 Jeff Gross/Getty Images
He makes lots of money, and he rarely hits well after May 1. Now that he finally is hitting past April, look for the Cubs to jettison Kosuke Fukudome.
7. Javier Vazquez, SP, Florida Marlins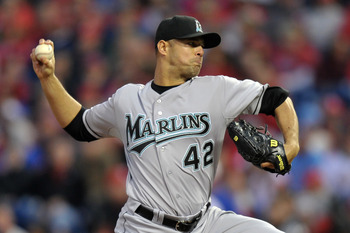 Drew Hallowell/Getty Images
We predicted that Vazquez would be part of the Marlins resurgence in 2011, but to this point he has been one of the few poor points on the roster. There are several teams that would take a flyer on this guy, and might give up something in exchange that would help the Marlins' playoff chances.
6. Kevin Gregg, RP, Baltimore Orioles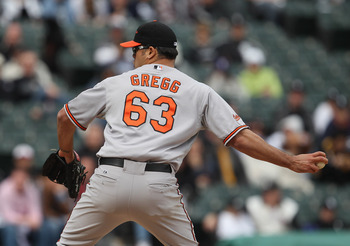 Jonathan Daniel/Getty Images
Kevin Gregg is having a very good year for the Baltimore Orioles, and is uniquely positioned as one of the few assets the Orioles are not counting on for the future who is still being productive today. Look for Gregg to be playing for his sixth team in six years come August.
5. Carlos Zambrano, SP, Chicago Cubs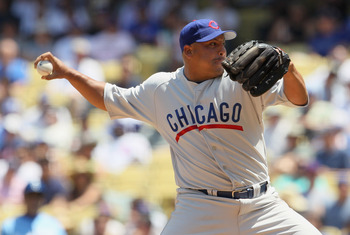 Jeff Gross/Getty Images
Now 30 years old and still one of the sturdier arms in the game, Zambrano long ago earned his parole from Wrigley Field, and the Cubs would be more than happy to no longer pay Zambrano's $18 million salary.
4. Lance Berkman, RF, St. Louis Cardinals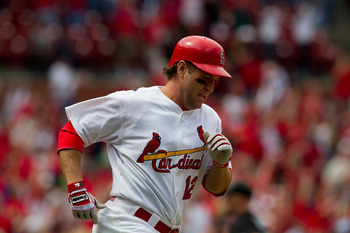 Dilip Vishwanat/Getty Images
When the St. Louis Cardinals signed Lance Berkman to a one-year deal for $8 million this offseason, no one—not Lance Berkman and certainly not the Cardinals—expected him to be the best hitter in the National League six weeks into the season.
Despite their hot start, the Cardinals cannot expect to make a serious run in 2011, and Berkman cannot possibly be counted on to repeat this performance next year, or even in the second half of this year.
3. Carlos Beltran, RF, New York Mets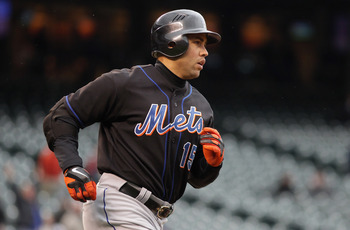 Doug Pensinger/Getty Images
Carlos Beltran is healthy and productive at the same time for the first time since 2008, and he is in the final year of his disappointing contract with the Mets. If New York can trade him at or near the deadline and get quality in return, they may have salvaged the whole Beltran debacle.
2. Jim Thome, DH, Minnesota Twins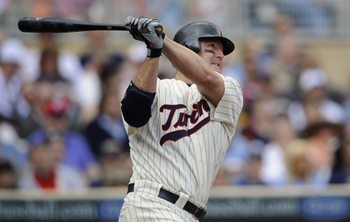 Hannah Foslien/Getty Images
There is no sentimentality here. After a miserable start, the Twins are not playing for 2011, and Jim Thome is not playing for tomorrow. Look for Thome to be swinging for a contender by the trade deadline.
1. Albert Pujols, 1B, St. Louis Cardinals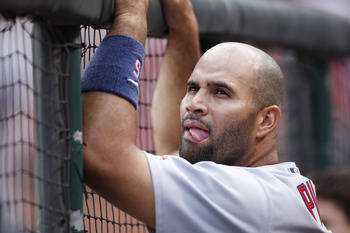 Joe Robbins/Getty Images
You want to demand to be the highest-paid player in baseball by a wide margin?
You want to talk about how it is not about the money, but rather the respect?
You want to go around hugging opposing teams' general managers in full view of the press?
How about the Cardinals pocket the $300 million you are demanding and send you packing a couple of months early?
Keep Reading