MLB Trade Rumors: Could Joey Votto Be Traded to the Cleveland Indians?
October 12, 2011
Andy Lyons/Getty Images
Despite Cincinnati Reds GM Walt Jocketty saying the team is not trading Joey Votto, there are many reasons to think that he is lying. As Buster Olney wrote in his ESPN Insider blog, with top prospect Yonder Alonso ready for the bigs (.330/.398/.545 slash line, 5 HR, 15 RBI and a .943 OPS (154 OPS+) in 98 major league PA) and only able to play first base, the Reds will have to move one or the other.
Deciding between Votto and Alonso should come down to a simple question: Who's cheaper? The Reds aren't exactly a big-market team, so the fact that Votto will be a free agent after the 2013 season should mean Votto is out.
The Reds could choose to trade Alonso instead, but that would be sacrificing a ton of team control and still risk losing Votto in two years. That scenario makes even less sense than trading the 2010 NL MVP.
In his Insider blog, Olney says that the Reds "could get two or three really good prospects" for Votto. The Indians don't have the deepest of farm systems, but there's plenty that could interest the other Ohio team.
I don't need to outline the Tribe's need for a first baseman; I've done it numerous times this month. It should suffice to show these stat lines from 2010 and 2011:
Matt LaPorta: .234/.302/.386 slash line, 23 HR, 94 RBI, 2 SB, .688 OPS (92 OPS+), 169:69 SO:BB, -1.7 fWAR in 810 PA
Shelley Duncan: .246/.330/.451 slash line, 22 HR, 83 RBI, 1 SB, .771 OPS (113 OPS+), 132:45 SO:BB, 1.7 fWAR in 506 PA
Joey Votto: .316/.420/.564 slash line, 66 HR, 216 RBI, 24 SB, .984 OPS (163 OPS+), 254:201 SO:BB, 14.2 fWAR in 1367 PA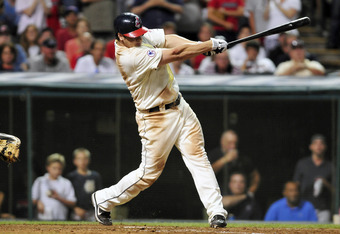 Jason Miller/Getty Images
It's no shocker, but Votto would help the Tribe's lineup enormously. If the Indians were to acquire him, they'd be able to run this lineup out as they compete for a title:
Jason Kipnis, 2B
Asdrubal Cabrera, SS
Joey Votto, 1B
Carlos Santana, C
Travis Hafner, DH
Shin-Soo Choo, RF
Grady Sizemore, CF
Lonnie Chisenhall, 3B
Michael Brantley, LF
Sounds like a winner to me. Votto may be able to leave after the 2013 season, but so can Cabrera, Choo and Ubaldo Jimenez. We'd be looking at another rebuild after that, but flags fly forever. We're all in and might as well behave as such.
With that in mind, we need to use the Milwaukee Brewers model and assemble as much talent possible now. If we win the World Series in 2012 or 2013, who cares if we have to rebuild for a few years after that? I know I won't. 
Joey Votto won't come cheap, but here's a package I think might be enough to convince the Reds:
Fausto Carmona (I know he hasn't looked great, but teams love reclamation projects and Fausto nearly won a Cy Young in 2007. Plus, his 4.17 xFIP and 4.18 SIERA suggest he was much better than his 5.25 ERA in 2011 showed.)
Zach McAllister (He's got the 6'6'' frame that scouts love and owned a 3.32 ERA and 4.13 SO:BB in AAA this year. He was the fifth best prospect in the Yankees system in 2010.)
Scott Barnes (Pitched very well in AA and AAA this year - 3.45 ERA, 1.222 WHIP, 9.7 SO/9 and 3.3 BB/9. Between these three pitchers, the Reds should end up with 2 decent major league starters if not more.)
Cory Burns (A potential elite reliever who had a 2.11 ERA, 1.039 WHIP, 10.6 SO/9, 2.3 BB/9 and 35 saves in AA this year.)
Jesus Aguilar (Had a breakout season in A ball this year, hitting 23 HR with 82 RBI, a .284/.359/.506 slash line and an .865 OPS in 521 PA. He also hit a ball over the batter's eye in the Arizona Fall League earlier this month.)
There aren't any prospects close to the level Bryce Harper or Mike Trout are on, but there is a tremendous amount of depth. The Reds could adjust this deal to their personal desires (Chen Lee or Nick Hagadone for Burns, Chun Chen for Aguilar, etc.), but it's a lot to get back. 
If the Reds are in fact listening to deals for Votto, the Indians better be going hard for him. We need first base help now—be it Votto, Prince Fielder, Kevin Youkilis or some other established player—if we're going to even make the playoffs next year. 
It's time for the Tribe to get serious and get a big-time hitter to complete this lineup and push us into serious contention for a World Series title.