Jets vs. Ravens: Can Mark Sanchez Keep Taking These Hits and Survive?
October 3, 2011
Larry French/Getty Images
It couldn't have been that bad, could it?  Yes.  It could.  The Jets are lucky that the game is over after 60 minutes or it could have been worse.  Allow me to call out the people responsible for this fiasco.
Mark Sanchez.  The only good news is that at least they didn't have to take him out on a stretcher.  Mark, I know you got rocked Sunday night, but you must protect the football.  I also think the time for you being a good soldier is over.  You have to start screaming at the coaching staff to get you some protection.  Have Shonn Greene in the backfield to block on every snap.  He's not getting any yardage anyway.  At least he can help keep Mark upright. 
The offensive line is shockingly, horrifyingly bad.  We are four games in and the Jets coaching staff still acts like that is a surprise.  I complained about this in the offseason, but it bears repeating:  Drafting Greg McElroy was a mistake.  He adds no value to a win-now team.  The Jets desperately need offensive line depth.  That's what they should have drafted or traded for.  They were lulled into a sense of complacency by the relative health of the line for the last two years.  That was an aberration and largely the result of a run-first team.  Now the team has no run game because there are two years of film on it. When you have the Raiders telling the media last week that they know when the run is coming and can easily stop it, it is time to change.  I see no ownership on this offensive line.  None.  No one is stepping up and saying, I need to do a better job of protecting my quarterback.
Coaching.  Where should I begin?  How about here:  Does anyone in this organization have any familiarity with your franchise QB?  Have you not seen his skittishness every single time the Jets play the Ravens?  Starting from when he was a rookie 'til now.  I'm not excusing Sanchez's turnovers.  But when the very first offensive snap of the game results in him literally being flattened by Ed Reed, you can consider yourself unprepared.   Rex Ryan:  you used to coach for this Ravens team!  You know that Ray Lewis and Ed Reed and the entire defense are going to come after Sanchez all game long.  So why is it such a surprise when they do?  Once again, not enough use of timeouts to slow things down and re-order the offense.  Again, the Jets coaching staff loses control of the tempo of the game.  I am shocked at the cavalier attitude of the Jets offense with regard to protecting the quarterback.  The only person who seemed to understand that the Ravens were going to rush the passer the entire night was Sanchez.  Where was Bill Callahan?  Why wasn't he fixing the protection on the O-line?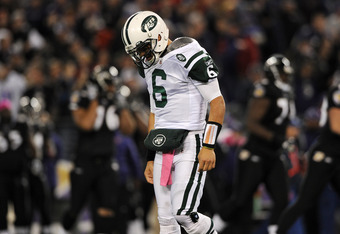 Patrick Smith/Getty Images
4. Coaching part deux:   Turnovers will kill you.  Where are Matt Cavanaugh and Mark Brunell to pull Sanchez aside after that first turnover?  You have to immediately squelch his "I wanna be a hero" tendency and remind him to protect the football.  Brian Schottenheimer, why didn't you adjust the play calling so Sanchez wasn't taking such a beating? You can study and prepare all week long.  Your practices can be terrific.  But lately, the Jets coaching staff has a stubborn refusal to make in game adjustments.  I'm not talking about knee-jerk changes like swapping out your center.  But when your franchise QB keeps getting flattened game after game, something has got to give. Unfortunately, I am afraid that something is going to be another one of Sanchez's body parts.  What?  A broken nose didn't get your attention, Jets?
I think Joe Namath was on to something last week.  But I'd like to add a little something to it.  It's not just that the Jets are over-confident, it's that they have no ability right now to take a clear-eyed assessment of their team.  So let me help you.
-          Your offensive line is terrible and unable to protect the QB or open holes for the run game or hold off defenders long enough for the wide receivers to get downfield.  (And those guys aren't slow.)
-          Shonn Greene is not the answer at RB. 
-          Your two wide receiver divas are the best analysts on this team and they are going to take their case to the media this week.  I fully support it, if that is what wakes these Jets coaches up out of their torpor. 
-          Your QB will not survive the season the way things are going.  The best way to eliminate the Jets from playoff contention is to eliminate Sanchez.  Can you imagine Mark Brunell surviving even one of the hits Sanchez took?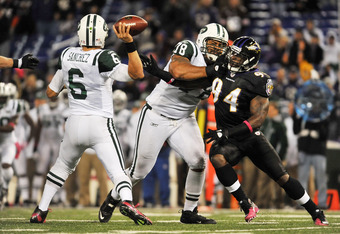 Larry French/Getty Images
Take a look at the schedule, Jets coaches.  Now identify the scariest defender on each team.  That is who Sanchez can expect to see in the backfield every snap. 
Mike Tannebaum better be searching the waivers this morning for any competent O-linemen he can scrounge up. 
You know who is going to get their defensive woes righted in a hurry next week?  The New England Patriots.  To coin a phrase from Dan Patrick: I'm doing this as a public service announcement.  Here is the Pats complete defensive game plan:  Get Sanchez. 
That's it.  That's the whole game plan.  Knock him out of the game.  That means the Jets are knocked out of the AFC East and the Bills and Pats can duke it out for the wild card. 
At least those two teams appear to know how to protect their quarterbacks.