Jets vs. Ravens Sunday Night Football: 3 Jets Who Must Step Up
October 2, 2011
Thearon W. Henderson/Getty Images
The New York Jets play the Baltimore Ravens on the road for a critical early season NFL game in 2011. Rex Ryan knows how to play the "underdog" role; he will have his team prepared for war in Baltimore. It won't matter how prepared they are if these three players don't step up.
Sanchez has been used more in 2011. He already has more interceptions (4) this season than he did at this point last season.
At 1-2, the Jets need this game more than Baltimore does. New York cannot afford to fall to 1-3—they must win this game.
Sanchez is the leader on offense. We have seen him go to tough places and win before. He needs to have a quality game against a Baltimore secondary that is questionable at best.
If he doesn't have a good game, chances are the Jets don't either.
Scott had six tackles, four solo, against the Oakland Raiders last week. He is the leader of the defense. There will be no reason for him not be fired up to play against his former team in Baltimore.
With how poor the Jets have played this season, Scott needs to set the tone with his physical style of play. If he plays like this in a playoff game, the whole Jets team will follow suit.
He must match Ray Lewis' tenacity, if that is possible. If not, he must be close.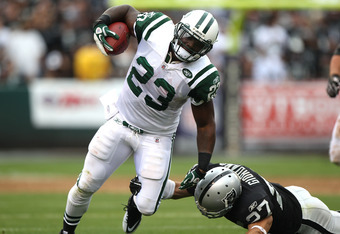 Jed Jacobsohn/Getty Images
Shonn Greene
If the Jets are going to keep the defense off balance, Greene will have to play a big role in the running attack. He hasn't been able to get going in 2011, posting 134 yards on 41 carries. He only has one touchdown this season.
Greene will need to provide Sanchez with protection to keep the defense honest. Sanchez has thrown the ball 37 times per game, a recipe that hasn't worked.
They didn't throw the ball 37 times a game last season or the year before; they ran the ball and Sanchez didn't have too many attempts per game. That is how they made it to back-to-back AFC Championship games.
New York has to get back to their style of football.