James Jones: Why the Packers Never Meant to Keep Him Past 2011
October 2, 2011
Streeter Lecka/Getty Images
If you're not Greg Jennings, it is a bittersweet year to be a wide receiver in Green Bay.
On the one hand, being on a field with quarterback Aaron Rodgers throwing the passes has got to be any wide receiver's dream come true. It is starting to seem like Rodgers could make anyone who can run a route into a star.
On the other hand, wide receivers who would certainly start elsewhere must face the cold reality that they are third- or fourth- or even fifth-best on the frozen tundra. There aren't enough snaps in the game or balls to be thrown to keep everyone happy.
James Jones, I'm talking about you.
During the lockout this year it was easy to imagine a Packers team without James Jones. His contract hadn't been renewed prior to the work stoppage, and once talk of his testing the free agency waters began, it seemed like a done deal.
He gave a lot during the Super Bowl run in 2010, and fans would have been sad to see him go—but not heartbroken. Like defensive tackle Cullen Jenkins and guard Daryn Colledge, Jones would have simply faded away into a pleasant memory as he played out his career with another team.
He's good, but he's not so good that the Packers needed him to succeed.
When interest in the whirlwind free agency period dried up without a big contract, Jones essentially came back to the Packers with his tail between his legs. They took him back as their purported third-string receiver with a three-year, $9.4 million contract.
It's starting to look like Jones was just a red herring. The Packers never meant to keep him.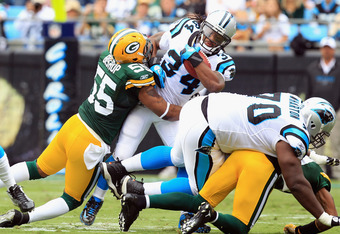 Streeter Lecka/Getty Images
The writing on the wall for Jones became a lot clearer this week as the Packers announced a contract extension with fourth-string Jordy Nelson: three years, worth up to $13.35 million.
There's almost no doubt that whenever Donald Driver decides to bow out of his position as second wide receiver, Jordy Nelson will be the one to take his place. He's being groomed to take up the torch of one of the most important men in the Packers' franchise history.
Which leaves Jones on the outside looking in.
Even before the contract extension, Jones's future in Green Bay seemed to be in jeopardy. With Randall Cobb's strong showing for the first quarter of the season, it is clear that the Packers are still rich in talent at wide receiver. There's also Tori Gurley, the potential diamond in the rough waiting on the practice squad to consider.
So why did the Packers bring Jones back in 2011 if they didn't want him?
He serves a dual purpose right now as the team continues to grow its talent from within.
First, he serves as an insurance policy for the present. He's a great wide receiver who's familiar with the offense. He has taken a trip through the postseason and has a ring to show for it. He also, quite frankly, came at a bargain price.
Second, he serves as an insurance policy for the future. He probably won't be gone by the trade deadline this month, but he will certainly be sent away at the conclusion of the season. He'll be shuttled off to another team for a currency that is more precious to Ted Thompson than gold: a draft pick.
During all the talk about running back Ryan Grant being on the trading block earlier this year despite his renegotiated contract, Jones somehow managed to fly under the radar.
With Jordy's new deal, however, the Packers' coaching staff has tipped their hands. Jones will be gone as soon as some team who's desperate for talent at wide receiver comes along and names the right price.