Fantasy Football: What You Need to Know, an All Inclusive Guide to Rb's
August 26, 2011
Whether it be a standard league, a ppr league, a custom point league, or any other league the die-hard NFL and fantasy football fan could dream up, no position is coveted more than that of the running back.
As sure as the sun rises in the East, you can bet your bottom dollar that not only will a running back go first overall in your draft, but no other position will be depleted from the draft boards quicker in the first four rounds than that of work horses in the backfield.
While this raises interesting theories about how to plan for your draft, scouting this position properly will prove pivotal on draft day.
Let's face it, a good running back can make up for a porous performance at wide receiver or tight end. No wide receiver or tight end, however, can make up for a flop from your fantasy focal points.
That being said, no year more so than this has shown to be as challenging when it comes to predicting performance.
While a couple of tried and true stars are entering the twilights of their respective careers, the bulk of this year's running back class is centered around players with less than desirable experience, and too many questions left to be answered.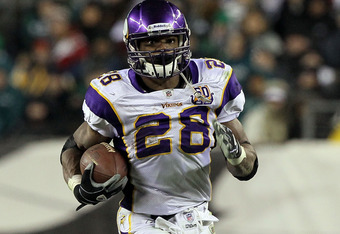 We will, as will be customary, start at the top with the cream of the crop.
(for the purposes of this article we will operate under the assumption that we are entering a ppr league, for standard leagues ignore reception statistics…obviously)
The Top
When he entered the league four seasons ago Adrian Peterson was immediately considered one of the league's top backs. Within two seasons he had established himself as THE top back in the NFL.
His body of work speaks for itself.
In his four seasons with Minnesota, Peterson has averaged 1,446 yards, 13 td's, 30 receptions, 293 yards, and just under 1 receiving touchdown per season.
While a glaring problem with fumbles haunted him for a couple years, his career average is 5 per season, Peterson managed to put some critics to rest by limiting his fumbles to only one last season.
His consistency is second to none, he has rushed for double digit touchdowns in every one of his pro seasons, and he stayed true to form last season rushing for 1,298 yards, 12 td's, 36 rec, 341 yards and 1 receiving td.
Much of which was done with a stacked box as the Vikings' quarterback woes proved to be their downfall as the season progressed.
Despite teams focusing on him, Peterson continued to break tackles and carry Minnesota on his broad shoulders.
Minnesota's reliance on Peterson shouldn't change much this season either as he begins to enter the prime season's of what is shaping up to be a hall of fame type career.
The addition of Donovan McNabb gives the Vikings a legitimate passing threat which teams will be forced to respect, and should open up the middle of the field when Peterson breaks into the secondary.
The veteran presence of McNabb should also boost Peterson's reception total as the new signal caller is smart enough to know that utilizing the team's strongest weapon will only prove to be beneficial as the season wears on.
Something else to consider is that Peterson is in his contract season.
The Vikings can franchise him next year, yes, but Peterson also knows that his next contract could hinge greatly on what he does this season.
Championship week matchups consist of week 14, 15, and 16 games @Det, home to New Orleans, and @Wash.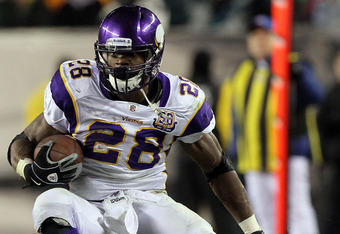 Peterson recorded rushing touchdowns in 9 of the Vikings 16 regular season games last year, however, the one knock that has stood against Peterson for the better portion of his career is his game by game consistency in the yards department; Peterson only rushed for over 100 yards in five games last year and had three games of under 40 yards rushing.
Despite some struggles towards the end of the season, the addition of McNabb and the addition of a years experience, makes Peterson this year's top fantasy back.
Rounding out the top
Adrian Peterson may be the face of fantasy running backs, but there are a quartet of players that are hot on his heels.
That quartet starts in Philadelphia for Lesean McCoy.
Despite sharing time in a crowded Eagle's backfield, the addition of Ronnie Brown and drafting of Dione Lewis didn't create any room, McCoy proved to be one of the Eagles most dangerous weapons and versatile weapons.
McCoy finished the season with 1,080 yards, 7 td's, 78 rec (he led all backs) 592 yards, and 2 rec td's.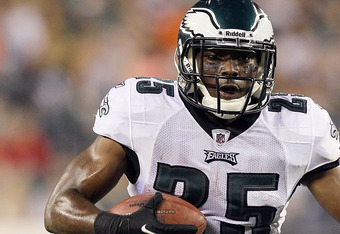 While his numbers are not that of what a traditionalist would declare to be a stud running back, it's his versatility that gives him such high fantasy value.
McCoy recorded multiple pass receptions in every game, and four or more pass receptions in 13 of the Eagles 16 regular season contests.
Despite only carrying the ball 207 times, McCoy averaged 5.2 yards per carry; He only exceeded 18 carries in a game once.
To say he was under-utilized would be and under-statement. Expect carries to exceed 20 per game this season and his average yards per game to go from 68, northward of 85.
As he enters his third season, it has become increasingly obvious during the preseason that McCoy will see his heaviest work load yet as the Eagles appear to be ready and willing to lean on McCoy as their feature back.
While a strong body of work does not exist for a career average type argument, as does with Peterson, the addition of Steve Smith at wide receiver gives Philadelphia a wide receiving core that will feature DeSean Jackson, Jason Avant, Jeremy Maclin, and the aforementioned Smith.
Add in Brent Celek at tight end, and the ever dangerous Michael Vick, and Philadelphia has more weapons than they can utilize on any given play.
A stretched defense will only create monster spaces for McCoy to exploit, and pass coverage will be so focused on the Eagles deadly wide receiver corpse that McCoy should see countless dump offs in the flat.
Add in a stingy defense that should constantly keep Philadelphia on their opponents end of the field, and McCoy should see his touchdown numbers potentially double due to favorable field position.
If you participate in a ppr league, LeSean McCoy deserves serious consideration for the number one spot; championship week matches include week 14 @Mia, 15 home to NYJ, and 16 @Dal.
Not to be out-done, and we will operate under the assumption a deal will be in place by the start of the season, Chris Johnson is historically in for what could be a big year.
Last year on this very site I warned fantasy owners about the danger of drafting Chris Johnson.
(See: http://bleacherreport.com/articles/456111-buyer-beware-history-indicates-down-year-for-chris-johnson)
This year, however, Johnson should once again be in your cross hairs amongst the top fantasy backs.
While 2,000 yard rushers historically suffered the next season after, it was the second season that the two charter members returned to form; O.J. Simpson and Eric Dickerson.
In their second season after their 2,000 yard campaigns Simpson rushed for 1,817 yards and 16 touchdowns, while Dickerson rushed for 1,821 yards and 11 touchdowns.
Johnson, as both the Juice and Dickerson, saw his touches drop substantially last season from the year before, but with the addition of Matt Hasselback, a considerably more respected passer than Vince Young or Kerry Collins, teams can no longer stack the box to stop Johnson as he should see his touches increase this season.
Johnson, who last season rushed for 1,364 yards, 11 td's, 44 rec, 245 yards and 1 rec td, should see not just his rushing yards increase, but his pass catches go up as well.
A veteran qb such as Hasselback will utilize the team's best weapon, as can be assumed in Minnesota with McNabb, and dump the ball off to Johnson in the flat more than we have seen in the past.
With another defender most likely dropping into pass coverage to respect the once Super Bowl quarterback, the speedy Johnson should find room to break into the secondary and outrun everyone to the sidelines.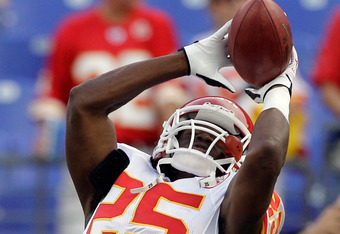 Johnson has exceeded 1,200 yards in each of his first three NFL seasons as well as 40 receptions. He has also rushed for over 9 td's each year and scored at least once via reception in each season as well.
At this point, Johnson's biggest downfall appears to be himself.
With no current deal in place, and Johnson firm on his decision to hold out, we may be looking at a situation that mirrors that of Vincent Jackson last year.
Until he is in uniform, it will be hard to justify his selection.
However, if he does decide to suit up this year, Johnson could prove most valuable; especially with week 14, 15, and 16 match-ups home to New Orleans, @Ind, and home to Jacksonville.
Another thing that should go into consideration is a week 2 matchup home to Baltimore, and a week 5 contest @Pittsburgh.
Last season Johnson broke the 100 yard mark in 8 of the teams 16 games. He also rushed for a touchdown in 8 of those same 16 games…the kicker…7 of those games where he rushed for a touchdown were also games in which he broke 100 yards.
Making Johnson more of an all or nothing back that you gives you a 50/50 chance at a big week, or a virtual goose-egg.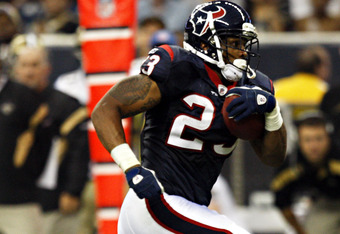 This year's perfect storm at running back could reside in Kansas City.
Jamaal Charles packs Chris Johnson's speed with LeSean McCoy's versatility.
A former NCAA sprinting champion, Charles also has excellent hands out of the backfield and is a threat to not only break it big on the ground, but through the air as well.
Charles finished last season with 1,467 yards, 5 td's, 45 rec, 468 yds, and 3 rec td's.
Perhaps the easiest way to explain the only downside to drafting Charles is this: last season Charles finished second in the NFL in yards at 1,467, but he didn't even have the most carries on his own team.
Charles only carried the ball 230 times, 97 less times than the league's leading rusher Arian Foster; Foster finished with 1,616 yards.
Charles did however average 6.4 yards per carry, and maintains a 6.0 yard per carry average for his career.
In two limited seasons, in regards to carries 190 and 230 respectively, Charles is averaging 1,294 yards, 6 td's, 43 rec, 383 yds, and 2 rec td's.
If ever there was a back on the verge of breaking out into super-stardom it is Jamaal Charles.
As Thomas Jones begins to enter the twilight of his career, a 10,000 yard rusher entering his mid-30's, it will be hard to imagine the Chiefs not shifting the bulk of their teams workload to the uber-talented Charles.
While there will be questions of his durability, the combination of Dwayne Bowe and Matt Cassell drew much respect for the Chief's passing game around the league. Things should open up for Charles, and his pass catching abilities should come to the forefront this season as he is one of the few backs with a legitimate threat at breaking the 2,500 all-purpose yard plateau.
Despite the threat of Jones stealing in upwards of 10-12 carries per game, as the season wears on and Jones begins to feel the effects of age, expect Charles to take on an increased role in the latter part of the season.
Week 14,15, and 16 matchups find the Chiefs @NYJ, home to Green Bay, and then home to Oakland. Top that off with 6 scheduled games against a weak AFC West, and the Chiefs have a very favorable fantasy schedule.
Speaking of uber-talented, and garnering a brief mention above, who could forget about last year's break-out player of the year, and fantasy stud, Arian Foster.
A mid to late round pick at best, Foster captivated fantasy owners everywhere with his stellar play, and MVP like numbers as he amassed over 2,200 total yards from scrimmage; an NFL-best 1,616 rushing yards and 604 receiving yards.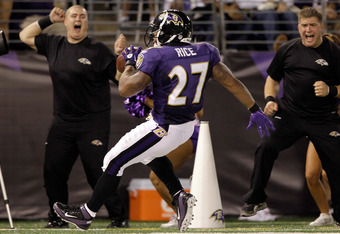 Johnson also recorded 16 rushing touchdowns, 66 receptions and 2 scores through the air.
The Texan's running back started the season with an emphatic bang as he rushed for 231 yards against Indianapolis and recorded 3 scores on the ground.
This was only the start to an amazing season as Johnson would go on to record rushing touchdowns in 10 of the Texan's 16 regular season games, and record multiple receptions in 14 of that same 16. Foster would also break the 100-yard mark in 8 games.
Entering his third year out of Tennessee, Foster seems like a slam dunk as the top overall fantasy prospect, but a more in depth look should make you cautious before making all efforts necessary to acquire the Texan's up-and-coming star.
Foster, who has battled a sore hamstring this preseason, is only entering his second year as the teams focal back. With a year's worth of game footage out on him, team's will be more inclined to stack the box as they did last season against Chris Johnson and force the Texan's to beat them through the air.
With expectations through the roof, it is hard to imagine that Foster will be able to live up to such lofty expectations.
His durability is untested, and it remains to be seen how he responds to the wear-and-tear of a full NFL season.
Week 4 and 6 matchups home to Pittsburgh and @Baltimore also present unenviable challenges to a back that has yet to face the league's top rush-defenses; Foster managed just 25 yards against a New York Giants team that finished the season as one of the league's better rush defenses.
Perhaps even more pertinent to the argument is how teams in his own division handled him the second time around last season.
While Foster tore apart the Jaguars in the regular season finale last year, both Indianapolis (231-102) and Tennessee (143-15) managed to substantially cut down Foster's rushing yards.
Week 14, 15 and 16 matchups @Cin, home to Carolina, and @Ind do prove favorable, and the AFC South is not known for it's strong rush defense, but teams will prove to be better prepared for the Texan's back on game day.
Houston's strong passing attack will aide in keeping teams honest against the run, but as stated before, expect teams to focus more on Foster than Schaub come game-day.
It is too early to determine if Foster is next dominant back in the league, or another one-hit wonder. Only another season of football will be able to tell us that.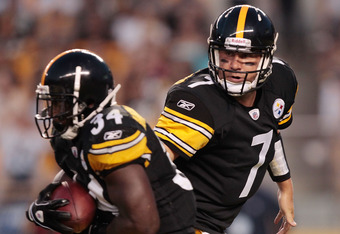 The Fact remains that I would rather be wrong and not have Foster as he puts up huge numbers, than right about him as he puts up average stats and struggles to stay in my starting line-up.
The best of the rest
The top five fantasy backs seem pretty cut and dry, but in a year where there is such a small disparity amongst talent, there are even more rushers that deserve mention amongst the league's elite.
While you will not find any of the following guys mentioned among the top three to five picks, these individuals are no slouches themselves, and deserve serious merit as the top guys on whatever team happens to draft them come draft day.
The sexy pick of last year's draft was Ray Rice, and despite what some would consider a disappointing year, 1,220 yards, 5 td's, 63 rec, 556 yards and 1 rec td, Rice's value in ppr leagues is every bit as high this year as it was last; when in the year before, his only other full NFL season as the Raven's feature back, he rushed for 1,339 yards, 7 td's, 78 rec, 702 yards and 1 rec td.
While the prospectus of playing Pittsburgh twice in any given year does not bode well for any back, Rice does manage to get one of those contests out of the way in the first week, and finishes with week 14,15 and 16 matchups home to Indy, @SD, and home to Cleveland.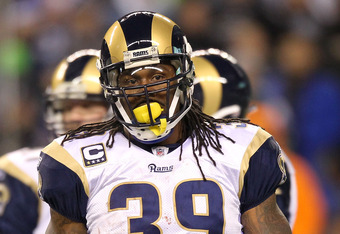 The Ravens play a very favorable fantasy schedule with the NFC West on tap, as well as favorable week 10-16 matchups after a week 9 contest with Pittsburgh, and Rice could be a big contributor come the second half of the season.
The losses of Derrick Mason and Todd Heap will also force Baltimore to rely more on their ground game, and Rice's role as a pass catcher could be expanded to mirror that of an early-New Orleans Reggie Bush.
The addition of Ricky Williams does leave many unanswered questions, but the versatile Rice should see the bulk of the Raven's offensive series; just avoid playing him against Pittsburgh as his 2-game regular season rushing total was barely over 50 yards last year.
Staying within the AFC North, Rashard Mendenhall has emerged as a valuable fantasy option the past couple seasons.
Finishing last year's campaign with 1,273 yards and 13 td's, Mendenhall does not prove to be a viable option in the passing game only hauling in 23 balls for 167 yards last year, Mendenhall proved to be every bit as valuable as the Steelers hoped when he was drafted in the first round just a few years back.
Leaned on heavily in the first 4 games of the season with Ben out due to suspension, Mendenhall proved that he could be relied for big numbers even when teams were keying on him.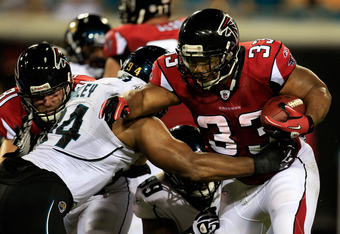 With Ben being with the team for the start of this year, teams will not be able to stack the box against Pittsburgh thus freeing up some running room for the emerging star.
Like Rice, Mendenhall has not had much success against their intra-division rival, but he has shown an ability to break big runs against the league's less stingy rushing defenses, and with one of the more favorable fantasy schedules in the league, Pittsburgh's star back could be in for a break-out season; week 14, 15, and 16 matchups see Pittsburgh home to Cleveland, @San Fran, and home to St. Louis.
The Steelers will also see 4 consecutive games early in their season against the AFC South, not the strongest of rush defenses as addressed above, and do find themselves in a couple matchups against pass-happy teams such as New England and Indianapolis where the team's best defense may be their ability to run and eat clock.
Perhaps the biggest downfall in drafting Mendenhall is the Pittsburgh Steelers team itself. The Steelers play a very unselfish brand of football and are equally as likely to pass from inside the 10 as they are to run.
Who is running inside the 10 is another question in and of itself as coach Mike Tomlin has shown he likes to use short yardage back Isaac Redman when a ground and pound run between the tackles is needed.
When it comes to ground and pound there are two guys who have been doing it for years and are considered amongst some of the best.
Those two names are Michael Turner and Steven Jackson.
Starting in Atlanta with Turner, a back that was anointed a soon to be starting stud in the league when he was backing up LaDanian Tomlinson in San Diego, his run in Atlanta has done little to deter his supporters.
In his two full seasons as Atlanta's starter, he only played in 11 games due to injury in 2009, Turner is averaging 1,535 yards and 15 td's; in his shortened 2009 campaign he rushed for 871 yards and 10 td's.
Turner is averaging less than 10 catches per season, so if you are looking for a back that puts up usable stats in the receptions department you will need to go elsewhere, but he remains a strong option on a team that has all the weapons to be one of the better passing teams in the NFC this year.
That respect that will be commanded by Matt Ryan, Roddy White, Julio Jones, and Tony Gonzalez only helps to bolster what Turner will be capable of this season.
One less guy in the box, plus the potential to be ahead late, will lead to more and bigger carries from a guy that has put up double digit rushing touchdowns each of the past three seasons.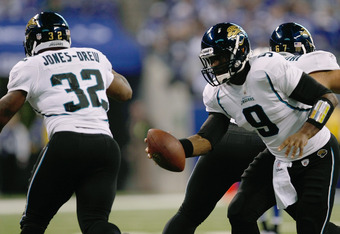 Bothered by a groin injury most of last season, Turner still put up numbers that mattered for fantasy owners, and could be in for a big year this season with vertical game Atlanta will boast.
Week 14, 15 and 16 matchups @Car, home to Jacksonville, and @New Orleans will prove favorable for fantasy owners, and sharing a bit of the load with back-up Jason Snelling (an excellent pass catcher that will see a lot of action on 3rd down) should help keep the 28-year old Turner fresh for the season.
Heading to the NFC West, you find the very definition of a work-horse with the St Louis Rams Steven Jackson.
Despite a nagging back injury that plagued him most of last season, Jackson managed to rush for his 6th consecutive 1,000-yard season.
While the passing game struggled to find its stride as rookie Sam Bradford acclimated himself to NFL play, Jackson rushed for 1,241 yards, 6 td's, 46 rec and 383 yards through the air.
Despite teams keying on the Rams star, Jackson managed to produce yet again.
Production has never been an issue with Jackson as he has managed to average 1,136 yards, 7 td's, 47 rec, 382 yards, and 1 rec td over his 7 year career.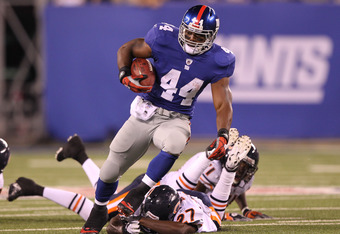 With the emergence of Bradford as a legitimate passing threat towards the end of last season, and the offseason acquisition of Mike Sims-Walker, Jackson should find himself sharing focus with the passing game as more holes open up in the trenches; as Bradford matures expect him to make use of the versatile star with increased dump offs in the flat.
While week 14, 15 and 16 matchups pit St. Louis @Sea, home to Cin, and @Pit, it is the first three matchups of the year that garner attention for fantasy owners as Jackson and the Rams will start home to Philly, @NYG, and home to Baltimore.
Jackson is likely to produce again this year, but a slow start is almost guaranteed.
Always a top fantasy prediction, it would be hard to have a fantasy article about running backs and not include the Jacksonville Jaguars' Maurice Jones-Drew.
Finishing last season with 1,324 yards, 5 td's, 34 rec, 317 yards, and 2 rec td's, Jones-Drew managed to produce a mildly productive fantasy season despite facing 8-man fronts as teams dared the Jaguars to beat them through the air.
With the reigns likely being turned over to first-round pick Blaine Gabbert at the first sign of fault, running room will be ever more scarce than it was last season for MJD.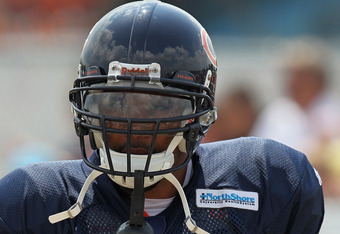 Top that off with preseason knee issues and the likelihood that teams will once again plan to stop MJD and entice the Jaguars to challenge the defense through the air and you have what appears to be a recipe for disaster.
Consider the following…
Despite sharing time and carries with aging star Fred Taylor during his first 3 seasons, MJD has maintained a five year career average of 1,050 yards, 11 td's, 47 rec, 420 yards, and 2 rec td's per season while with the Jaguars.
While some would consider last year a disappointment primarily due to touchdown numbers, MJD managed multiple receptions in 14 of the Jaguars 16 games, as well as a string of six consecutive 100-yard games leading up to the regular season finale.
MJD exceeded the 100-yard plateau in seven of the Jags 16 regular season games, and missed on 2 other occasions by 12 and 2 yards respectively.
While questions continue to circle around Jacksonville's qb situation, the one constant of a team in transition is their star back who should again see over 300 carries and be leaned on even more should Gabbert find himself taking over the starting position at any point in the season.
Expect a heavy workload for MJD and an increase in td's after the lowest output of his career.      
Looking back to the NFC, the conference's break-out star this year could reside in New York.
After years of splitting time in a crowded Giant's backfield, Ahmad Bradshaw will finally be getting his chance to carry load after the team designated him as their feature back, and Brandon Jacobs his back-up.
Bradshaw, who finished last season with 1,235 yards, 8 td's, 47 rec and 314 yards, has steadily seen a significant increase in not just his carries each season with New York, but also in his role with the team.
With the loss of Steve Smith in the passing game, and the erratic play of Eli Manning, Bradshaw should be in for his biggest workload yet as the Giants look to return to their Super Bowl winning form of just a few seasons past; and cut down on costly turnovers, namely interceptions, that haunted New York all season.
The one glaring question about Bradshaw will be how he handles the bulk of the work load as his durability will truly be tested for the first time as he enters his fifth NFL season.
Week 14, 15 and 16 matchups see the Giants @Dal, home to Wash, and @NYJ.
Another back to watch closely this season is the Chicago Bears Matt Forte.
Finishing last season with 1,069 yards, 6 td's, 51 rec, 547 yards and 3 rec td's, Forte could be in for his biggest season yet as he enters his contract year.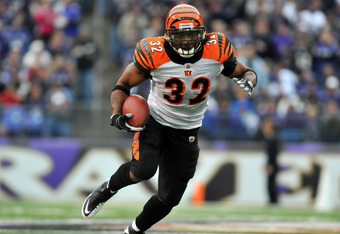 Playing in the Mike Martz offense almost assures you of 50 receptions out of the backfield, a number he has exceeded in every pro season, and while his career averages of 1,079 yards, 6 td's, 57 rec, 498 yards and 2 rec td's are not mind blowing numbers, Forte is a player that is as strong of a flex option as there is in the league.
Forte sees week 14, 15 and 16 matchups @Den, home to Seattle, and @GB.
Who to avoid
There are a few backs out there who are not only receiving high praise, but being over valued by the vast majority of fantasy owners. While a couple of these players could prove to be the sexy pick of the mid to late rounds, their selection could prove costly for you in your fantasy league this season.
We will start with last year's darling, and Madden 2012 cover-boy, Peyton Hillis.
While the big bruising Brown's back may come across as the messiah in Cleveland, he will prove to be more of the anti-christ in fantasy leagues this fall.
Hillis bore a war path through defenses last season to the tune of 1,177 yards, 11 td's, 61 rec, 477 yards and 2 rec td's, but two defenses he struggled with resided in Pittsburgh and Baltimore…teams he will see twice respectively this upcoming season.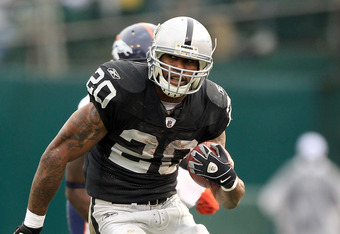 Ok…so he did have his way with Baltimore in one of those matchups, but for every bit as perfect as the Steelers defense has been over the year in stopping the run, Baltimore has not been far behind.
With a schedule that features Baltimore twice in the final four weeks, week 13 at home and week 16 @Baltimore, Hillis must also travel to Pittsburgh in week 14 and to Arizona in week 15.
It goes without saying that 3 of Hillis' final four games could prove disastrous for fantasy owners.
Another thing that hurts the Brown's bruiser is that he….well….he plays for the Browns.
Cleveland may find themselves trailing by to significant of a number in to many games this season that they find themselves relying on the arm of Colt McCoy more-so than the legs of Hillis.
McCoy could also prove to be kryptonite to Hillis as he is emerging as the dynamic quarterback the Browns have sought after for years.
Teams will be focusing on Hillis and forcing McCoy to go to the air for a win, and with no proven track record on how Hillis will respond to a tough schedule and added attention, not to mention a Madden curse, staying away from Hillis could prove beneficial for you in your upcoming draft.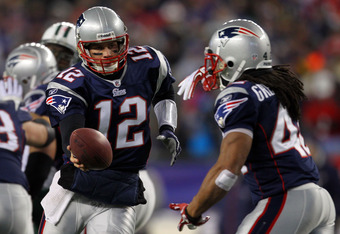 Staying with the AFC North, another back to avoid is the Bengal's Cedric Benson.
A disappointment for much of his early career with Chicago, especially after such lofty expectations were thrust upon him after the Bears used a top pick to acquire him, Benson has seemingly found a stride in Cincinnati.
Benson, however, like Hillis will have to face both Pittsburgh and Baltimore twice this season, and with the loss of Carson Palmer and a rookie quarterback under center, teams will not just make eight men in the box routine, they will make it the regular against Cincinnati.
Benson, who last season rushed for 1,111 yards, 7 td's, 28 rec, 178 yards and 1 rec td, has shown in the past that playing under pressure with high expectations is not his strong point.
Benson, who only surpassed the 100-yard plateau in 3 games last season, struggled immensely against playoff teams.
With teams keying on him, Benson is in for a down year.
His real value is evident in the final three weeks of the season where Cincinnati has week 14, 15 and 16 matchups home to Houston, @STL, and home to Arizona.
Another back to avoid had a break-out season last year for the Oakland Raiders, and that back is Darren McFadden.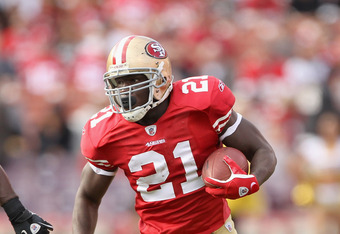 Missing three games due to injury, McFadden managed 1,157 yards, 7 td's, 47 rec, 507 yards and 3 rec td's for a weak Raiders squad.
With team's focusing on McFadden due to the lack of a formidable passing game in Oakland, it remains to be seen how he will respond.
But, after being considered a bust due to two porous seasons in the black and silver, McFadden did manage to show flashes of talent that made him such a high pick just three seasons ago.
Surpassing the 100-yard plateau in six games was a pleasant surprise for McFadden owners, scoring a rushing td in only 4 games was a massive disappointment.
His pass catching abilities make him a viable flex position player, but with a bad track record, and lingering injury issues, it may be another season before a team that will mostly be playing from behind this year finds a way to properly utilize their promising feature back.
Last, but certainly not least is the New England Patriots Ben-Jarvus Green-Ellis.
Green-Ellis, who really emerged (particularly in garbage time) for the Pats last season finished with 1,008 yards and 13 td's.
Much of which came in garbage time as the Pats spent multiple series trying to run down the clock against opponents with no hope.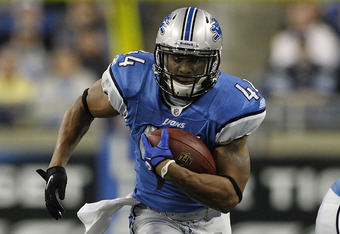 Only breaking the 100-yard mark in 2 games, Green-Ellis also had 5 separate games in which he rushed for under 25 yards.
New England, much like Indianapolis, is and always will be a pass first team as long as their star qb is under center.
Green Ellis is a good bench player at best in fantasy leagues, and should not be viewed as more than what he is until he proves otherwise…a garbage time star who struggles to answer the call when the team needs to be carried on his shoulders.
Three to watch
Closing out our look at fantasy running backs, there are three guys that deserve extra attention when you prepare for your upcoming draft.
The first being the San Francisco 49er's Frank Gore.
A top five projected back last season, Gore was performing at a very high level before an injury cut his season short in the team's 11th game.
Finishing with 853 yards, 3 td's, 46 rec, 452 rec yards, and 2 rec td's, Gore was well on his way to a 1,200+ yard season rushing and potentially 650+ yards receiving. 10 total touchdowns and 70 receptions were not out of the question either.
In five full seasons Gore maintains career averages of 1,162 yards, 6 td's, 51 rec, 430 yards, and 2 rec td's per season.
Offensive potency was a question, but with new coach Jim Harbaugh thrown into the mix, San Francisco could be in for a strong season in a weak division, and Gore could see himself being utilized more-so than ever before.
Week 14, 15, and 16 matchups @ARI, home to Pittsburgh, and @SEA give fantasy owners 2 of 3 championship weeks were Gore could emerge big, not to say his pass numbers won't be up to snuff against Pittsburgh, it's his rushing total that should hurt.
Also keep an eye on Jahvid Best in the Motor City of Detroit.
Best was well on his way to a Marshall Faulk type year before an injury railroaded his playing time in the Lion's 10th game.
Best finished his injury shortened season with 555 yards, 4 td's, 58 rec, 487 yards and 2 rec td's.
A healthy Matthew Stafford should only help open up the run as teams will be forced to drop back and respect what is becoming a very formidable Detroit offense with Stafford, Best, Calvin Johnson, and Brandon Pettigrew.
Finally, when you think of running back usage you think of Mike Shanahan.
A coach that has pumped out 1,000 yard backs ranging from Terrell Davis to Mike Anderson, no coach has produced such success at the running back position in a long time.
Enter Tim Hightower.
A versatile threat that also merits mention in a Marshall Faulk comparison, Hightower has been nothing less than superb in this preseason.
His ability to catch the ball makes him a duel threat to not just break big runs as he has shown, but be a true three down back that can never be over-utilized.
While he has not been given the workload of a feature back, things are certain to change in this upcoming season as running backs in a Mike Shanahan offense typically prove to be fantasy studs.
Ranking the top Backs
1)      Adrian Peterson
2)      Jamal Charles
3)      Lesean Mccoy
4)      Arian Foster
5)      Chris Johnson *** (if he plays)
6)      Ray Rice
7)      Rashard Mendenhall
8)      Michael Turner
9)      Steven Jackson
10)   Maurice Jones-Drew
11)   Frank Gore
12)   Ahmad Bradshaw
13)   Matt Forte
14)   Tim Hightower
15)   Jahvid Best
Rush Defenses (yards/game)
1)      Pittsburgh           63                                                           32) Buffalo          170
2)      Chicago                                90                                                           31) Denver          155
3)      NYJ                         91                                                           30) Arizona         145
4)      S.D.                        94                                                           29) Oakland        134
5)      Baltimore            94                                                           28) Tampa Bay   132
6)      San Fran               97                                                           27) Cleveland     129
7)      Miami                   100                                                         26) Wash             128
8)      NYG                       101                                                         25) Indy                127
9)      Minnesota          102                                                         24) Detroit          125
10)   Atlanta                 106                                                         23) Carolina        124
For my readers: While I realize there is a wealthy of talent out there at the running back position, there were many solid backs I did not manage to get into this article. Make sure to do your homework on other well rounded backs such as LaGarette Blount, Knoshown Moreno, Reggie Bush, DeAngelo Williams, Marshawn Lynch, Fred Jackson and others. If there is a back you would like me to preview, comment below and I will respond with my thoughts on how he may fair in this upcoming season!