AFC South: Why the Houston Texans Will Overthrow the Indianapolis Colts as Champ
August 9, 2011
Jim McIsaac/Getty Images
The AFC South division started in 2002 with the introduction of the Houston Texans into the NFL.
The Indianapolis Colts have won or shared the division title in almost every season since then (the Tennessee Titans won the division in its first year and then the Titans shared the title with the Colts the following year).
But in 2011, the AFC South will have its third winner: the Houston Texans.
The Texans have the offensive power to do it.
They have Matt Shaub, Andre Johnson and Arian Foster. All are Top Five in the NFL at their respective positions.
They were third in total offense last year.
However, they had a very bad defense. They were 13th overall against the run but were dead last in passing.
And there was no debate about which team was the worst against the pass.
Rookie Kareem Jackson proved he was not ready to be a top cornerback in the league after leaving Alabama a year early. He got burned deep routinely and was just not very good.
Glover Quinn was not much better.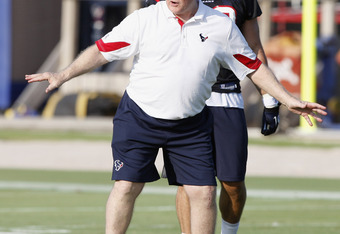 Bob Levey/Getty Images
Bernard Pollard was a hard-hitter and made some nice defensive plays. However, he was a big liability in coverage.
Really, the Texans had very little hope of stopping any passing game last year if they could not sack the QB.
So they made some dramatic changes in the offseason.
New defensive coordinator Wade Phillips is implementing a 3-4 defensive scheme. In this scheme, getting to the QB will be emphasized.
J.J. Watt and Brooks Reed, Houston's first and second draft picks, will come in and immediately help the pass rush.
The signing of Danieal Manning seems to have been largely overlooked. He has been a very good defensive back for the Chicago Bears for the past several years.
According to ESPNChicago.com's Michael Wright, Manning was one of five safeties in the NFL to not give up a touchdown and play 75 percent or more of his team's defensive snaps.
Manning also missed just three tackles last year, second fewest among safeties who played at least 75 percent of his team's defensive snaps.
He also brings with him the experience of being on one of the best defenses in the NFL. The Bears allowed just 14 touchdowns last year.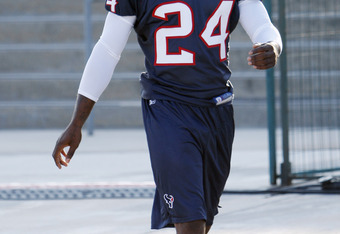 Bob Levey/Getty Images
The signing of Jonathan Joseph will prove to be critical to the success of the Texans.
Joseph, while he is not Nnamdi Asomugha, was the second-best corner available and gives the Texans a very credible man-coverage corner.
He actually had more interceptions than Asomugha over the past five seasons.
He has been an absolute ball hawk for Cincinnati for the past few years. Houston will look to him to cover top wideouts in the game while Watt, Williams and Co. go after the QB.
With Joseph taking care of the top WR and Manning covering behind him, Kareem Jackson will have a better year (after his atrocious rookie season) and may even get a chance to grow without being depended on to cover the best.
This is on top of the solid run defense Houston already has in place. Houston will not have a fantastic defense, but it will be good enough for what they have on the offensive side of the ball.
On top the Texans getting better, the Colts seem stagnant.
Other than giving Peyton Manning an extension and signing some rookies, the Colts have really failed to make a move that makes you think, "that will make them better."
They have signed some former first-round picks on the defensive side of the ball. But all of them are considered busts or have had injury issues over the past few seasons.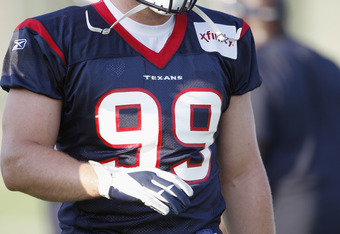 Bob Levey/Getty Images
The Colts are hoping that injuries have not slowed down DT Tommie Harris, who was a Pro Bowler a few years back with the Chicago Bears.
They also lost Clint Sessions to division foe Jacksonville.
Jamaal Anderson and Ernie Sims are two other former first-round picks the Colts have signed on the defensive side of the ball.
Anderson underperformed for a No. 8 pick in Atlanta, and Sims played well in Detroit before injuries slowed him down and he was shipped off to Philadelphia.
Peyton Manning is also hurt at the start of training camp. The Colts absolutely need a 100-percent Manning if they want to win.
Tennessee had a pretty busy offseason, but I doubt any of the new acquisitions will make them a contender right away.
Matt Hasselbeck is a solid acquisition, but he is just a temporary option as Tennessee grooms Jake Locker.
Barrett Ruud is an excellent acquisition, but that defense needs a lot more than that, especially after they lost Jason Babin.
The Jaguars made some splashes in free agency.
They signed Clint Sessions, who was a solid force for the Colts.
They also got Dewan Landry, a safety who suffered a scary neck injury while playing in Baltimore. He had a very solid comeback campaign last year.
Paul Posluszny was also a nice pickup for the Jaguars.
However, they seem to lack the offensive punch of the Texans or the Colts.
Yes, Maurice Jones-Drew is still a very good back. But to contend in the NFL, you have to be better than a one-trick pony, and Jacksonville is waiting on Blaine Gabbert to develop.
David Garrard is solid, but he is no Matt Shaub or Peyton Manning.
In other words, I do not see Jacksonville making a serious run at the division. 
Granted, Houston always seems to be a popular pick every year, but this year is different.
They have made some serious moves this year to help them get better on pass defense after they let Dunta Robinson go (a move I was not too happy about).
Defensively, Houston never seemed to have a good pass or rush defense at the same time. Their pass defense used to be solid, but its run defense was questionable.
Now Houston can say it has enough power on defense to really contend.
The biggest question mark I have is the culture of Houston Texans football.
It has been a losing culture for a long time now. Last year it seemed like the stars were aligned against Houston; the football gods were just laughing at them.
That all can change with one season.