Pittsburgh Steelers: It's Time for the Steelers to Bring Back the Fullback
July 8, 2011
Doug Pensinger/Getty Images
While writing a recent article, I was once again reminded of former Pittsburgh Steelers player Dan Kreider.
Here is what I wrote:
"When I first started to follow football I was a Pittsburgh Steeler fan. I used to complain and give out about how worthless Dan Kreider was. He couldn't run—144 total yards in 10 seasons—couldn't catch—491 career yards—and didn't seem to do anything worthwhile.

Of course what I would later learn is that Dan Kreider was one of the most important players on the Steelers' offense. Kreider wasn't a star, he was a role player. He was a role player that has never been replaced since leaving Pittsburgh."
The Steelers'—or rather Bruce Arians'—reluctance to use a typical fullback over the past few seasons has constantly been an irritation to me. I've never felt compelled to write about it because obviously the team has had enough offensive success over the years.
Last season the New York Jets released Tony Richardson, albeit only for a short time. At the time, I was desperate for the Steelers to add Richardson. Richardson is one of the best blocking fullbacks to ever play the game. Even at 39 years of age he is still a brilliant player who can blow open holes for running backs.
The Steelers abandoned the fullback a few seasons ago in order to run more two tight end sets and essentially move to a more dynamic offense.
Last season David Johnson was the team's fullback. Johnson is not a natural fullback and was drafted as a tight end. He is a good blocker but does not excel in the mold of a Kreider or Richardson.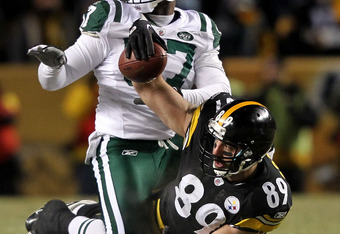 Al Bello/Getty Images
For numerous reasons, it makes a lot of sense for the Steelers to sign an elite blocking fullback ahead of next season.
Matt Spaeth has struggled as a blocking tight end while not being much better as a pass catcher. Spaeth plays a lot as the backup to Heath Miller in the Steelers offense. During his four year career, Spaeth has only broken 10 receptions once—17 in 2008—despite starting 39 games in his career.
To be fair to Spaeth, he is not exactly high on the list of targets for quarterback Ben Roethlisberger. However, that is another reason to replace him. Spaeth is a better target than David Johnson, which is why Johnson plays in the backfield rather than as the second tight end.
However, Spaeth should feature less next year as the Steelers have one of the best receiving corps in the league and a very capable pass catcher out of the backfield. With the emergence of Antonio Brown and Emmanuel Sanders last season to add to Heath Miller, Rashard Mendenhall, Antwaan Randle El, Hines Ward and Mike Wallace, an extra blocker would be more valuable than another pass catcher.
Letting Spaeth go and moving Johnson to the second tight end role gives the team more versatility. Johnson would be a better blocker lining up on the line of scrimmage as he would be able to predetermine who he was going to pick up.
This allows you to vastly improve the running game with better blocking upfront and by bringing in a fullback.
There are very few elite offenses that use fullbacks these days. This does not mean that fullbacks can't be part of an elite offense, but it does mean that they are more easily acquired. The Steelers would be picking the perfect time to bring in a fullback as there are a few hitting the market.
Leading the line is LeRon McClain of the Ravens. McClain is likely to re-sign in Baltimore but another all-pro talent is expecting to move on.
Vonta Leach—who is a major reason for Arian Foster's success in 2010—has been receiving mixed messages from the Texans as to whether they will re-sign him. Leach was an all-pro last season and specialized in blowing open holes for Arian Foster. Foster finished the season with 1,616 rushing yards largely because of Leach.
Leach may be being overlooked in Houston but he would be loved by old fashioned Steeler fans. With a feature back like Rashard Mendenhall, who has as much talent as any other back in the league (well except for maybe the guy in Minnesota), Pittsburgh would be very appealing to Leach.
Putting your star players in the best position to succeed is never a bad thing. Bringing in Leach would be doing that. Consider how good Mendenhall could be if he entered next season with a star studded passing game to complement him and an all-pro blocker ahead of him. Compare that to last season when he carried the offense on his own for the first four games.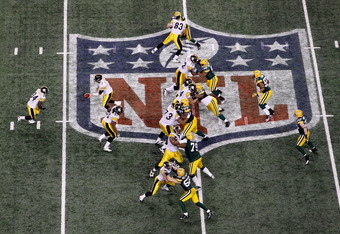 Tom Pennington/Getty Images
Even if the team can't attract an all-pro like Leach or McClain, then there are a few others who would have the same effect. Lousaka Polite and Mike Sellars may not be all-pros, but then again neither was Dan Kreider. Kreider never even made it to a Pro Bowl but he did send a two time back there—Willie Parker—and often led the way for future Hall of Famer Jerome Bettis.
Does bringing back a fullback weaken the offense at all? Not unless you consider Matt Spaeth to be a valuable asset to the team. Even if you do, how often do you see the Steelers throwing to their backup tight end rather than a third or fourth choice receiver?
Does bringing back a fullback strengthen the offense?
No doubt! I don't need to tell any older Steelers fans why, because the team made great use out of one for the best part of the last decade.
The best offense or offensive player is instinctive. An instinctive offense knows when to strike and how to do it most effectively and efficiently.
For the Steelers, it is the perfect time to strike for a typical fullback and grow a growing offense even more.
Bruce Arians is very good at designing plays, even if his timing when calling them is questionable, and he will surely see the design flaw in his current offense.
Serial tweeting about NFL, NBA, NHL, NCAA, Soccer and Rugby      @Cianaf
Are you a big sports fan? Then make sure to check out Chicago Sports Authority, which is the website that hosts The Magazine that I write for.
I also write for Irish Central and Fantasy Football Life.